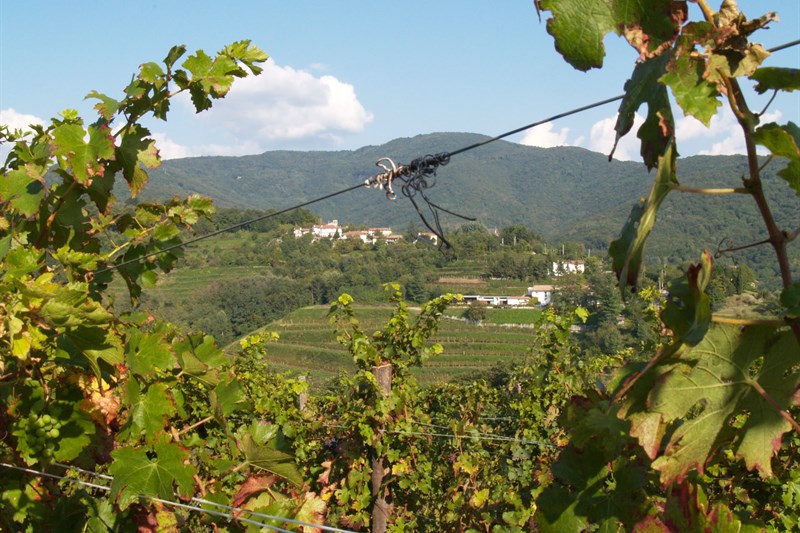 In the wine world it's sometimes bad to be good. How's that, you say? Back in the 1970s, a winemaker named Paolo Rapuzzi decided to save a nearly extinct grape called Schioppettino. The grape was native to the Friuli region of northeast Italy, nestled against the Alps and the Slovenian border. Although Schioppettino had been cultivated for centuries, disease had taken its toll and only about sixty vines remained. Rapuzzi carefully selected the best, nurtured some cuttings, and started a vineyard.
The Italian wine authorities were outraged. They considered Schioppettino extinct and warned that growing a grape that no longer existed would be illegal! Not to mention a heck of a trick. Ah, the bureaucratic mind.
So, Rapuzzi cultivated his vineyard on the sly until 1976, when he received a prestigious award for preserving Schioppettino. Faced with incontrovertible evidence, the authorities authorized the grape that same year, and in 1977 Rapuzzi's Ronchi di Cialla winery produced its first vintage.
Other local winemakers followed suit, and by the year 2000 there were 237 acres of Schioppettino vineyards.
Schioppettino is found only in Italy's Friuli region, where it has its own appellation - Fruili Colli Orientali Schioppettino DOC.  Ronchi di Cialla is the leading producer. Its vineyards are located in the Cialla Valley, which is ideally suited for the Schioppettino grape.
I first tasted Schioppettino in an upscale Italian restaurant in Washington, D.C. about ten years ago. Why did I decide to try an unfamiliar and unpronounceable wine from an obscure region? A sommelier recommended the wine as a great pair for my meal, and I'm always a sucker for a unique wine. But I was hesitant because . . . I had no clue what he was talking about. Sensing my hesitancy, the sommelier offered to buy the bottle if I didn't like it. I tried the wine and was hooked.
Our wine of the week is the 2015 Ronchi di Cialla Colli Oriéntale Schioppettino di Cialla ($70 retail).  This medium-bodied, dry red wine is matured in French oak for a year or so, followed by three years in bottle before it's released. Typical of Schioppettino, the wine is pleasantly aromatic, with notes of red fruit, white pepper, and a hint of violet and smoke. On the palate, it's well-balanced, with silky tannins, a nice acidity, subtle dark fruits, and pepper. The wine has a very pleasant medium finish and features a relatively low alcohol level of 12.5 percent.
We enjoyed it with a ribeye, but any roasted red or white meat would pair nicely.
The verdict: this is a unique wine, and we liked it a lot.
Schioppettino wines are made in limited quantity, but you can often find them at fine wine stores. In Austin, we found it at the Neighborhood Vintner.
Odds and ends:
Several months ago, we reviewed the first vintage of the Quail Run Sonoma Cabernet and mentioned that we'd pass along the website when the wine was available for sale. The site is now active: https://www.quailrunwines.com/shop
Next week we're off to Bordeaux for a wine exploration and buying trip. We'll have some interesting things to report in our next blog!
Cheers!