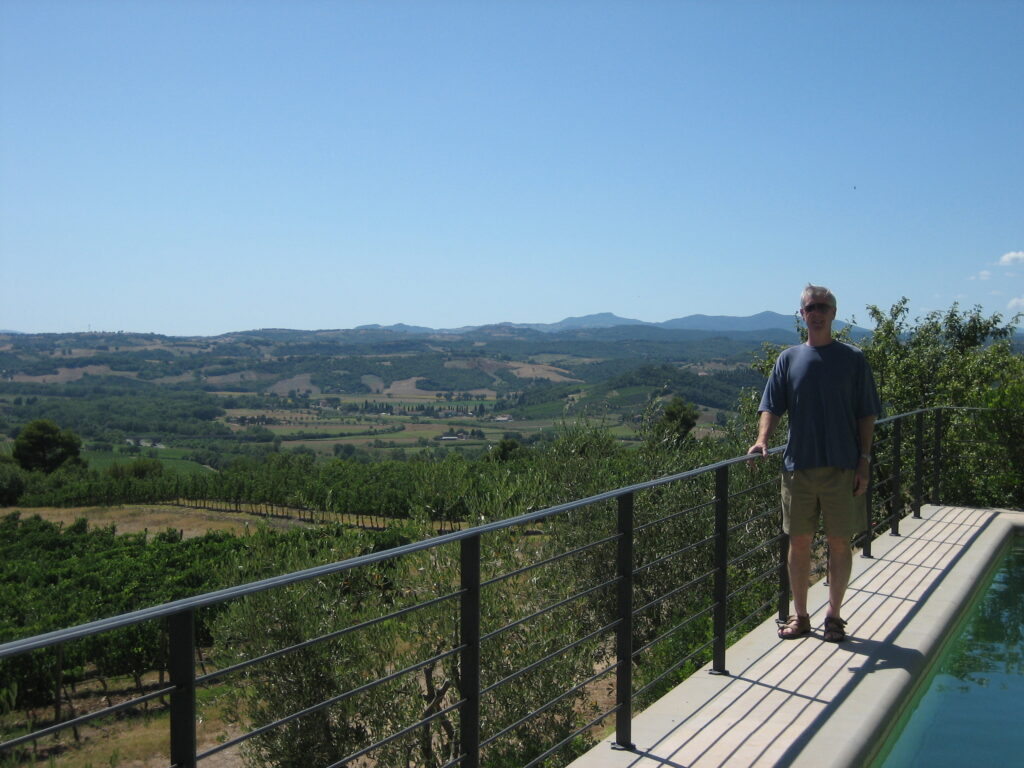 Sometimes it pays to challenge the rules. 
Mario Incisa Della Rochetta had his own ideas about how to make a quality Tuscan wine.    His ideal was Bordeaux, so he began to experiment with a wine that was unusual in several respects:  it was (1) a predominantly Cabernet Sauvignon blend, (2) aged in small French oak barrels and (3) made in the western Tuscan region of Bolgheri, along the Tyrrhenian Sea.

All of this defied tradition, and was not well-received by critics used to the light local wines made predominately from Sangiovese.   For many years he only shared his new wine with family, and each year stored a few cases in the cellar.
Before long, Mario Incisa learned that the wine improved considerably with age.  So, in 1968 he released it to the public as "Sassicaia."    Because it ignored the rules governing the production of quality Tuscan wines,  it was classified as a simple vino di tavola (table wine).  (Click for a primer on Italian wine classifications or Tuscan wines.)

Sassicaia sounds impressive in Italian, but in English means "place with a lot of rocks."

Several years later, Pietro Antinori followed his uncle Mario Incisa's lead and produced  "Tignanello," a blend of Sangiovese and Cabernet Sauvignon that was aged in French oak and made in the Chianti region.  The Chianti DOC regulations of the time did not permit such things, so this too was classified as a simple vino di tavola.   Unlike Sassicaia, Tignanello became widely known.
These two wines marked the birth of the "Super Tuscan."   Super Tuscans proved so popular that they prompted an update to the Tuscan wine rules to accommodate changing technologies and tastes.  For example, today Cabernet Sauvignon is permitted in the Chianti blend.  Additionally, in 1992 a new classification was created, IGT (Indicazione Geografica Tipica).  The less restrictive IGT classification gives winemakers more flexibility in the selection of grapes and production methods.
Super Tuscan is not an official category.   You won't see the term on a bottle, and there are no detailed rules that must be followed.  Typically, the wines are a blend of Sangiovese and "international" varieties such as Cabernet Sauvignon, Merlot and Cabernet Franc, although sometimes they are 100 percent Cabernet or Sangiovese.
Super Tuscans typically have a "fantasy" name such as SummuS ("The Summit").  Paying homage to the original, many of the names end in "aia" (e.g., Ornellaia, Solaia).
Most Super Tuscans are classified IGT.   Although an IGT wine is theoretically lower quality than a DOC or DOCG wine, the quality and price of the Super Tuscans prove that this is not always the case.
The 2015 and 2016 Tuscan vintages were exceptional.
Our wine of the week is a 2011 Castello Banfi SummuS Toscana IGT (about $60 retail).  This Super Tuscan is 40 percent Sangiovese, 35 percent Cabernet Sauvignon and 25 percent Syrah.   It's aged for two years in small French oak barrels.  SummuS is produced in Montalcino, home of the Brunello.   (The picture above is Jim at Castelo Banfi, looking over the vineyards and the Montalcino hills.)
We picked this wine because it's a great example of a moderately priced, high quality Super Tuscan.  It's a big wine, with 15 percent alcohol.  It's deep garnet in color, with earthy, dark fruit aromas.  On the palate, it's full-bodied and concentrated, with firm tannins, dark red fruit, cocoa and a hint of spice.  It has a medium, complex finish.  Overall, we thought this was an excellent wine, and good value for the price.
SummuS paired superbly with a grilled steak, but would also work well with a hearty pasta or beef stew.
There are quite a few Super Tuscans available.  Here are a few worth considering at various price points:
The two wines that started it all are still available, but they are expensive.

 Antinori's Toscana Tignanello ($135 retail) is a Wine Concepts favorite for special occasions.   It's primarily Sangiovese, but with Cabernet Sauvignon and Cabernet Franc in the blend.
Tenuta San Guido Sassicaia ($220 retail) is 85 percent Cabernet Sauvignon and 15 percent Cabernet Franc.

Castello Banfi also produces Excelsus ($70 retail), which is predominantly Merlot, and difficult to find, and Cum Laude ($20 retail), made from Cabernet Sauvignon, Merlot, Syrah and Sagiovese.
Gaja Ca' Marcanda Promis, a blend of Merlot, Syrah and Sangiovese ($45 retail).
Looking for a bargain Tuscan blend?  Banfi Centine Rosso di Toscana IGT ($10 retail) is 60 percent Sangiovese, 20 percent Cabernet Sauvignon and 20 percent Merlot.  This is a well-regarded, very nice wine that goes well with roasts, pasta and cheese.  It's one of our favorite on restaurant wine lists because, even with the markup, it's an affordable match for a casual pasta dish.  While I'm not a big fan of numerical scores, Wine Spectator rated the 2015 Centine at 90 points.
Cheers!