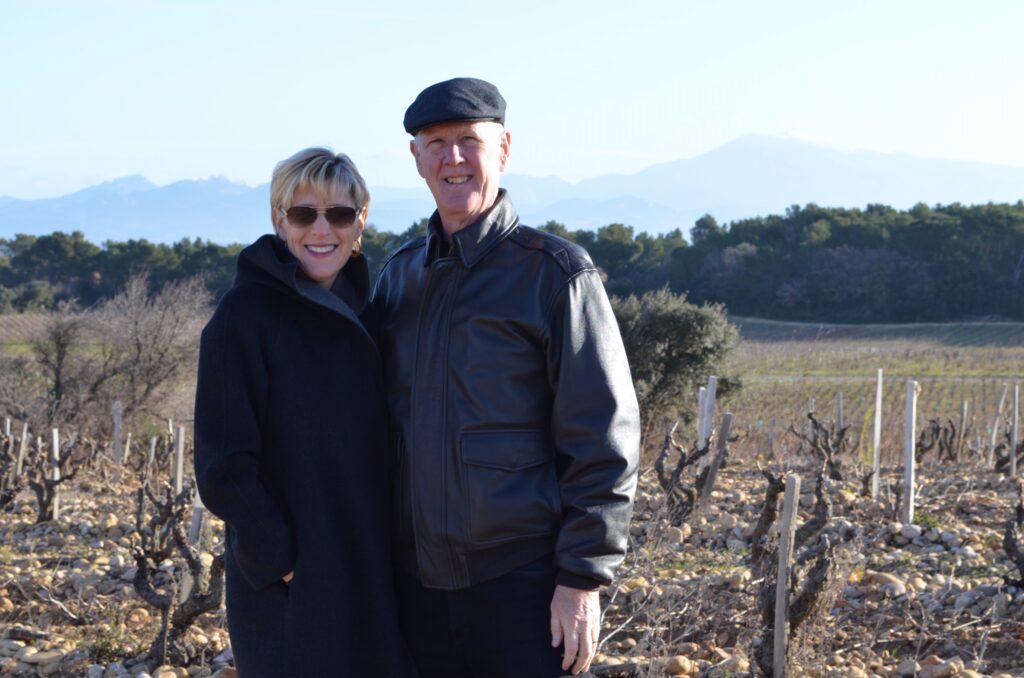 Often, wine and history are intertwined.  Take Châteauneuf-du-Pape, in France's Rhône Valley.  Literally, the name translates as "new castle of the pope," and for good reason.
In the 14th century, due to ongoing political intrigue, Pope Clement V moved his residence from the Vatican to a castle in Avignon, France.  Typically, popes were no slouches when it came to enjoying outstanding wines.   (For example, in Burgundy, wines produced from the best parts of the slopes once were reserved for the pope.)  Clement quickly sized up the local wine scene and discovered that there were some very special areas nearby.
A few years later John XII, Clement's successor, decided to build a summer residence where he could escape the press of papal business.   So, he constructed a "new castle" in the area that later became known as Châteauneuf-du-Pape.  John liked the local wines so much that he granted them the rank of "Vin du Pape."
Fast forward to 1955.  The town fathers were deeply concerned with protecting their famous vineyards.  So, they passed a law forbidding "the flying overhead, landing, and taking off of aeronautical machines called 'flying saucers' or 'flying cigars,' of whatever nationality they may be . . .on the territory of the commune of Châteauneuf-du-Pape."  The law must have been effective, because to this day there have been no known flying saucer landings!
The flying cigar notion caught on.  Inspired by Châteauneuf, in 1985 California's Bonny Doon Vinyards created a wine called Le Cigar Volant ("the flying cigar").   It's a Rhône-style blend made predominantly from Grenache grapes.
Châteauneuf-de-Pape is the star of the southern Rhône Valley.   It's located about 15 minutes by car from Avignon, and the appellation includes four surrounding communes.  About 93 percent of the wine produced here is red, the remaining seven percent white.  It's a relatively large appellation, so a good selection of high-quality Châteauneuf wines are readily available in the U.S.
The wines here are typically blends of various grapes, with Grenache, Syrah and Mourvèdre being the most common in the red blends.
Much of the vineyard area is covered by large yellowish stones, known as galets roulés, that have washed down over the millennia from Alpine slopes.  You can see them in the picture above of the Wine Concepts team in a Châteauneuf vineyard.   While they can be a bit difficult to work around, they contribute to the uniqueness of the local terroir.
Châteauneuf utilizes distinctive bottles that feature an embossed logo with a papal tiara atop the keys of Saint Peter and the inscription "Châteauneuf-du-Pape controlé."
Châteauneuf is a food-friendly wine.  Classic pairings include beef and lamb.  But, it also pairs nicely with veal, pork, game and sausage.   Basically, it needs to be paired with a dish that won't be overwhelmed by its intensity.  Good cheese pairings include cheddar, Kerry Gold Dubliner, and gruyere.
Our wine of the week is a 2015 Domaine Pierre Usseglio Châteauneuf-du-Pape (about $60 retail).   We were introduced to this wine by a local wine expert, and thought that it was a great wine at a reasonable price.  It's 80 percent Grenache, 10 percent Syrah, and 5 percent each of Cinsault and Mourvèdre, and is aged in oak for 12 months.
The sweet spot for drinking this wine is 5-10 years, as it needs time in the bottle to mellow and develop to its full potential.  But, it's nevertheless very nice in its youth.   We decanted it for about an hour to allow it to develop a bit.  For advice on decanting, click here.
This is a concentrated, full-bodied wine.  It had subtle dark fruit aromas and flavors, with notes of spice and pepper, soft tannins and an interesting medium length finish.  It contains a very high alcohol level - 15 percent.
Some of our other favorite producers include Domaine du Vieux Télégraphe (about $65 retail), Château de la Gardine (about $50 retail), Château de Beaucastel (about $80 retail) and Domaine Saint-Préfert (about $65 retail).
If you plan on visiting the area: Romain Gouvernet, a native of the area and sommelier, provides great "insider" wine tours, and also runs a wine club that features top Châteauneuf-du-Pape wines.  He is fully fluent in English.  His website is www.provenceandwine.com.
Cheers!