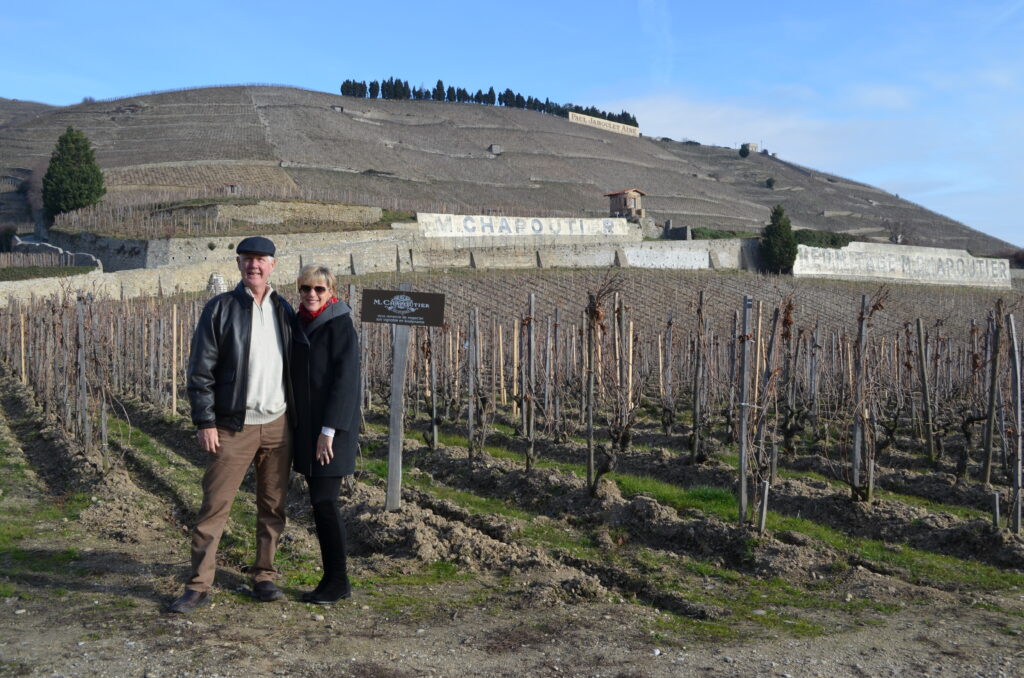 Sometimes wine is about memories and celebrations. We focus less on how the wine tastes and more on the emotions that it invokes, and that's when the magic happens. I was reminded of that recently when someone brought a bottle of a 1997 single vineyard Napa Cabernet Sauvignon to a dinner. The wine itself was stellar, but the story that it told stole the show. Our dinner companion had proposed to his wife in that very vineyard in 1997; the grapes used to make the wine were still hanging on the vine when he popped the question. He had the foresight to buy several cases of the wine when it was released, so that they could enjoy it each year on their anniversary.
While we may not all want to buy a special wine by the case, it's fun to cellar some bottles to commemorate life's milestones. The picture above shows us prowling in a Rhône Valley vineyard during a trip several years ago to celebrate my retirement from law practice – we cellared several bottles and pull one out occasionally to relive the wonderful memories.
There's some amusing history to this sort of thing. The British aristocracy used to buy a "pipe" (a cask containing about 61 cases) of Port wine on the birth of each child. That was enough to last the child's lifetime . . . assuming they were reasonably restrained during their college years.
Our dinner companion had a few sensible rules for a commemorative wine:
The wine should be worthy of the occasion. I'll leave you to be the judge on this one!
The wine must be capable of aging gracefully over the period that you have in mind. Many wines begin to deteriorate after several years, and it wouldn't do to celebrate a tenth anniversary when the wine was unpalatable after five years.  Happily, our dinner companion's twenty-five year old Cabernet was still in its prime. The problem, of course, is that it can be difficult to predict when a given bottle will peak, but generally well-made wines high in tannin, acid, or sugar tend to age well. Some examples are Cabernet Sauvignon, Syrah, Riesling, and dessert wines.
Store the wine properly, ideally at 55 degrees and humidity in the 60 – 70 percent range, protected from sunlight, vibration, and strong odors. More on that subject here.
All of this got me thinking that since our fifteenth anniversary will be in several months, why not cheat a little and pull a nice 2008 from the cellar? After all, what are rules for if not to be broken? So, we settled on a 2008 Silver Oak Napa Valley Cabernet Sauvignon and pulled the cork. The wine was in its prime, nicely integrated, with pleasant fruit notes and silky tannins. Much like us, it retained a spicy exuberance – the perfect pairing. The details of the wine were lost as we recalled happy memories of our engagement in the Round Robin Bar in the Willard Hotel and our wedding at the historic Carlyle House in Old Town, Alexandria. And that's how the magic of wine happens . . .
Cheers!