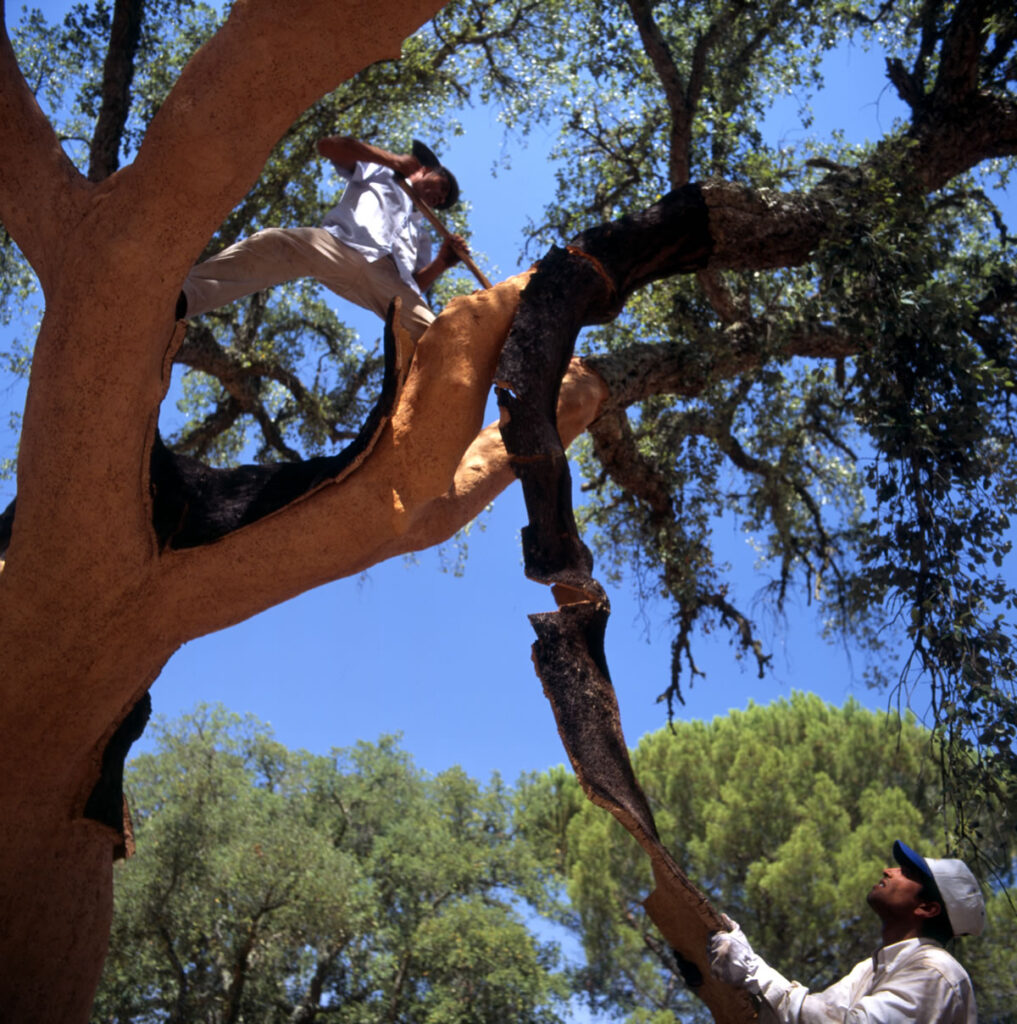 I bet that you never give much thought to the cork that stands between you and the wine in your bottle.  Unless, of course, you can't find a corkscrew, or the cork crumbled, in which case you've probably cursed it – or worse.   But there's quite a story behind cork stoppers.  And, since most cork comes from Portugal, we picked a really nice, good value dry red from the oft-overlooked Douro region for our wine of the week.
Cork is an inexpensive, renewable resource that's easily compressible and provides an ideal bottle seal.  Sure, that keeps the wine from leaking out, but it also keeps harmful oxygen from getting in -- except for a minuscule amount that actually helps the wine improve in the bottle.   Without the unique properties of the cork stopper, fine wine as we know it today, and long-term storage, probably wouldn't exist.
Talk about old technology - cork stoppers have been around since the Roman times, when they were used to seal wine in amphorae (think of a really old gallon jug on steroids).  For a variety of reasons, cork stoppers fell out of use until the 17th century, when the glass bottle was invented and folks figured out that stuffing rags in the mouth of the bottle really wasn't the way to go.
The great thing about cork is that it literally grows on trees.  After a cork oak tree is about 25 years old, its bark can be stripped without causing damage (pictured above).  Then, the bark can be harvested every nine years for the next 150 or so years.  If you're curious, here's an interesting video showing cork being harvested (you'll have to scroll down to the second picture to find the video):  https://www.businessinsider.com/how-cork-wine-stoppers-are-made-in-portugal-2019
The downside of cork stoppers is that they can develop "cork taint."  That's caused by a chemical called TCA, and affected wine is said to be "corked."  In mild cases, a wine's flavors and aromas are dulled slightly, but in more serious cases a wine will have tell-tale damp, musty odors, like a dank basement or a wet dog.    Not a good thing when you're looking forward to a nice bottle of your favorite wine.
Cork taint once was a significant problem, until the industry discovered that better hygiene and elimination of chlorine solvents used to clean cork controlled the problem.  Still, today, about three percent of the bottles that use cork stoppers have some degree of cork taint.
Cork taint provided an impetus for the development of alternative closures, such as screw tops and synthetic closures.  But, cork still accounts for about 75 percent of the market, including almost all fine wines other than those made in New Zealand and Australia.  Ironically, screw tops are a little too good for wines intended for long-term storage – they cut off the small amounts of oxygen needed for proper development of the wine.
So, let's pull a cork from our Douro Valley red.  The Douro Valley is in the Northeast part of Portugal, bordering Spain, and is best known for the production of Port wine.  But it also produces good quality dry red wines, made from the same grapes as Port.  Because the Douro has only produced high quality table wines since the 1990s, the region is still largely unfamiliar to consumers.
Our wine of the week is a 2016 Conceito Contraste ($17 retail).  For this price point, this is a really nice wine.  It's a nice change of pace - lighter bodied than a Cab and more complex and intense than a Sangiovese or a Pinot.  It's made from a blend of indigenous grapes, primarily the Tinta Roriz (Tempranillo), as well as Touriga Franca, Touriga Nacional and numerous other grapes.  It's what's called a "field blend," which means that all of the different types of grapes are fermented together rather than fermenting them separately before blending.  Contraste is aged for 18 months in used French oak, and has 13.5 percent alcohol.  This is a deep purple wine, and it has aromas of black and red fruit, spice and wood.  On the palate, it's medium-bodied, moderately complex, and has notes of red fruit, spice and tobacco.  The wine is well-balanced, with moderate acidity and firm tannins.
What we really liked about this wine is that it's a great option when you want a medium to full bodied red with a little spice that won't bust the budget.  It has a nice richness and depth, but it's not overly powerful.  Contraste would pair nicely with beef, stew, and game meats -- or even a pepperoni pizza.
Cheers!