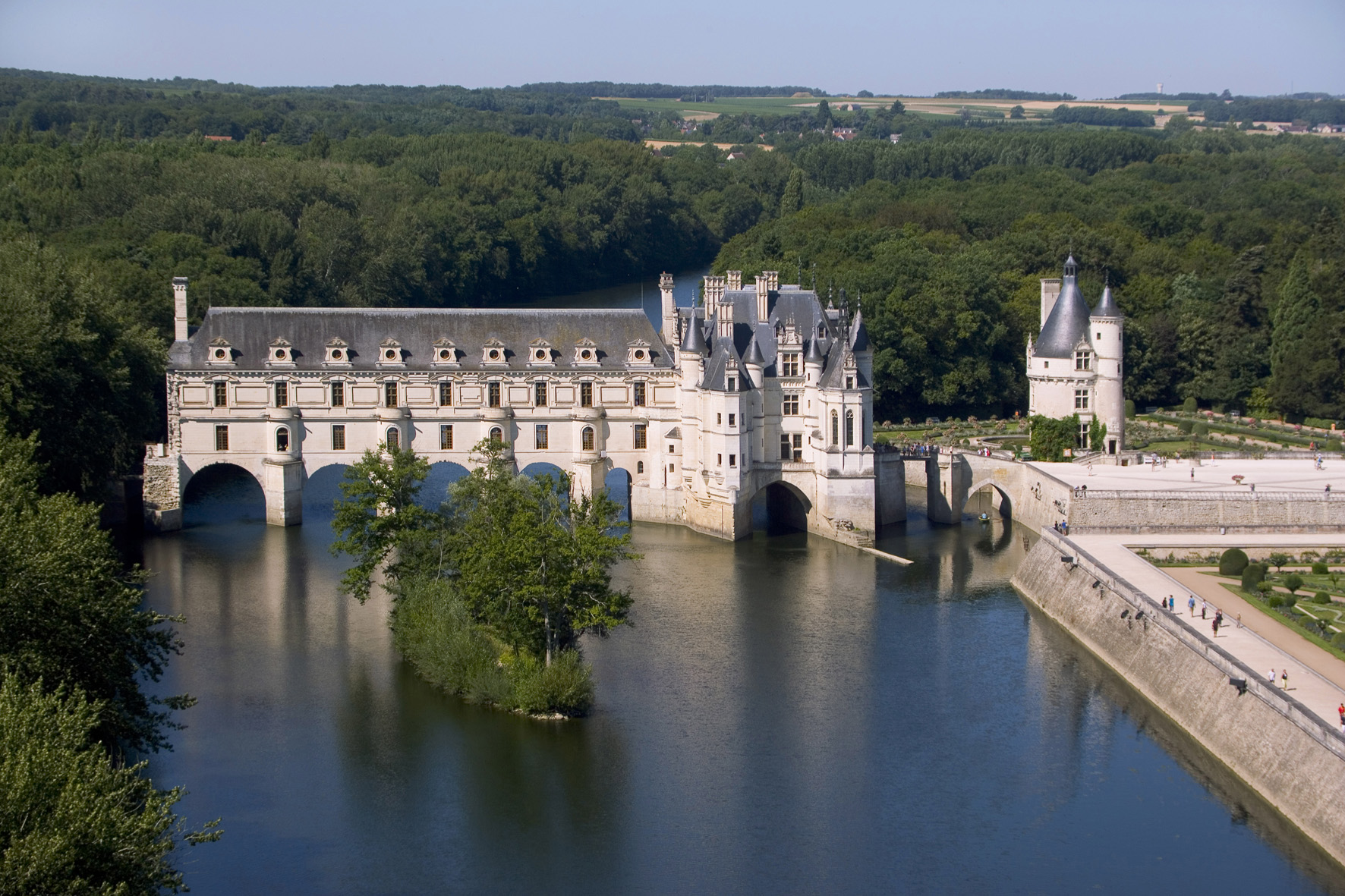 The Loire Valley begins  in the Massif Central in central France, not far from the westernmost portion of Burgundy, and flows 620 miles to the Atlantic Coast at Nantes.   France's longest river, it flows north for the first 300 miles until it reaches Sancerre and Puilly Fumé, and then it turns to the east.  Along these final 300 miles are found the finest Loire Valley Vineyards.  There, vineyards carpet both sides of the river, and as the river progresses towards the sea the vineyards have markedly different climates, soils and grapes.
In one sense, the Loire Valley consists of diverse several regions with not much in common besides their proximity to the river.   Yet, all share these traits: the wines are refreshing, never massive and typically inexpensive to moderately priced.  Additionally, the Loire is known for good quality crisp white wines and light-bodied red wines.   Most of these wines are made from a single varietal - blends are uncommon.  Roughly 75 percent of the wines are from Appellations d'Origine Contrôlée (AOC), the highest level of the French quality pyramid -- the Loire has more than 70 AOCs.
The Central Loire Area, known as "Le Jardin de France" (the garden of France), has been designated as a UNESCO World Heritage site.  It's hundreds of castles and châteaux recall an earlier, aristocratic era.  The photograph above is Château de Chenonceau, located near Tours.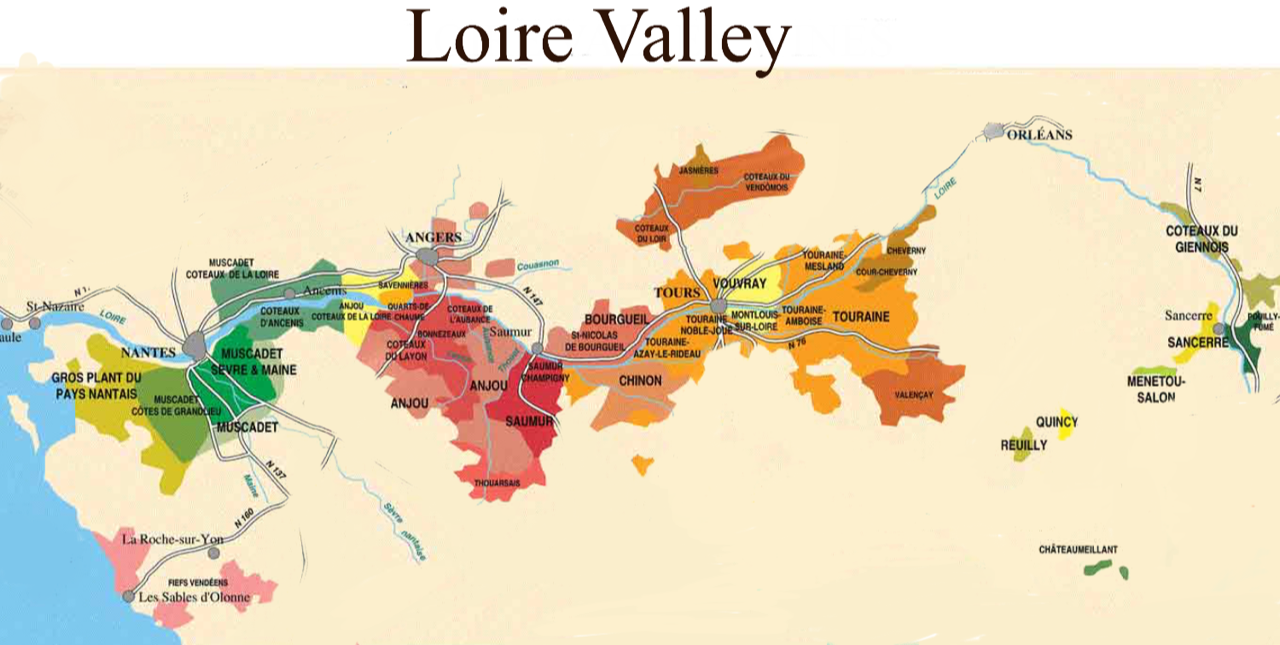 The Loire Valley regions.

The Pays Nantais (Lower Loire) borders the Atlantic Coast. The Muscadet grape (also known as "Melon de Bourgogne") dominates here, accounting for three-quarters of the vineyards.   Muscadet is a dry, light-bodied, low alcohol wine with vibrant acidity, citrus notes and a hint of saline.  Not surprisingly, it pairs extremely well with seafood, such as mussels, oysters and – our favorite – steamed clams. The great thing about Muscadet is that it's a pretty inexpensive and widely available wine.

Four appellations produce exclusively Muscadet:
Muscadet Sevré et Main AOC.  The appellation, named for the two rivers that bisect it, is the most highly regarded and accounts for seventy- five percent of all Nantais Muscadet is production.  Within Sevré et Main, there  are three "crus": Clisson, Gorge and Le Pallet.  These are restricted to lower yield, more ripeness and longer sur lie aging.
Muscadet AOC.
Muscadet Côtes de Granlieu AOC.  Closest to the Atlantic, it tends to be more supple and ripe than the other appellations.
Muscadet Coteaux de la Loire AOC.  The smallest of the Muscadet appellations, it tends to be leaner.

Several other Pays Nantais appellations produce a variety of red (Cabernet Franc, Cabernet Sauvignon, Gamay and Pinot Noir) and white (Chardonnay, Pinot Gris, Sauvignon Blanc and Folle Blanche) wines.

Anjou-Saumur is further inland, surrounding the city of Angers.  This area is near the northern limit for French viticulture. It's a cold region, and the whites are dominated by Chenin Blancs with vibrant acidity, and the reds by Cabernet Franc.  In addition to dry red and white wines, there are excellent sweet, rosé and  sparkling wines.  There are numerous appellations that specialize in different grapes and styles, but here are the ones to know:
Dry wines.  Savennières, among the most prestigious of the Loire Valley wines, is made from 100 percent Chenin Blanc grapes.  It has been called "the most cerebral wine in the world," and typically is more subtle and less fruity than Chenin Blancs such as Vouvray.

Sweet wines:  Sweet wines are a specialty of Anjou.  These wines have characteristic flavors of peach and apricot, and varying levels of sweetness.  In Anjou, sweet wines are primarily made in in Coteaux du Layon appellation, and its Bonnezeaux and Quarts de Chaume sub-regions.  These are made exclusively from Chenin Blanc grapes left on the vine late in the harvest to achieve maximum sugar, and affected by the "noble rot" (botrytis) that desiccates and concentrates the grape juice.   The most prestigious appellation is Quarts de Chaume, the only Grand Cru in the Loire Valley. (A Wine Concepts favorite is the Domaine Baumard Quart de Chaume.
Sparking wines.  Saumur is famous for sparkling wines, or as they are called throught the Loire: "fines bulles."  The primary sparkling wine appellation is Saumur Brut, which is made in white and rosé versions.  There is also a Crémant de Loire appellation, which has slightly more restrictive production standards but can be made from grapes anywhere in the region.
Rosé.  The Rosé de Loire appellation produces dry rosés.  Rosé d'Anjou produces off-dry (semi-sweet) rosés from the Grolleau grape.   Cabernet d'Anjou, a rosé made from Cabernet Franc and Cabernet Sauvignon, is somewhat sweeter.

Touraine. This region is located around the city of Tours.  Western Touraine is the hub of Loire reds, based on Cabernet Franc.  Moving towards its  eastern portion, whites shift from Chenin Blanc to Sauvignon Blanc.  Some appellations to know:

Chinon, Bourgueil and St-Nicolas-de-Bourgueil.  These three appellations produce the best red wines of the Loire, from  Cabernet Franc. They are know for their quality and bargain prices.  Chinon is the largest red wine appellation in the Loire, and it produces the most refined wines.  It also produces a small amount of excellent white wine from Chenin Blanc.  Borgueil is more intense, and St-Nicolas is lighter bodied.
Vouvray.  These wines are made from Chenin Blanc, and are made in dry, sparkling and varying degrees of sweetness.  Vouvray experiences significant weather changes from year to year, and therefore the character of its wines varies significantly among vintages.
Mountlouis-sur-Loire is located directly across the Loire from Vouvray on similar terroir, and produces similar wines.  Vouvray is the more prestigious, but Mountlouis is known as the more dynamic appellation, with younger winemakers pushing the envelope.
Touraine AOC covers the entire area for the production of white, red and rosé wines.  The whites are typically made mostly with Sauvignon Blanc, and the reds and rosés with Cabernet Franc and perhaps some Malbec.

The Upper (Eastern) Loire.  East of Touraine, as the Loire bends to the south, are found two of the region's most famous appellations: Sancerre and Pouilly-Fumé.  These two areas produce some of the world's finest Sauvignon Blanc, tangy, acid and smokey.  They are located on limestone and clay hills on opposite sides of the river.  Selecting the right producer is important in these appellations - while there are many excellent producers, there are quite a few that cut corners and produce plain, undistinguished wines that simply aren't worth the money.   There are also several lesser known appellations that produce a variety of red and white wines.

Sancerre is known for its crisply acidic, aromatic whites made from 100 percent Sauvignon Blanc, although it does produce a small amount of decent red wine from Pinot Noir.  Some good producers include Pascal Cotat, Domaine Prieur Pierre et Fils, Domaine Vincent Delaporte and Pascal Jolivet.
Pouilly-Fumé produces similar Sauvignon Blanc based whites, but because of its unique silex soil, it is said to have a smoky flavor, although it is subtle and perhaps difficult to detect.  One the most respected producers is Domaine Dagueneau.
The Sancerre and Pouilly-Fumé wines are quite food-friendly, and pair well with a range of dishes, from seafood to varies light ethnic dishes, such as shrimp tacos.

IGP Val de Loire is one one of France's largest regional Indication Géographique Protegée ("IGP").   This IGP makes white, red and rosé wines from grapes sourced from throughout the Loire Valley.
Some terms to know.
Loire sparking wine ("fines bulles") falls into several categories, all of which are made using the traditional ("champenois") method:

Crémant is produced under the Crémant de Loire appellation, and may be produced anywhere in the Central Loire.
Mousseux sparklers are made in the Saumur Brut appellation, and may be white or rosé.
Pétillant. These lightly sparkling wines are also made using the traditional method, but have only about half the pressure of the mosseux or crémant.  They're produced using less demanding standards, and aged less than the crémant.

Sweet wines come in a range of sweetness levels, which are in order of ascending sweetness:
Sur lie.  Wines that are aged on spent yeast cells ("lees") are described as aged "sur lie."  This technique is commonly used for Muscadet wines in order to increase flavor and texture to a relatively neutral grape variety.