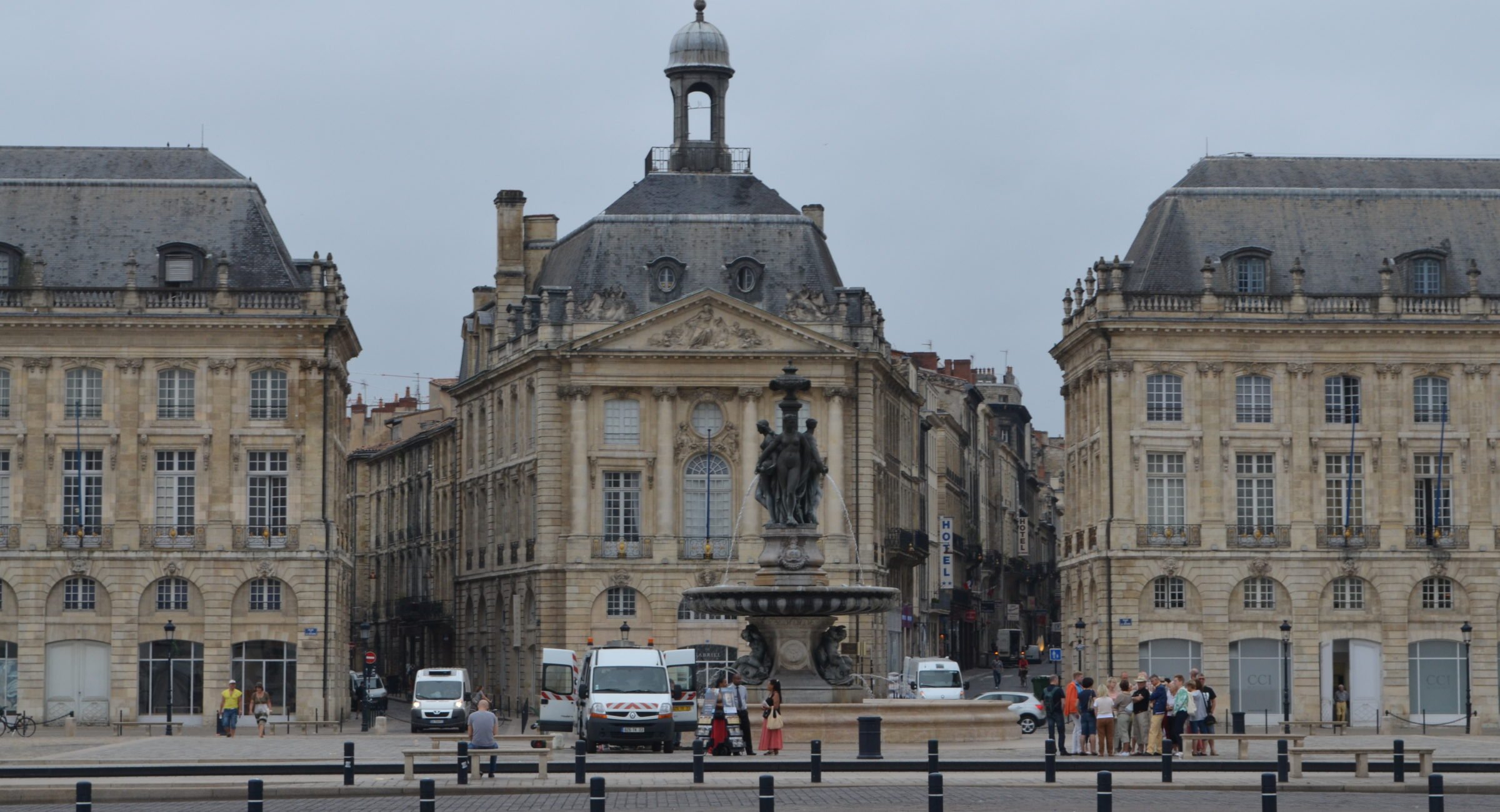 The Wine Concepts Bordeaux Primer.
Everyone knows Bordeaux, right?  After all, it's France's largest wine region, with about 300,000 acres of vines and production of approximately 60,000,000 bottles of wine annually. Some of the finest, most age-worthy and most expensive wines in the world come from here.
But,  Bordeaux can be complicated.  Each of its appellations has its own personality, vintages can vary significantly and the various classification systems are, at best, confusing.  You can spend a lifetime studying Bordeaux and still not know all of its quirks.  If you're not careful, you can spend a lot of money for a mediocre wine.  Then again, with a little knowledge you can get a great wine for good price.  So, let's get started.
I.  The five-minute overview.  This section covers the essentials.   For those who want to know more, we provide additional detail in section II.
Although nearly 90 percent of its production is red, Bordeaux produces virtually every wine style, including dry whites, rosés and sweet dessert wines.  Bordeaux is divided into three major regions and contains 60 AOCs (Appellation d'Origine Contrôllé).  Additionally, there are five different quality classifications, and all of the information that you need won't necessarily appear on the label.
To understand Bordeaux, you need to start with some basic geography (the map below will help you follow along).  The wine region surrounds the city of Bordeaux, located on the southwest coast of France.  It is largely defined by the Garonne and Dordogne rivers, which join near the city of Bordeaux to form the Gironde estuary.  Why should you care about all of this?  The wines from the different regions have different characteristics, as you'll see below in the discussion of wine styles and pairings.
The "Left Bank" is located west of the Garonne river and Gironde estuary.  The city of Bordeaux is located here. The area north of the city is called Medoc, and this is where many of the most famous and expensive Bordeaux wines are produced.  The area south and west of the city is called Graves.
"Right Bank" is east and north of the Dordogne river and the Gironde. The main town on the right bank is Libourne, and the area surrounding this town (which includes St. Emilion, Pomerol and Fronsac) is called the Libournais.
"Entre-Deux-Mers" is the area between the Garonne and Dordogne Rivers.
For a great interactive map of the various Bordeaux wine regions, click here.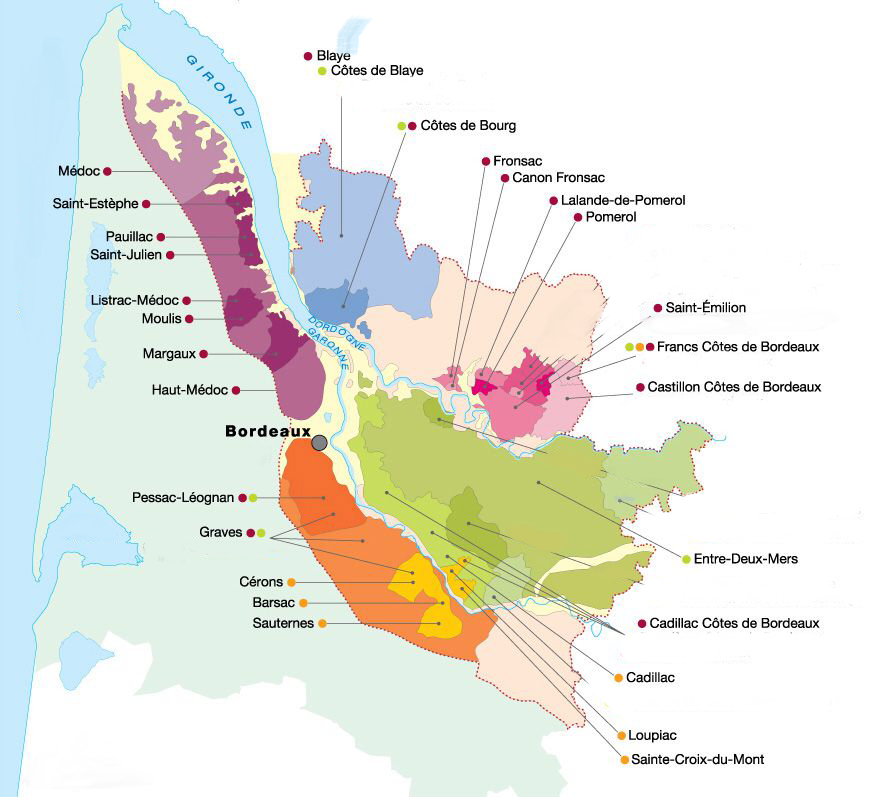 Terms You Should Know.
Chateaux.  While "Château" evokes the image of an elegant palace, in Bordeaux it simply means a building of some sort associated with vineyards, a winery and storage facilities.  So, it can be as fancy as the iconic Château Margaux, or as simple as a garage where wine is made.
Second Wines.  The classified wines of Médoc are both extraordinary and extraordinarily expensive.  But, the classified Châteaux often have a "second wine" made from grapes that are not quite good enough for the first wine.  These can be -- but aren't always -- great values.  A Wine Concepts favorite is Reserve de la Comtesse, (about $35 retail) the second wine of the Pauillac second growth Château Pichon-Longueville-Comtesse-de-Lalande (about $150 retail).

Note that the top wines of the left bank are ranked as first through fifth growths (in French, premier through cinquième crus).  The second wine is the lesser wine from one of these top wines.
Wine Styles and Pairings.  What follows are general guidelines for wines styles and pairings.   Each appellation, and producer, will have its own personality, particularly as you get into the more expensive classified wines.  While the ingredients in a dish (spices, etc) can affect the appropriate pairing, it's generally best not to overthink it -- experiment and see what you like.
Dry Red Wines.

Left Bank wines, made predominantly from Cabernet Sauvignon, are powerful.  These wines will be very tannic, full-bodied and earthy, with red fruit aromas and flavors.  The Medoc wines have the strongest tannins, and often require considerable bottle age before drinking.   Left bank wines are perfect for a fatty, spicy steak or lamb.
Right bank wines, made predominantly from Merlot, will be softer, lighter-bodied, plummy and less tannic than the Left Bank wines.  The boldest, most intense Right Bank wines come from St. Emilion and Pomerol.  Right Bank wines pair well with leaner or more savory meats, such as flank steak, pork and duck.  The less expensive versions work well with barbecue, particularly pulled pork.
Regional reds (Bordeaux and Bordeaux Supérieure) are simple, inexpensive and easy-drinking.  These are light bodied, and pair well with most red meats and chacuterie.

Dry White Wines.

Entre-Deux-Mers. The white wines from this region are made primarily from Sauvignon Blanc and Semilion, and tend to be simple and inexpensive.  They will have notes of citrus and grapefruit, with high acidity.  These pair well with fish.
Left Bank.These wines are also made from Sauvignon Blanc and Semillion, but are more complex than those from Entre-Deux-Mers, and will feature notes of citrus, white stone fruit, acacia and hazelnut.

Sweet Wines.

Left Bank. These are powerful, unctuous and complex wines.  They are produced from Semillion and Sauvignon Blanc grapes that have been affected by botrytis (the so-called "noble rot").  You'll get notes of honey, almond, apricot, tropical fruit and hazelnut.  The appellations to look for are Sauternes, Barsac and Cérons. The Bordeaux sweet wines can be dessert by themselves, or can pair well with most non-chocolate deserts.  A Wine Concepts favorite paring is Sauternes with a fruit-topped cheesecake.
Entre-Deux-Mers.  The often-overlooked appellations of Cadillac, Loupiac and Sainte-Croix-de-Mont produce relatively inexpensive, good quality sweet wines using the same grapes and production techniques as their more famous Left Bank counterparts.

Rosés.  These are labeled with the Bordeaux Rosé appellation, and range from light and fruity to fresh and full styles.  A good selection for casual summer fare, the Bordeaux rosés will go well with pizza, fish, burgers, and spicy dishes (such as paella).
Vintages.  Don't get too hung up on the specific vintages, as most of the recent vintages were good quality.  (If you find yourself sitting in a restaurant poring over a vintage chart - you're missing the point.)  There will be subtle variations in the wines across vintages, but except for the occasional bad year that just makes it interesting.  The best of the recent vintages for both the Left and Right Banks was 2010, and it's worth the extra cost if you can find one.  The weakest was 2013, a year to avoid in most cases, although the top producers tend to make very good quality wines even in weak vintages.
II.  Grape Varieties, Appellations and Classifications.  Now we're going to get into some detail on grapes and appellations.
The Grapes.  This is the easy part of Bordeaux - there are three primary red grapes and three primary white grapes.

Red grapes.

Merlot.  Merlot is the most planted red grape variety in Bordeaux - it comprises 66 percent of the red grapes.  Merlot is the predominant grape in most right bank blends, and is gaining in popularity on the left bank.
Cabernet Sauvignon.  About 22 percent of the red grapes in Bordeaux are Cabernet Sauvignon, and this variety predominates on the left bank.
Cabernet Franc. About 10 percent of the red grapes are Cabernet Franc.  They are typically blended with Merlot and Cabernet Sauvignon, but some very high quality wines, such as Chateau Cheval Blanc in St. Emilion, consist mainly of Cabernet Franc.
Miscellaneous grapes.  Petit Verdot, Malbec and Carménère make up the remaining two percent of Bordeaux's red grapes.  These are blended with other grapes to achieve a desired wine style.

White grapes.

Sauvignon blanc. About 45 percent of Bordeaux's white grapes are Sauvignon blanc.  This is the predominant grape in dry white wines.  It contributes acidity and  minerality.  The primary aroma is citrus.
Semilliion. This is the most planted white grape (47 percent), and is found in mellow and sweet wines.  It contributes aromas of honey and apricot.
Muscadelle.  This grape accounts for about five percent of the Bordeaux whites.  It is a blending partner for the two principal white grapes.
The Appellations. 
Regional appellations.  Bordeaux AOC is the broadest appellation - it covers the entire Bordeaux region.   This appellation produces dry red and white wines, sweet wines and rosés, and is the "entry level" for Bordeaux wines.  Bordeaux Supérieur AOC covers the same region, but has slightly higher standards and produces only dry red and sweet white wines.  Crémant de Bordeaux AOC produces sparkling wines, using the traditional ("Champagne") method.
The Left Bank.

The area north of the city of Bordeaux is known as the Médoc, where only red wines are produced.  It contains the general Médoc and Haut-Médoc appellations, and six village AOCs.  Here, you will find the four most prestigious villages of Bordeaux: St. Estèphe, Pauillac, St. Julien and Margaux.
The area south of the city is Graves.  This area produces dry red and white as well as sweet white wines.  Here you will find Pessac-Léognan, home of many prestigious chateaux, as well as the sweet wine appellations of Barsac, Cerons and Sauternes.

The Right Bank.

The area north and east of the Dordogne River produces mostly red wines that typically consist primarily of Merlot, with Cabernet Franc and Cabernet Sauvignon in the blend.  It contains five main village AOCs, the most prestigious of which are St. Emilion and Pomerol.
St. Emilion.

There are three quality levels for St. Emilion: the basic St. Emilion appellation; the St. Emilion "Grand Cru;" and the classified châteaux (see below).
The top wines from St. Emilion — the Grand Cru Classée and Première Grand Cru Classée— are often considered on par with the great Médoc wines.
Surrounding St. Emilion are four satellite appellations that are lesser quality but still highly regarded: Lussac-St. Emilion; Puisseguin-St. Emilion; Montagne-St. Emilion; and St. Georges - St. Emilion.

Pomerol.   The terroir of this relatively small appellation is quite varied, as is the quality of the wines produced here.  Château Petrus is one of the world's great wines, but there are numerous average wines that trade on the Pomerol prestige to command unjustified prices.  Lalande de Pomerol is a lesser appellation that nevertheless makes good quality wines.
Fronsac and Canon Fronsac.  Wines from these appellations tend to be lower priced than their neighbors, but good quality -- this is a good place to look for value wines.  In theory, Canon Fronsac produces better wines than Fronsac, but both appellations follow the same rules, and the producer can be more important than the appellation. 


Entre-Deux-Mers.

This is the area between the Garonne and Dordogne rivers.  There are several appellations within Entre-Deux-Mers, including the three sweet wine appellations of Cadillac, Loupiac and Sainte-Croix-de-Monts.  There is also a broad "Entre-Deux-Mers" appellation that produces only white wines.

Côtes de Bordeaux.   In 2012 four appellations (later expanded to five) joined together and began marketing their wines as Côtés de Bordeaux.  This is essentially a marketing initiative, as some of the appellations have little in common. The wines are labeled as "[zone] Côtes de Bordeaux" - for example, ""Castillon Côtes de Bordeaux."

The Francs and Castillon zones are adjacent, and produce exceptional wines at significantly lower prices than their more prestigious neighbors, such as St. Emilion. These wines typically are a blend of approximately 60 percent Merlot, 25 percent Cabernet Sauvignon and 15 percent Cabernet Franc.
The Blaye, Sainte-Foy and Cadillac zones are geographically separated and produce more varied and lesser quality wines than Franc and Castillon.
The Classifications.  Prepare to be baffled - only the French could dream this up.  Overlaid on the standard French quality pyramid are five separate Bordeaux classification systems.  Some, but not all, of them overlap.  Some regions, such as Pomerol, have outstanding wines but do not have a classification system.   The oldest, the "1855 classification," has not changed significantly since it was created. The other four are updated periodically, each time triggering howls of outrage -- and litigation -- from chateaux that are excluded or downgraded.  Got that?
The 1855 Classification.  The original Bordeaux classification, implemented for the 1855 Universal Exposition held in Paris, covers Médoc red wines, Graves sweet wines and one red wine from the Graves "Pessac  Leognan" appellation.  The classification includes 61 red wines designated  "first" through "fifth" growths (premier through cinquième Cru), and 26 sweet white wines, designated deuxième Cru, premier cru and one "superior premier cru" (Château d'Yquem).  The ratings were determined by Bordeaux wine brokers on the basis of price, which at the time was a fair indication of quality.

There are only 5 "first" growths: Chateau Haut-Brion (Pessac Leognan); Chateau Lafitte-Rothschild (Pauillac); Château Latour (Pauillac); Chateaux Margaux (Margaux); Château Mouton-Rothschild (Pauillac).  These are among the most expensive wines in the world.
To see a list of all of the classified wines, click here.
The classification applies to the château, not to the vineyard.  That means that the vineyard area associated with a classified growth can change over time if the château adds or sells property.  This contrasts with Burgundy, where the vineyard is classified.

Graves.  The Graves classification contains only one level: Graves "Cru Classé" and 16 properties are included.  It was implemented in 1953 and modified in 1959.  One property, Château Haut-Brion, is included in both the 1855 Classification and the Graves Classification.
St. Emillion.  This is the only Right bank classification system, and it was implemented in 1954 with the intent that it be updated every 10 years.  Each update has been controversial and ensnarled in litigation by Châteaux that were downgraded or dropped.

There are only two St. Emilion classification levels: Grand Cru Classée and Première Grand Cru Classée.  The "Première" category is divided into the "A" and "B" categories.  The more highly-regarded A category contains four châteaux: Château Cheval Blanc, Château Ausone, Château Pavie and Château Angèlus. The complete list of classified Châteaux can be found here.
"Grand Cru" and Grand Cru Classée are often confused.  St. Emilion "Grand Cru" is not a classification — it is a wine produced from the St. Emilion Appellation that conforms to higher quality standards.

Crus Bourgeois de Médoc.  This classification is intended to recognize Médoc châteaux that were omitted from the 1855 Classification.  It has been quite controversial, and highly litigated, since it was first proposed in 1932.  Currently, there are two levels: Cru Bourgeois and Cru Bourgeois Supérieur.  A list of the 270 classified châteaux (as of 2016) can be found here.
Cru Artisan de Médoc.  This classification applies to 44 small, family-owned châteaux in Médoc.  The châteaux are selected by jury, and the list is reviewed every ten years.
Return to main page.