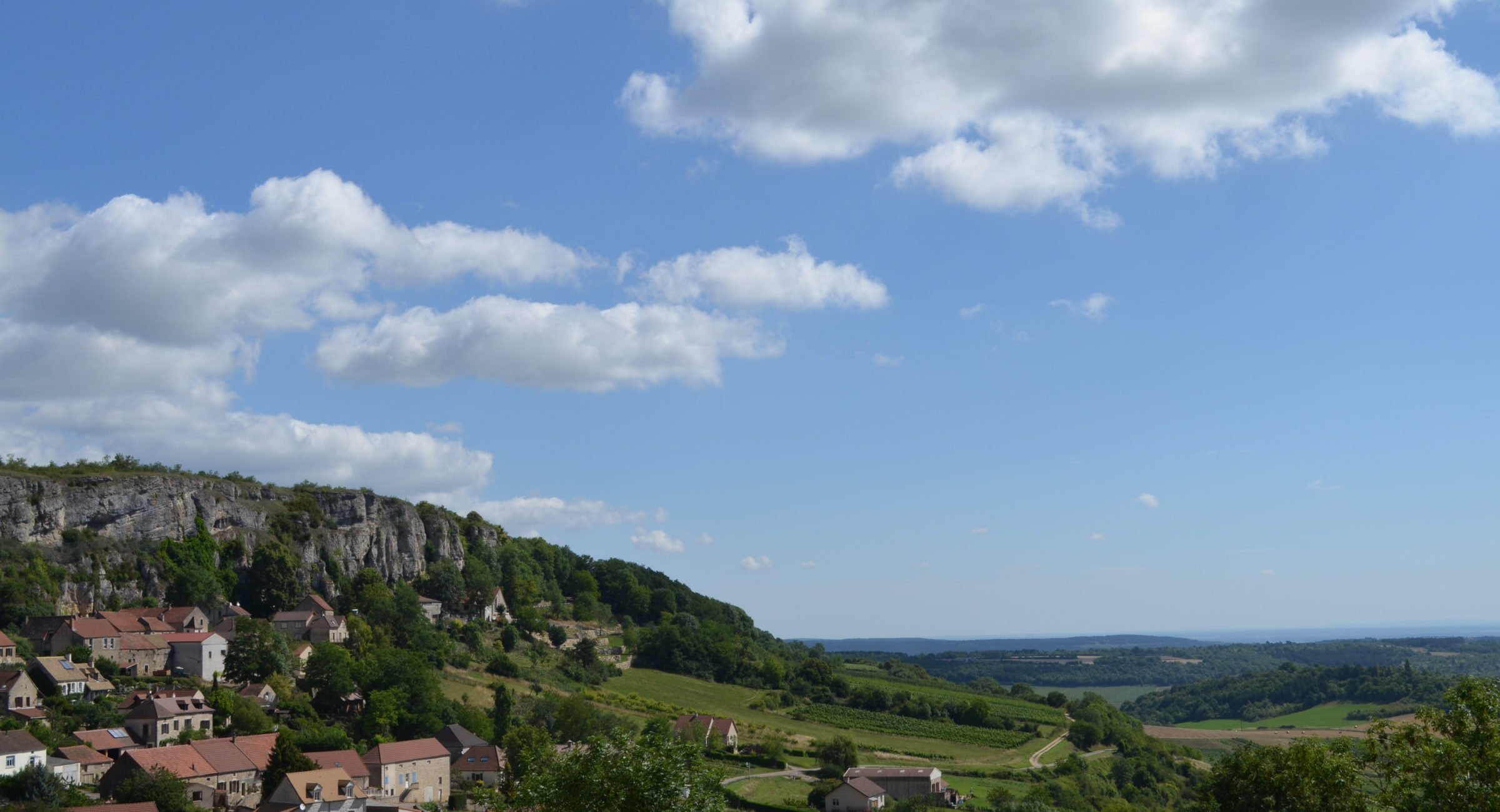 The Wine Concepts Burgundy Primer:
What you need to know about Burgundy.
Generally.
OK, let's get this out of the way up front: the French call this region "Bourgogne," and that's typically what you'll find on the bottle, although some bottles  say "Burgundy" for marketing purposes. Generally, the white wines of Bourgogne are made from Chardonnay and the red wines from Pinot Noir.
Bourgogne wines are subtle.  Bourgogne Pinot Noirs feature subdued fruits, spices, earthy notes and polished tannins, and the color of the wine will be relatively light.  But don't be deceived by the color - Bourgogne Pinots can be intense.  Good quality Bourgogne wines will develop noticeably in your glass over 20 minutes or so.  In contrast, New World Pinots typically have more overtly fruity flavors, darker colors (often because coloring agents are added), heavy oak and high alcohol (13.5 - 15.5 % alcohol by volume for New World , compared to 12.5 - 13.5 % for Bourgogne).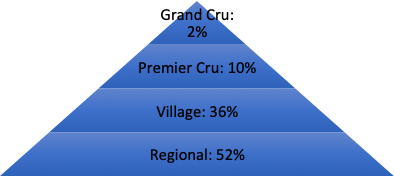 Bourgogne wines are classified into a four level pyramid. As you move up each level, the production standards tighten, and the quality of the wine, and its cost, increases. That said, there are many fine wines to be found in the lower quality tiers, and some disappointments in the higher tiers. In Bourgogne, the best guarantee of quality is to find a good producer.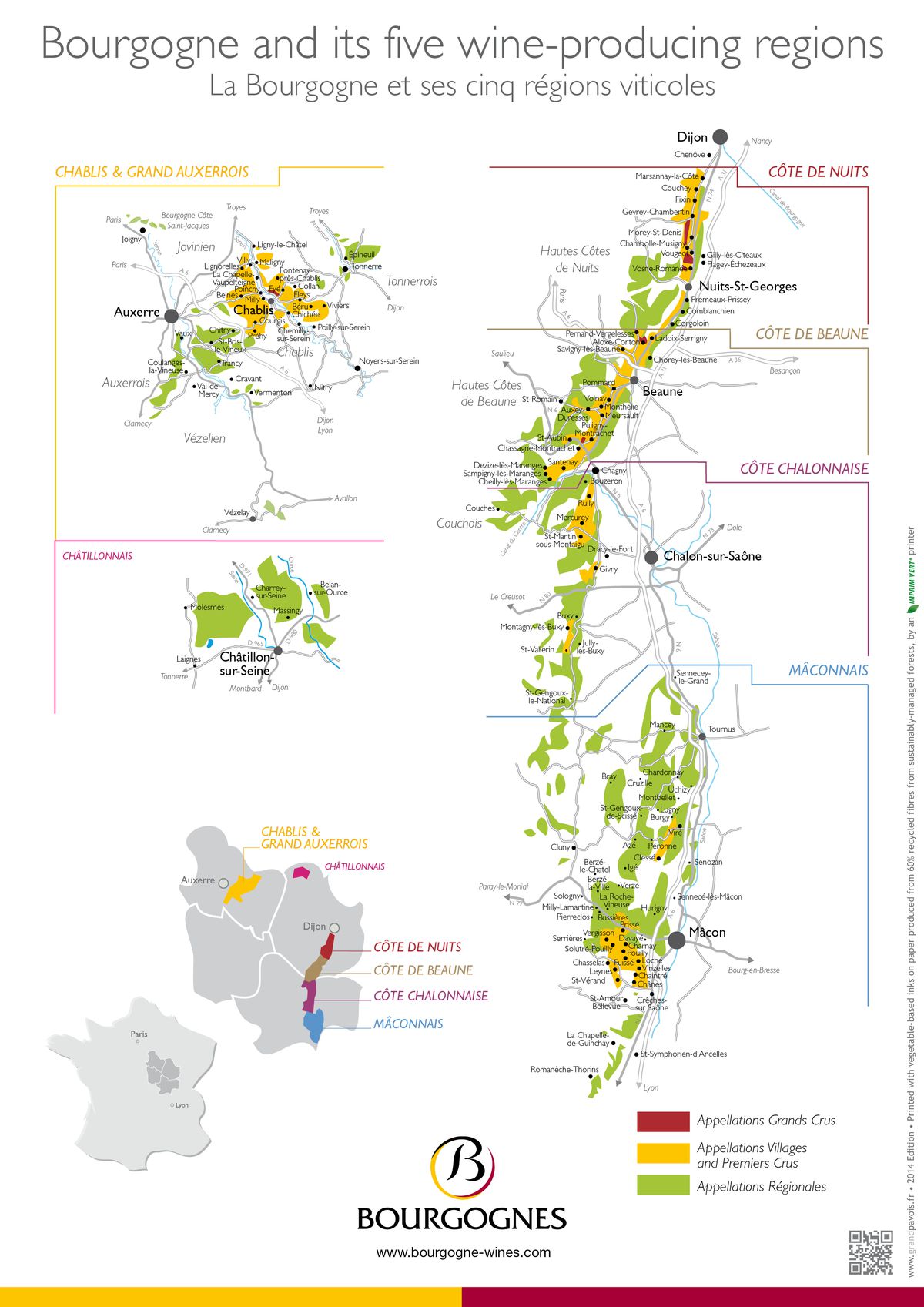 Bourgogne consists of five distinct sub-regions, illustrated on the map above, that extend approximately 140 miles from Chablis in the north to Macon in the south.   Although the regions use the same grapes, they produce significantly different wines and, in fact,  there can be substantial variations within a single region.  Typically, Bourgogne wines are made from a single grape, rather than blends such as are found in Bordeaux and the Rhône.  Although people often think of these wines as being red, almost 60 % of Bourgogne wines are white, 30 % red and rose and 10 % cremants (more on cremants below).
Bourgogne is complex and can be difficult to navigate on the wine list or in the wine store --  but we provide the basics below.  Much of this complexity stems from Bourgogne's finely-tuned sense of terroir, where subtle differences are reflected in individually named climats.   Although Bourgogne accounts for only about 6 percent of French wine production, it contains 20 percent of the country's Appellations d'Origine Contrôllée ("AOCs" - quality wine appellations).  There are strict rules on what grapes can be grown, as well as permissible viticultural and wine making practices  for each appellation.  Because the Burgundians believe that the grapes are merely a mean of expressing the terroir, the wines of Bourgogne typically include the appellation but not the name of the grape on the label.
Another reason for the complexity is that, as a result of historical events (primarily the French Revolution and the Napoleonic Code), ownership of the vineyards of Bourgogne is highly fragmented.  The average size of a Bourgogne domaine is only about 15 acres.  It is not unusual for a domaine to own just several rows of vines in a specific vineyard.   As an example, the grand cru Clos de Vougeot is owned by nearly 100 different owners, each of which may use different viticultural and production techniques.  So, two wines from the same grand cru may vary significantly in quality.  In the case of Clos de Vougeot, the vineyard is nearly 100 acres and there are multiple climats within the vineyard in addition to the fractionalized ownership.
In Bourgogne there are exceptions to virtually every rule.  That's what makes it interesting!
Some terms that you should know:
Domaine: a collection of vineyards owned by a single entity.  A domain typically produces individual wines from each of its vineyard holdings.
Climat: a precisely delimited plot of land that has specific geological and climactic conditions.
Clos:  A vineyard surrounded by a stone wall.
Crémant: A sparkling wine made using the traditional, or "Champagne," method.  Only sparkling wines produced in the Champagne region can be called Champagne - similar wines produced in other French regions are called crémant.  If you want to know more about crémant, look here.
The Bourgogne regions.  There are five regions, each unique in its own way.  Below we provide highlights on each of the regions, and describe some of the key appellations in that region.
Chablis.  The most northern and coldest region, Chablis is located about 60 miles southeast of Paris, and is closer to Champagne than to the Côte d'Or (the collective name for the Côte de Nuits and Côte de Beaune, the two most prestigious regions).  The wines of Chablis are exclusively made from Chardonnay (two outlying regions, the Grand Auxerrois and the Châtillonnais, produce some reds).

Chablis wines are noted for their steeliness, minerality and acidity.  All too often Chablis can be disappointing - this underscores the importance of selecting a good producer.
There are four AOCs within Chablis:

Chablis Grand Cru.  Although the Grand Cru is a single AOC, it has seven individual climats, each with somewhat different characteristics.  The climats are: Bougros, Les Clos (the most prestigious and age-worthy), Grenouilles, Blanchot, Les Preuses, Valmur and Vaudésir.
Chablis Premier Cru.  This one AOC contains 89 premier cru climats, although they are marketed under 17 "umbrella" names.  The most highly regarded are Montee de Tonnerre, Fourchaume and Mont de Milieu.
Chablis.  The traditional Chablis area located around the village of Chablis.
Petit Chablis.  In the 1980s, with increased demand for Chardonnay, Chablis expanded into neighboring plains.  Typically this are lower quality.

Some notable producers.  There are many fine producers, but here are a few that are widely available and dependable:

Domaine William Fèvre.
La Chablisienne - a cooperative that is responsible for roughly one-third of Chablis production.  Although cooperative wines can sometimes be suspect, this one makes dependably good quality wines.
Domaine Joseph Drouhin.
Maison Jadot.
Domaine Christian Moreau Père et fils.
Domaine Raveneau.

When to drink your Chablis?  The top quality Chablis -- grand crus and the best premier crus -- from a good producer can last a considerable length of time.  Here are some general guidelines for how long you should hold a wine after the vintage:

Petit Chablis: 6 months to 2.5 years.
Chabis: 1 - 4 years.
Chablis Premier Cru: 3 to 8 years.
Chablis Grand Cru: 5 - 15 years.

Côte de Nuits.  Beginning just south of Dijon and extending for approximately 17 miles to the small commune of Corgoloin, the Côte de Nuits contains some of the most prestigious -- and expensive - wines in all of France.  Here, you'll find an emphasis on red wines (89 percent of production is red) that are intense, more full bodied and tannic than other Bourgogne Pinots, and exhibit dark berry fruits, earthy notes and spice.  Twenty-four of the Bourgogne grand crus, and many of the top premier crus, are found here.  But, there are also some value wines to be found if you know where to look.

Key appelllations.  Listed from north to south, here are some of the appellations that you'll want to know:

Marsannay. There are no grand cru or premier cru vineyards here, but I've included it for two reasons.  First, the appellation produces a delicate and fruity rosé.  Second, it produces some good, solid value wines.  Those include the Louis Latour Marsannay Rouge and Bruno Clair.
Gevrey-Chambertin.  Here you'll find nine grand crus - the most of any appellation in Burgundy -- and 26 premier crus.  The top two grand crus are Le Chambertin and Chambertin Clos de Bèze.  These are powerful, cellar-worthy wines.  While the grand crus are spectacular, the ordinary village wines often do not live up to the appellation's reputation.
Morey-Saint-Denis.  There are 5 grand crus: Clos de la Roche, Clos Saint-Dennis, Clos des Lambray, Clos de Tart and Bonne Mares (four and a half, really, because it shares Bonne Mares with its neighbor to the south).
Chambolle-Musigny.  Because of its unique geology, these wines are more delicate than the other Côte de Nuits appellations. There are two grand crus: Le Musigny (the only grand cru in Côte de Nuits authorized to produce a white as well as a red wine) and Bonnes Mares.
Vougeot.  This village produces exclusively red wines, and nearly three quarters of its production is grand cru.  Be aware, however, that there are nearly 100 owners of the grand cru vineyard, and the quality of their wines varies considerably.
Vosne Romanée.  There are 8 grand cru: Richebourg, La Romanée, Romanée-Conti, Romanée Saint-Vivant, La Grande Rue, La Tâche, Grand Echezeaux and Echezeaux.  If you have to ask, you can't afford these.  And if you can afford them, you probably can't find them.  A suggestion: find a bottle of the premier cru Les Suchots by a good producer and you'll have a great wine at a bargain (relatively speaking) price.
Nuit-Saint-Georges.  There are 41 premier cru here, accounting for 45 % of production.  These are concentrated, spicy, earthy wines.
Côte de Nuits.  A basic, regional level wine produced from grapes grown anywhere in the Côte de Nuits region.  There is also a Hautes Côte de Nuits, produced on the plateaus above the Côte de Nuits slopes, that is a lesser quality wine.
Côte de Nuits Villages.  These wines are produced from grapes grown in any of five villages.  This is a step up in quality from the basic Côte de Nuits, and a good producer can make some very good wines.

Some good producers.  There's a long list of good producers, including several that you probably will never see (e.g., Domaine Romanée-Conti).  Here's a few that are likely to show up on wine lists or at your wine shop.

Louis Latour.
Bruno Clair (Marsannay).
Bouchard Père et fils.
Dujac.
Domain Comte Georges de Vogüe.

Côte de Beaune.  Beginning at Ladoix-Serrigny, just south of the Côte de Nuits and extending for approximately 12 miles to Maranges, the Côte de Beaune produces powerful, intensely flavored white wines (about 45 percent of production), the top examples of which are considered to be among the best Chardonnays in the world.  The reds generally have slightly less body and tannins than those from the Côte de Nuits, and exhibit aromas and flavors of red fruits.  Eight of the Bourgogne grand crus, including Corton and Montrachet, are found here, as well as many of the top premier crus.  There are good value wines to be found.

Key appellations. 

Aloxe-Corton, Pernand-Vergelesses and Ladoix.  Here you'll find the three grand cru of Corton: Le Corton, Corton Charlemagne and En Charlemagne.  There are also a number of top quality premier cru as well as village appellations.
Chorey-Lès-Beaune.
Savigny-Lès-Beaune.
Beaune.  The largest village and the commercial capital of the Côte de Beaune.
Pommard and Volnay.  Pommard, the northernmost of these two red-only appellations, produces more powerful wines.
Monthélie.
Meursault.  This village produces almost as much white wine as the rest of the Côte de Beaune villages, so you shouldn't have any problems finding it.  There are several high quality Premier Crus here, including Les Perrières, Charmes and Genevrières. The better wines have a richness and nutty notes.
Puligny-Montrachet and Chassagne-Montrachet.  The home of some of Bourgogne's best whites, five grand cru and appellations are found here: Le Montrachet, Batârd-Montrachet, Bienvenues-Batârd-Montrachet and Criots-Batârd-Montrachet.  There are also numerous highly regarded premier cru.
Saint-Aubin.  Although the whites are most highly regarded, this appellation also makes some excellent reds.  Lesser known than the Montrachets, some great wines for 'relatively'  lower prices can be found.
Santenay.
Côte de Beaune Villages. These wines can come from any of fifteen communes spread across the entire region.  These tend to be made from younger vines and lesser grapes than the higher level appellations.
Haut Côte de Beaune.

Some producers to know.  In fairness, there are a large number of quality producers, so here is a representative sample.

Maison Louis Jadot.
Domaine Bouchard Père et fils.
Maison Joseph Drohin.
Domaine Bernard Morey.
Domaine Joseph Faively.
Domaine Louis Latour.
Domaine Albert Morot.
Olivier Leflaive.
Hubert Lamy.

When to drink Côte d'Or wines.  There are multiple factors that affect the pace at which a wine matures, so the following is a general guide of when the wine should be at its peak from the vintage year.  Bear in mind, however, that as a wine mature its aromas and flavors change, and some people simply prefer younger wines.

Red wines:  Except for the entry level offerings, you should give Côte D'Or red wines 3 - 8 years in the bottle before drinking.  The peak typically will be:

Côte de Nuits.    Village wine: 6 - 12 years; premier cru: 8 - 14 years.
Côte de Beaune.  Village wine: 6 - 10 years; premier cru: 7 - 12 years.
Grand Cru: 10 - 25 years.

White wines:  Côte D'Or Village wine: 6 - 12 years; premier cru: 8 - 14 years; Grand Cru: 8 - 15+ years.
Côte Chalonnaise.  Because this is one of the lesser known areas of Bourgogne, this is a good area to find good wines at reasonable prices. The Côte Chalonnaise stretches about 15 miles directly south of the Côte de Beaune, and produces approximately 60 percent red wines and 40 percent white.  The wines of this region resemble the lighter wines of the Côte de Beaune.  Although the principal grapes are Pinot Noir and Chardonnay (which is native to this area), you will also find the white Aligoté and the red Gamay (the principal grape used in Beaujolais).

Key appellations. 

Bouzeron.  The only village appellation to produce Aligoté.  This is a light, floral, minerally wine that goes well with oysters and other shellfish, seafood and white meats.
Rully. The best white wines from the region are produced here and in Montagny. Relatively small quantities of red are produced as well, but Rully is known for producing Cremant de Bourgogne.  The reds here are a little lighter than Mercurey and Givry.
Mercurey.  This village is a relatively large village that produces primarily reds.  Its red wines are considered the best of the Côte Chalonnaise.
Givry. It produces mostly pleasant reds that are a little less structured and lighter than Mercurey.
Montagny.  Good quality white are produced here.  Note that the Caves des Vignerons de Buxy, a local cooperative, producers good quality wines.
Bourgogne-Côte Chalonnaise.

Some producers to know.

Domaine Joseph Faively.
Cave des Vignerons de Buxy.  This is a cooperative, but it produces quality wines.
The Mâconnais.  This is the southernmost region, which runs about 22 miles south from the Côte Chalonnaise, contains the largest area of vineyards in Bourgogne.  Here the production is predominantly white (80 percent) made from Chardonnay.  These wines are known for their floral aromas and fruity character.  Unlike the rest of Bourgogne, the reds are made from Gamay - they are light bodied with light tannins, red fruit flavors and good acidity.

Key appellations.  Most of the wine produced here is a simple, regional-level white. But there are several appellations worth knowing:

Viré-Clesse. The most northern village appellation in the region, it produces fruity whites with notes of apple,
Pouilly-Fuissé.  The leading Mâconnais appellation, it produces wines with delicate fruit  and floral aromas and a noticeable minerality.
Saint-Véran. An entry level wine for easy drinking.
Mâcon-Villages.    This is the regional appellation, an entry level wine.  Note that it does not say "Bourgogne" on the label.  Twenty-six villages are entitled to add their name to the appellation, e.g., Macon-Lugny.

Some producers to know.

J.A. Ferret.
Maison Louis Latour.

When to Drink Côte Chalonnaise  and  Mâconnais?  These wines should be consumed young, and held no more than 1 - 2 years.
So how do I pair these wines?  Bourgogne experts can debate  what specific wines go with particular food, but for most occasions pairing is pretty simple.  Bear in mind that Bourgogne wines are subtle, and may not be a great choice for an overpowering dish.  That said, Bourgogne wines are among the most food-friendly wines in the world. So, experiment and see what you like.
Red wines:

Basic Bourgogne reds will go well with salmon, red meat dishes and stews, and even tomato-based pastas.  Some of the wines that fall into this category are the Côtes de Beaune,   Côtes de Beaune Villages, and individual Côtes de Beaune Village AOCs other than Pomard.
Fuller bodied, more intense reds will pair well with steaks. These would include Côtes de Nuits appellations, as well as Pommard and Mercurey.

White wines:

Chablis and Pouilly-Fuisée wines go well with seafood and oysters.  Chablis premier crus and grand crus are perfect for lobster.
 Côtes de Beaune whites  work well with baked fish, roasted white meats, pork, foie gras and sea foods such as lobster.