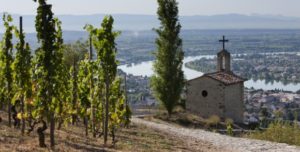 Here's what you really need to know about Rhone Valley wines:
Generally.
The Rhône Valley, the second largest wine region in France, begins just south of Lyon, France, and continues to the Rhône delta.  Beaujolais is located to the north, Provence to the southeast and Languedoc to the southwest.  The  Rhône Valley wine region is divided into two distinct zones, the climates and grape varieties of which are quite different.  Mostly, what the two zones have in common is that they border the  Rhône river. 
The northern zone begins about 20 miles south of Lyon,  starting in Vienne and following the river about 45 miles south to Valence.  Here, the river flows through narrow gorges, and vineyards are typically found on steep terraces dating from the Roman era.

The southern zone begins at Montelimar and continues south to Nimes (there is a small buffer zone between the north and south).  There the land flattens out and the vineyards stretch further away from the river.

 Rhône Valley wine classifications. The first step to understanding Rhone Valley wines is to learn the tiered classification system for the AOC wines.  You'll want to know this to get at least a rough indication of the quality of the wine.  These terms appear prominently on the label.
Côtes du Rhône.   This is the entry level, regional AOC classification, and the quality of the wines varies widely.   Côtes du Rhône, which

accounts for approximately 50 % of the valley's production

is a regional appellation -  meaning that the grapes can be sourced from anywhere in the Rhone Valley.  You'll find that the wines typically will have a lower alcohol level and will be less concentrated and complex.  These are easy drinking and food friendly, and are the least expensive of the Rhône Valley wines.  Stick to one of the producers mentioned below and you can find some very nice, inexpensive wines.

Côtes du  Rhône Villages. This is the next step up on the wine quality ladder. The grapes will come from one of 95 villages, all located in the southern Rhône.  The wines will be more concentrated and complex, and will cost a little more.  The grapes will be at least half Grenache, at least 20 % Syrah or Mourvedre.
Côtes du Rhône named Villages.  Yet another step up on the quality ladder.  There are 21 villages in the southern Rhône that are permitted to include their name on the label.  For example, Cotes du Rhône-Seguret.  At this level, the wines convey a sense of the local terroir.  Some of the top named villages are Plan de Dieu, Sablet, Séguret, Valréas and Visan.

Crus. The 17 Crus, discussed below, are at the top of the quality ladder.  Some spectacular wines are produced in the these appellations, such as in Châteauneuf du Pape and Hermitage.

Rhône Valley wine styles and appellations. Rhône Valley wines are typically blends of several grapes, and the permissible wine styles and grapes vary between the northern and southern zones.
Northern Rhône.    The red wines of the north are based on the Syrah grape, and are robust wines with dark fruit, earthy, gamey, white pepper and spice flavors.   The white wines are based on Viognier, and

blends of

Marsanne and Roussanne.   Here are some basics on the northern crus (click on the links for detailed information on each appellation):

Côte Rôtie: is one of the two most prestigious appellations in the Northern Rhone, and the prices reflect this fact.  It is Syrah-based, with perhaps a little Viognier in the blend. Beware – these are formidable wines, and perhaps a bit of an acquired taste.  You'll want to hold these wines for 8 - 20 years, and decant for several hours before drinking.  The appellation contains two famous slopes which, legend has, were named after the two daughters of a feudal lord: Côte Brune, the more tannic and powerful, and Côte Blonde, the more elegant and refined.

Condrieu:  Here you'll find aromatic white wines made from the Viognier grape.  Look for floral and apricot notes.

Château Grillet:  The Rhone Vally's smallest appellation, it is located entirely within Condrieu and produces similar wines.

St. Joseph:   Almost 90 percent of the wines here are Syrah-based reds.  The whites are made from Marsanne and Rousanne. These are everyday wines.

Croze-Hermitage:  More than 90 percent of the production here is Syrah-based red.

Hermitage.  The second of the north's two prestigious appellations, it produces Syrah-based reds that are robust and intense. As with the Côte Rôtie, you'll want to hold these wines for 10 - 20 years, and decant for several hours before drinking.  My favorite is the Domaine Paul Jaboulet Aîné "La Chappelle" (about $300), and Chapoutier and Jean Louis Chave make great wines as well.  There are also white wines made from Marsanne and Roussanne, which feature honeysuckle, peach and hazelnut aromas. A favorite white is the Jaboulet "Chevalier de Sterimberg."

Cornas:   These wines are made exclusively from Syrah.  These are robust wines that feature red fruit, pepper, spice, leathery and meaty flavors.  These, too, can be an acquired taste.

St. Peray:  This small appellation produces only white wines made from Roussane and Marsanne grapes.  It features the only sparkling wine made in the Rhone Valley.


Southern Rhône.  Red wines can be a blend of many grapes, but are principally based on Grenache, Syrah and Mourvedre.  White wines typically are a blend of Grenache blanc, Marsanne and Roussanne.  Some basics on the southern crus:

There are several other AOCs located outside of the Côtes de Rhône appellation that you may see on a wine list or in your wine shop:  Coteaux Lyonnais (which is quite unlike the rest of the Rhone in that is uses primarily Gamay and Chardonnay grapes - see our January 25, 2019 blog post), 

Ventoux,

Luberon, Côtes du Vivarais, Clairette de Bellegarde, Duche d"Uzes,

Costieres de Nimes and Grignan-les-Aldemar.
What about vintages?  In the North, 2015 is considered an excellent year, and 2016 was a great vintage as well.  In the South, which has a somewhat different climate, 2016 was a stellar year, and 2015 was a great year as well. 
Some leading producers. There are many fine producers in the Rhône Valley, but some of the quality producers that you're likely to encounter are:
E. Guigal.

M. Charpoutier.

Famille Perrin.  Their wines include the wonderful "

Chateau de Beaucastle" Chateauneuf du Pape as well  the "Coudolet de Beaucastle" - an excellent, great value Côtes de Rhone that is sometimes called the "baby Beaucastle."

Domaine Paul Jaboulet, Aîné.

Delas Freres.

Domaine Jean-Louis Chave.

Domaine de Vieux Télégraphe.  A great Châteauneuf du Pape - they also make a good second wine "Télégramme.

So, how do I pair these wines?  While wine experts can get into great debates about what food goes best with wines from each appellations, start out with these simple rules and then experiment to see what you like.

Red wines:

Young fruity reds will go best with simpler red meat dishes and stews, and even

tomato-based pastas.  Some of the wines that fall into this category are the Côtes du Rhone and Côtes du Rhone Villages, Lirac, and Beaume de Venises.

More intense, and age worthy, red: roasted meats and game. 

The southern reds do well with red meats, lamb and game. The wines that fall into this category include the seventeen crus identified above. Note that wines from these crus are particularly powerful and tannic: Cornas, Côte Rotie and Gigondas.


White wines:

Light and fruity whites will go well with seafood and white meats.   Some of the wines that fall into this category are Côtes du Rhône and Côtes du Rhône Villages, as well as Luberon.
Full bodied, aromatic whites  work well with roasted white meats, pork,  foie gras and sea foods such as lobster.  Some of the wines that fall into this category are Condrieu, Hermitage, Saint Peray and Vacquerez.


Rosés: 

The more intense rosés are a good match for curry dishes, couscous and Thai foods.  The Taval, Lirac and Gigondas

rosés fall into this category.