The Wine Concepts Alsatian Primer.
What you need to know about Alsace.
Generally.
Alsace is a wine region that you should get to know.  It produces excellent wines at reasonable prices.   Unfortunately, many people are either unfamiliar with Alsace wines or have some misconceptions.
Let's make this simple. The wines of Alsace are:
Almost exclusively white.   In fact, the only red grape allowed in Alsace AOC wines is Pinot Noir, and it's pretty rare.  The most common grape is the Riesling, and it's the star of Alsace.
Almost always made from a single grape type (as opposed to a blend).  Unlike most other French wines, which typically list the appellation and assume that you know what's in the bottle, in Alsace the grape variety appears on the label.   A wine labeled as a varietal must contain 100% of that grape.
Predominantly dry wines, although there are some excellent sparkling and dessert wines.
Typically relatively low in alcohol, with moderate to high acidity.  These wines are very food friendly.
Typically a pure expression of the Alsatian terroir, with minimal oak or winemaker intervention.
Alsace has one of the coldest, driest climates among the French wine making regions.  It's located in the northeast corner of France, 300 miles east of Paris, and it runs generally north-south for about 75 miles.  The Rhine River is located a dozen miles to the east.  The Vosges Mountains are located to the west, and they provide a rain shield that causes the dry, sunny weather.  Alsace gets far more sunny weather than nearby Champagne and Chablis, which allows its grapes to ripen more fully.   Alsace consists of two subregions, Bas-Rhin to the north and Haut-Rhin to south.  The vineyards of the latter are at a higher elevation and typically are higher quality.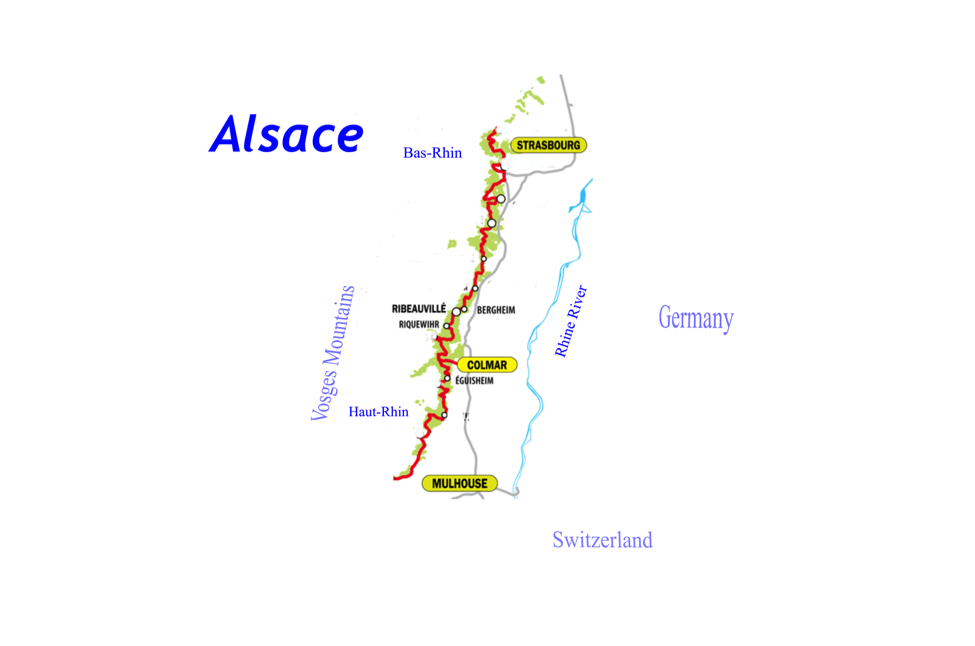 Alsace wines have a mixed French and German heritage.  For example, the narrow flute bottle style (which must be used by law) and the use of varietal labels are German traits, and the quality pyramid and wine making mindset is French.  This mixed heritage is understandable, since over 75 years in the nineteenth and twentieth centuries Alsace changed hands four times.  (The joke from an earlier era was that Alsatians kept both a French and a German flag in their closets since one never knew what that next day might bring).
Terms to know.
Crémant: A sparkling wine made using the traditional, or "Champagne," method.  Only sparkling wines produced in the Champagne region can be called Champagne - similar wines produced in other French regions are called crémant.
Edelzwicker.  This term indicates that the wine is made from a blend of grapes, and a vintage year may or may not appear.  This wine is uncommon.
Gentil.  This also indicates a blend, but at least 50% of the grapes must be one of the four "noble" varieties listed below.   The other grapes in the blend may be Pinot Blanc, Chasselas, or Sylvaner.
Alsace Grapes.
The Alsace AOC permits only ten grapes to be used in its varietal wines.
The four most common, and highest quality, grape varieties are called the "noble" grapes.  Those are:

Riesling,
Gerwurztraminer,
Pinot Gris, and
Muscat.

The remaining six grapes are: Pinot Noir, Pinot Blanc, Sylvaner, Muscat, Chasselas, Auxerrois, and Klevener de Heiligenstein (Sauvignin Rose).
An 11th grape, Chardonnay, may only be used in Crémant.
Alsace appellations.  Although there are technically 53 Alsatian appellations, as a practical matter there are three: the general "Alsace AOC," the 51 individual Grand Cru appellations, and the "Cremant d'Alsace AOC."
The Alsace AOC covers the entire region, and produces white, red and rosé wines, including still, dessert and sparkling.  Approximately 70 percent of Alsatian wines, and over 90 percent of its white wines, are produced here.  Within the basic AOC, there are two higher-quality designations:

Alsace Communal.  This sub-AOC covers wines from 14 communes that comply with higher quality standards than the basic AOC.  The name of the commune will be included on the label: Bergheim, Blienschwiller, Côtes de Barr, Côte de Rouffach, Coteaux du Haut-Koenigsbourg, Klevener de Heiligenstein, Ottrott, Rodern, Saint-Hippolyte, Scherwiller, Vallée Noble, Val Saint-Grégoire, Wolxheim.
Alsace Lieu-dit.  A "lieu dit" is a name given to a recognized high-quality vineyard that features a distinctive expression of the terroir.  The "lieu-dit," appears on the label, and these wines must meet even higher standards than the communal wines.

There are 51 Alsatian Grand Cru, each of which is a separate appellation.  The specific vineyard must be displayed on the label.  Only four percent of Alsace's production is Grand Cru.

Some producers elect not to label their wines as Grand Cru even when they are produced from grapes grown in Grand Cru vineyards.  The reason is essentially political – these producers don't believe that the Grand Cru standards are sufficiently strict so they refuse to use the label.
For a list of the Grand Cru appellations click here.

Crémant d'Alsace is a separate appellation for sparkling wines.   By law, the grapes must be hand-picked, and can be Pinot Blanc, Pinot Gris, Riesling, Chardonnay, Pinot Noir, and Auxerrois.   Crémant accounts for 23 percent of Alsatian production.

Crémant comes in several sweetness designations, ranging in ascending order of sweetness from "Extra Brut" (which contains no residual sugar), Brut, Extra-Sec, Demi-Sec and Sec.
Most Crémant is made with a blend of grapes, although you can find 100% Chardonnay, 100% Pinot Gris, 100% Riesling as well as "Blanc de Noir" made from 100% Pinot Noir.
Wines to know, and what to pair them with.
A key thing to understand about Alsatian Pinot Gris, Riesling and Gewurztraminer is that these are more full-bodied and have more concentrated flavors than similar wines from other regions in the world.  That greatly affects the food that these wines can be paired with - these wines will work well with meats and hearty vegetables.  Don't be afraid to select one of these when you're in the mood for a steak but want a white wine.
Another important point is that the wines of Alsace are typically dry - a marked distinction from neighboring Germany.  These dry wines can range from minerally, to lean and fruity, to rich and aromatic.  In recent years, warming temperatures have led to a trace of residual sugar in some Alsatian wines, but they are still fundamentally dry.
Here's some key wines to know:
Riesling.   This grape is used in some of Alsace's most exceptional wines.  Riesling may be made in dry, sweet or sparkling styles.

Dry Riesling is the most common style.  It sometimes gets a bad rap because people confuse it with sweeter German Rieslings, but these two wines are very distinct.  The dry Riesling will have notes of citrus and floral.  These wines can be aged for a decade or more, and as they get older may exhibit petrol notes (weirdly, this is not a bad thing).
Pairings.  The Riesling's acidic and mineral nature makes it a great pair for delicate white fish, seafood, white meats and pork.  This is a very flexible, food-friendly wine.
A Wine Concepts favorite is Trimbach.  Their basic Riesling is a very good wine and a good value at about $17 retail.  For a special occasion try their Cuvée Frédéric Emile or a Grand Cru.

Gewurztraminer.  This is an intensely aromatic wine with aromas of exotic fruits (pineapple, mango, lychee), citrus, flowers and spice.  (Gewurztraminer literally translates as "Spicy traminer.")  These are fruity, full-bodied wines that are low in acid.

Pairings.  This wine works as an aperitif.  It pairs well with fish and spicy white meats, spicy Indian food, and soft cheeses such as Munster.

Pinot Gris.  Do not confuse the Alsatian Pinot Gris with the Italian Pinot Grigios and American Pinot Gris - they are dramatically different.  The Alsatian version is full-bodied with flavors of smoke, earth, mushrooms, peach and dried fruits. (In contrast, the Italian and American varieties are lighter-bodied and have more subtle flavors).  If you've never had and Alsatian Pinot Gris, try the Zind Humbrecht, Trimbach or Lucien Albrecht.

Pairings.  The Alsatian Pinot Gris has been called the white wine choice for red wine drinkers.  It pairs well with game and roasted pork.

Crémant d'Alsace.   This is a sparkling wine that is a great value.  The Crémant is ideal as an apéritif, bit very flexible and food-friendly.  It will typically display notes of toast, white flowers and citrus.

A Wine Concepts favorite is the Lucien Albrecht Crémant.  It's widely available and about $20 retail.
Pairings.  This wine goes well with seafood, sushi and fruit-based desserts.

Dessert wines.  Alsace makes two great dessert wines that are only made during good vintages.

Vendange tardive ("VT").   These are rich and concentrated wines that are made from the four "noble" grape varieties picked several weeks after the normal end of harvest.  The result is that the grapes will have a higher natural sugar level.  The VT wines can be either off-dry or mildly sweet.  The grapes may or may not be affected by "noble rot" (a fungus that desiccates the grapes and thereby concentrates flavors).  A VT wine pairs well with foie gras, creamy dishes and blue cheese.
Sélection de grain nobles ("SGN").  These are very sweet wines that are made from late harvest "noble" grapes that are affected by "noble rot."  SGN wines will feature notes of honey.  Because the grapes are picked individually, and only during exceptional vintages and good weather, this is a rare and expensive wine.  Try it with bleu cheese or decadent desserts.
Producers to know. Trimbach is a family-owned winery, and they make  consistently good quality wines.   Other good producers include Lucien Albrecht, Domain Weinbach and Domaine Zind Humbrecht.
The Conseil Interprofessionnel des Vins d'Alsace website is great source for more detailed information. It can be found here.