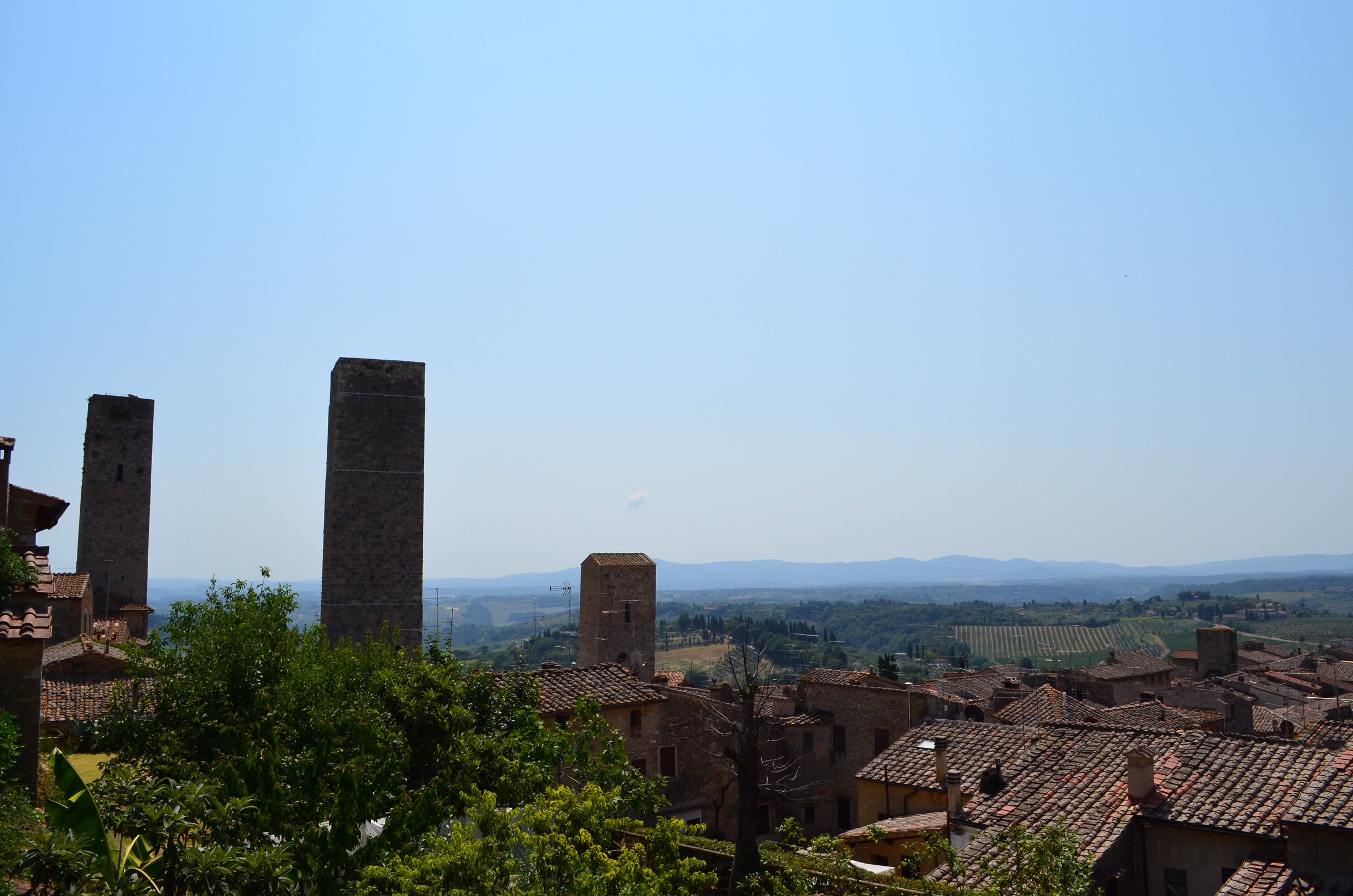 Tuscany (Toscana to Italians) is Italy's best-known wine region.  About 90 percent of its production is red, encompassing both internationally acclaimed, high-end wines and excellent value wines.  Although ten percent of its production is white, these are generally neutral-tasting, quaffing wines dominated by the Trebbiano grape.  If you want a serious Italian white wine, however, it is best to look north to appellations like Trentino-Alto Adige and Friuli Venezia Guilia.
The wine scene in Tuscany can be a little difficult to sort out.  There are over 40 DOC/G appellations, each with its own rules about authorized grape blends, production methods and aging.  And, there are a number of Super Tuscan "nome di fantasia" (fantasy names) wines.  Adding to the confusion, the labels at times can be indecipherable.
It's helpful to know that, Super Tuscans aside (more on that later), the majority of Tuscan red wines are based on Sangiovese grapes.  In a sense, Tuscany is Italy's equivalent of Bordeaux – a high profile, market-driven region with a range of good quality wines.  This contrasts with Piedmont, which is widely recognized as being similar to Burgundy – insular, reflective, and terroir driven.
Generally, the Sangiovese-based wines of Tuscany are light-colored, with high acid, moderate tannins, cherry and red fruit aromas and flavors.   Those that are made from 100 percent Sangiovese tend to have greater depth of flavor and complexity.
Some terms to know.
Super Tuscan.  This is not an official category.  If anything, it's an anti-category, as Super Tuscans came about in the 1970s when winemakers found that they could produce some very high quality wines using grapes, such as Cabernet Sauvignon, that were not authorized in any of the DOCs and DOCGs.  The original Super Tuscan was called Sassicaia, produced by Tenuta San Guido, and you can buy a current vintage if you want to spend $200+.  This Cabernet Sauvignon and Cabernet Franc blend had been made for family use only for many years, but was released commercially in 1968.  Ironically, this expensive, internationally acclaimed wine originally had to be labeled vino di tavola (basic table wine)and is now labeled IGT.  A Wine Concepts favorite Super Tuscan, produced in the Chianti region primarily from Sangiovese but with Cabernet Sauvignon and Cabernet Franc in the blend, is Antinori's Toscana Tignanello (about $135 retail).
Classico.  A wine labeled Classico is produced within the appellation's original footprint.  For example, Chianti Classico means that the wine comes from the region where Chianti was originally produced.  Typically, when an appellation was expanded to outlying areas, the terrain was less favorable for wine production, and therefore Classico wines are often superior to those from the surrounding areas.
Key Tuscany Appellations. 
The three most prominent appellations for Tuscan reds are Chianti Classico, Brunello di Montalcino and Vino Nobile di Montepulciano.  All are Sangiovese based, but are quite different in character.  Vino Italiano, by Joseph Bastianich and David Lynch, provides a great description of the wine style of the three regions:
"A good Chianti, or Brunello di Montalcino, or Vino Nobile di Montepulciano, has a foresty, smoky quality; drinking it is like eating berries in the woods, the spicy scents of the underbrush mingling with the sweetness of the fruit. "
These wines are subtle rather than powerful.
Before we turn to the specific appellations, if you're looking for a nice, inexpensive Tuscan red that's frequently on wine lists and retail stores, try Banfi's Centine  (pronounced CHEN- tee – nay).  It's 60 percent Sangiovese, 20 percent Merlot and 20 percent Cabernet Sauvignon.  A medium-bodied wine with plum and cherry flavors – great for pasta, and it costs about $8 or 9 at retail.  As I write this, I'm sipping a 2016 Centine.
Chianti.
The basic Chianti region, located between Florence and Siena, covers approximately 42,000 acres (expanded from the 17,000 acres in Classico zone).  Here, the wines must contain a minimum of 70 percent Sangiovese (although up to 100 percent is permitted), with up to 15 percent of the remainder permitted to be 'foreign' red grapes such as Cabernet Sauvignon and Merlot.
For those of you with lingering bad memories of pathetic Chianti in straw clad bottles (aptly named "fiascos"), there has been a massive improvement in the quality of Chianti over the last 20 or so years.  This is due to an intense focus on quality, adoption of new blending rules, which allow up to 100 percent Sangiovese, and the adoption of advanced winemaking techniques.
The basic Chianti region contains seven sub zones: Colli Arentini; Colli Fiorentini; Colli Senesi; Colline Pisane; Montalbano; and Rufina (regarded as the best).  Each sub zone has its own specific set of standards, although those standards cannot be less strict than the basic Chianti standards.   For example, the Senesi sub zone requires a minimum of 75 percent Sangiovese in its blend.  What does all that mean?  The wines from the sub zones will be similar yet be distinguishable – so, experiment and see what you like.
Chianti Classico.  This is the original Chianti zone, and its wines are generally considered to be superior to those of the basic Chianti region. The Classico wines must have a minimum of 80 percent – and are often 100 percent – Sangiovese.  You can easily identify a Chianti Classico by the trademark black rooster ("Gallo Nero") label on the bottle.
There are three Chianti Classico quality classifications.   There is the basic ("annata") Classico.   The Riserva is a step up in quality, and must be aged for 24 months and conform with stricter technical standards.  The flagship "Gran Selezione," a classification added in 2013, requires exclusively estate grown grapes, a 30-month minimum aging period, and stricter technical requirements.
Vintages and favorites.  The 2015 vintage in Chianti is stellar.  Although there are many good choices, here are a few of the Wine Concepts favorite producers:
Badia a Coltibuono;
Rocca della Macie;
Ruffino (try the Riserva Ducale Oro – about $40 retail); and
Banfi.
If you visit Chianti. 
A great place stay during your exploration of Chianti is the town of Colle di Val D'Elsa. The upper portion of Colle is a spectacular medieval walled town, and here you'll find what is arguably the finest restaurant in Tuscany, the Michelin 2-star Arnolfo's.  A great place to stay is the Palozzo San Lorenzo, just inside the town walls.  From Colle, it's an easy drive to San Gimignano, Monteriggione and the Chianti road.
A great place for a wine tasting is the Rocca della Macie in Castellina.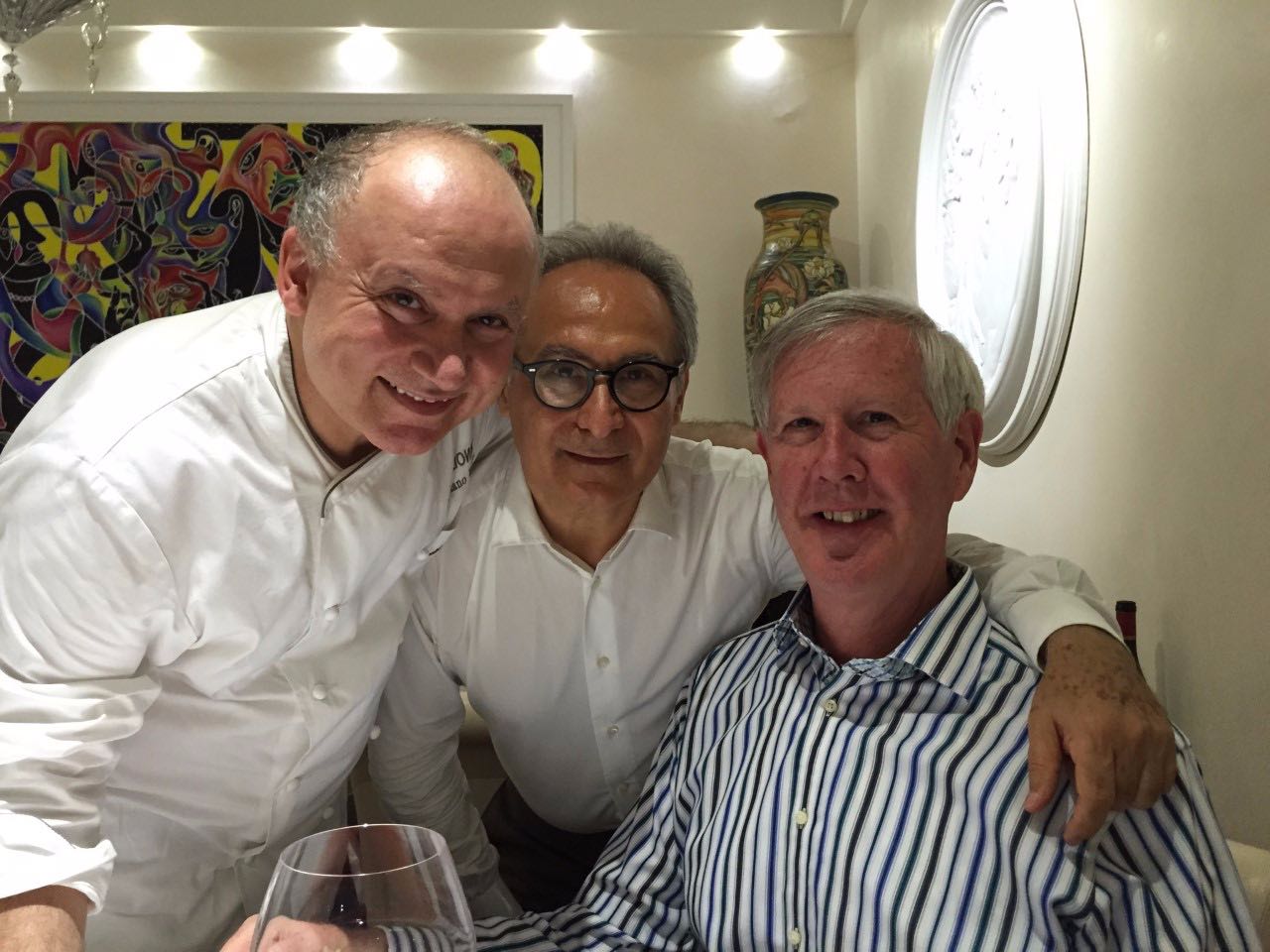 Brunello di Montalcino.  Montalcino is a small medieval village 40 miles south of Siena, just south of the Chianti Classico region.  These wines are made from 100 percent Brunello grapes, which in fact are a clone of  Sangiovese.  Brunello is the most powerful of the Tuscany Sangiovese wines, a consequence of the Montalcino climate (warmer and drier than Chianti), unique soils and the characteristics of the Brunello clone.  The wines are aged a minimum of 4 years (5 years for the riserva), with 2 of those years in wood.
Brunellos are intense wines with significant tannins, and can age for decades.  Although they are suitable for cellaring, if you like fruity wines an older bottle may not be to your taste.   A Wine Concepts favorite is the Il Poggione; if you can find a 2012 – grab it and enjoy. (2012 was a spectacular vintage for Brunello.)
If you're looking for a less expensive version, try the Rosso di Montalcino – sometimes called the baby Brunello -- it's a great value.  This is a lighter wine, aged for a shorter period, and while it uses the same variety the grapes typically come from less desirable plots.  The Il Poggione Rosso runs around $20 at retail, compared to $70 for that producer's basic Brunello.
If you visit Montalcino:  First, don't drive into the walled city.  The roads seem to be narrower than the cars, and I'm pretty sure that they narrow down to a point from which it is impossible to extract yourself.  Second, a great place to stay is Castello Banfi.  This restored castle, in the middle of the vineyards, has nine luxurious rooms and five suites.  There are two excellent restaurants on site, and the tasting room features all of the Banfi wines.  Lounging at the pool while sipping a glass of wine and looking out over acres of vineyards is a wonderful experience.
Vino Nobile di Montepulciano.  Here the wine is produced from another Sangiovese clone, Prugnolo Gentile, which must be at least 70 percent of the blend.  This is the smallest of the "big three" Tuscan appellations, and often overlooked.  The region doesn't really have a uniform style, as their wine laws are less strict about authorized grapes and aging.  Generally, however, you'll find a less intense wine with softer tannins than the Brunellos, and less acidic than the Chiantis.   Wine Concepts' favorite producer is Avignonesi.
Carmignano.  Located just west of Florence, this appellation is unusual because it  authorizes 10 to 20 percent Cabernet Sauvignon or Cabernet Franc to be added to the blend, along with a minimum of 50 percent Sangiovese.
Bolgheri.   This is an area with distinctive terroir and wine styles that is a hotbed of innovation.  Bolgheri is located in the southern coastal area of Tuscany, in the northern end of an area called the Maremma.   The region produces red, rosé and white wines, and the red grapes are predominantly Cabernet Sauvignon, Cabernet Franc and Merlot.  Notably, it was here that the Super Tuscan movement was born,  As with Chianti, the 2015 vintage was spectacular.  There are some good values to be found in Bolgheri , as well as some acclaimed, high-end wines such as Sassicaia.  A Wine Concepts favorite is Gaja's Ca' Marcanda Promis, a blend of Merlot, Syrah and Sangiovese (about $45 retail).
Vin Santo.  This is the signature dessert wine of Tuscany. The wine is made by hanging grapes in rafters to dry to concentrate sugar and flavors, after which the grapes are crushed and put into small barrels to ferment. The barrels are kept sealed for 3 years, and stored in attics where they are exposed to natural temperature variations. This is an extraordinary dessert wine.
Vin Santo is produced in several Tuscan appellations, including Vin Santo del Chianti DOC; Vin Santo del Chianti Classico DOC, Vin Santo di Montepulciano; and Vin Santo di Carmignano.  The Wine Concepts favorite producers:  Avignonesi and Isole e Olena.