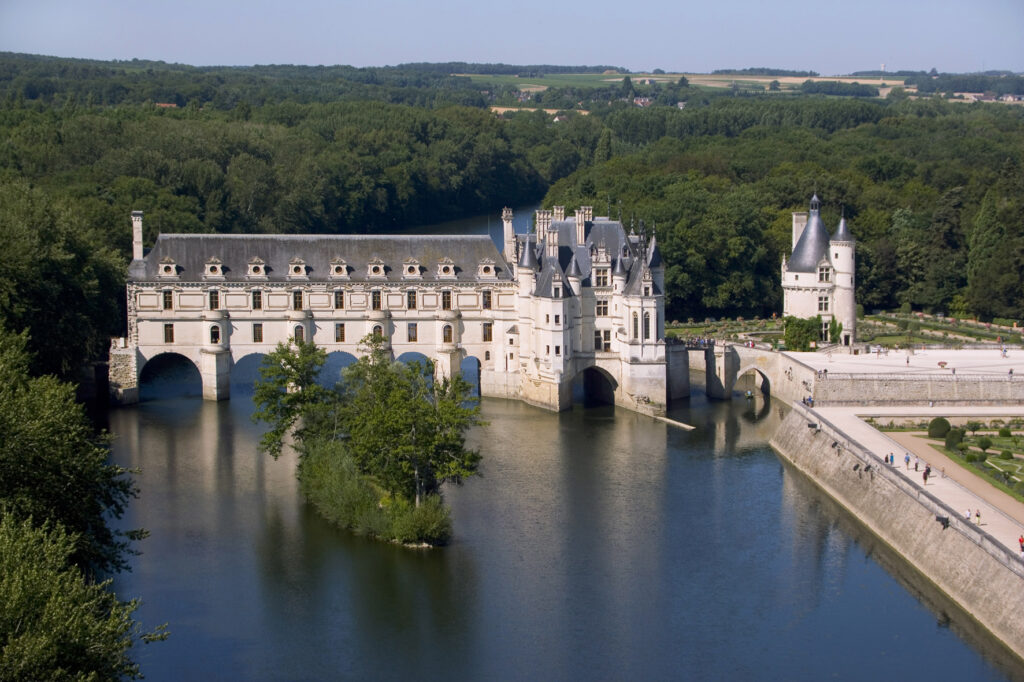 The Central Loire Valley appellation of Vouvray produces the world's most distinctive, rich Chenin Blanc wines.   These are floral, fruity white wines with vibrant acidity, and they are made in dry, off-dry, sweet and sparkling styles.  Because  it isn't widely known to consumers, Vouvray typically is a great value.  If you're looking for something different for a nice aperitif, or to pair with shellfish, seafood or pork, you might want to give this a try.
While Californian and South Africa also produce Chenin Blanc, they simply can't compare.   Perhaps that's because Chenin Blanc is native to the Loire Valley, and thus well suited to its soils and climate.
Vouvray is located near the city of Tours, in a region called the Touraine.   To put that in context, the Loire River begins in central France and runs for 620 miles to the Atlantic Ocean at Nantes.   The central Loire area, located midway along the river,  is a land of vineyards, castles and chateaux that has been designated a UNESCO World Heritage site.  (Pictured above is the Château de Chenonceau, located about 15 miles from Vouvray).  Road trip, anyone?
Vouvray is located in one of the coldest areas in the Loire Valley.   Therefore, its wines typically are acidic, giving them a mouthwatering liveliness.  It also helps these wines to age longer than many whites.  Basic Vouvray wines can easily cellar for five to 15 years, and develop more complexity after five years or so.   It's said that the best can age for 50 years or more, but who can wait that long?
Montlouis-sûr-Loire is located directly across the river from Vouvray.  These wines are made from the same grape and on similar soils to Vouvray - but because they are lesser known, there are great values to be found here (a Wine Concepts favorite producer is Domain François Chidaine).
For more details on Loire Valley wines, click here.
Our wine of the week is a 2017 Champalou Vouvray ($22 retail).  If you've never had a good Chenin Blanc, you should try this wine.   Champalou is a highly regarded, family-owned producer that is committed to sustainable viticulture.   The wine is straw yellow, and the nose is dominated by white stone fruit and a touch of honeysuckle.  The palate features noticeable minerality and vibrant acid, and stone fruit.  It's medium bodied, with a medium, interesting finish, and has a relatively low 12.5 percent alcohol level.   This is a wine that makes you want to take another sip as soon as the last one fades away.
Vouvray should be served at about 50 degrees.  It makes a great aperitif, perhaps with goat cheese or prawns.  Or, pair it with with shellfish, sea bass, salmon or even pork.
It's widely available in retail stores and restaurants.  (For our Austin readers, we could only find it at Central Market).
About vintages.  The weather in the Central Loire varies significantly across years, which causes variations among vintages.  The last three vintages have been good.  That said, talented wine makers can produce good wine even in a bad year.
Finally, a technical note.  Several readers have remarked that they have been unable to post comments on blogs for the past several weeks. That turns out to have been a technical problem with GoDaddy that has been fixed.  They say.  So, post away!
Cheers!