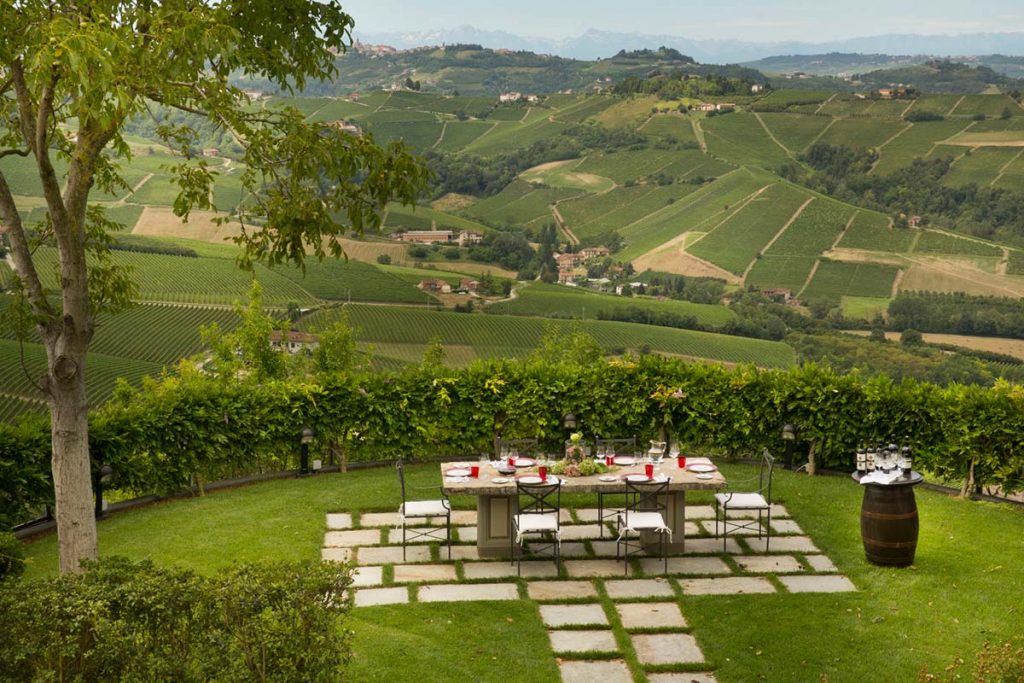 Piedmont's most prestigious wine, the Barolo, has long been called "The Wine of Kings, and the King of Wines."   Apparently the PR industry got an early start in Italy.   Barolo is also associated with an actual king, Victor Emmanuel II, who planted vines around the family estate, Fontanafredda, which remains one of the leading Barolo producers.   Piedmont also makes some terrific "common" wines, such as the surprisingly good $16 Barbera reviewed below.
Piedmont generally.  The Piedmont region is located in the northwest corner of Italy, bordered on the west by France and on the north by Italy's Valle d'Aosta region and Switzerland.  Piedmont has more high quality (DOC and DOCG) wine appellations than any other Italian region.  Although two-thirds of its production is red, it also produces some decent white and sparkling wines.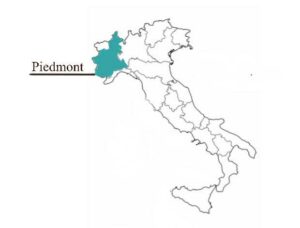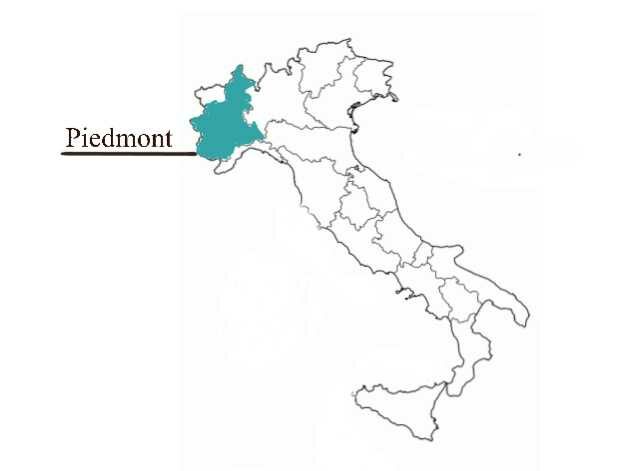 Piedmont is the philosophical soulmate of France's Burgundy region.   Similar to Burgundy, Piedmont winemakers generally make their best wines from a single grape variety (Nebbiolo) that is uniquely matched to the local terroir.  (Other Italian wine regions generally make wines from a blend of grapes.)
The "big three" Piedmont red grapes are Nebbiolo, Barbera and Dolcetto.  Here's how to think about the wines produced from these grapes:
Nebbiolo. This very tannic grape, which is seldom produced successfully outside Piedmont, is used to make Barolo and Barbaresco wines.  These two wines are named after the principal communes where they are produced.

Barolo is a powerful, intense wine that is aged for several years in oak.  After you purchase it, a Barolo needs to age in the bottle for several years before it is ready to drink, and should be decanted for at least an hour.  (Traditionally, a Barolo wasn't ready to drink for at least a decade, but modern wine making techniques have changed that).  Think of this for beef and pasta with a heavy tomato-based sauce.
Barbaresco is typically a finer, marginally less powerful version of Barolo.  It is often thought of as the "queen" to king Barolo, although the two wines are becoming increasingly similar.
A practical tip: look for Nebbiolo wines from the Langhe, Ghemme and Gattinara appellations.  Although not quite as highly regarded as a Barolo or Barbareso, they can be good value wines.

Barbera.  The most widely planted red grape in Piedmont, it accounts for more than 50 percent of red wine production.  These are "everyday" wines - both because of low price and their easy-drinking style.  They are high in acidity and relatively low in tannins.  Because of its smooth texture and plum flavors, these wines are great for pasta with a meat sauce.   Look for Barbera d'Alba or Barbera d'Asti.
Dolcetto. The grape name means "little sweet one."  It produces inexpensive, easy-drinking, fruity wines with a deep purple/violet color, low acidity, and sweet tannins.  These wines typically have aromas of black violet and fruits, and some licorice or coffee on the palate.  Look for a Dogliani DOC - it may not say Dolcetto on the label, but Dogliani specializes in Dolcetto.
Wines of the week.  This week we tasted two wines - a Barolo and a Barbera d'Alba.
For our Barolo, we chose a 2006 Pio Cesare Barolo (Current vintages retail for about $65).  This is a basic Barolo (if any Barolo can be called that).   It's an excellent wine, with subdued aromas of tar, earth and perhaps some floral notes.  It has  soft velvety tannins and a long finish.  As with all Barolos, it's an intense wine that needs intense food to stand up to it.   This is not a wine that you'll want to sip by itself or have with a light fish or poultry, but with a beef dish or a pasta with a heavy tomato sauce it's magic.  You'll want to decant it for for an hour, or even two, before serving.
For our Barbera, we chose a 2015 Marchesi di Barolo Barbera d'Alba Ruvei  (About $16 retail).  The picture above is the Marchese di Barolo estate.   This wine was an unexpected gem. It's medium bodied, with a pleasant nose of jammy red fruits, a bit of spice and toast.  On the palate, it features red fruit, noticeable vanilla and toast and a medium finish.  The wine is great with pasta or beef, as well as mushrooms and blue cheeses.   Unlike the Barolo, it's ready to drink young.  For a $16 bottle, it's a bargain and we've added it to the Wine Concepts favorite list.