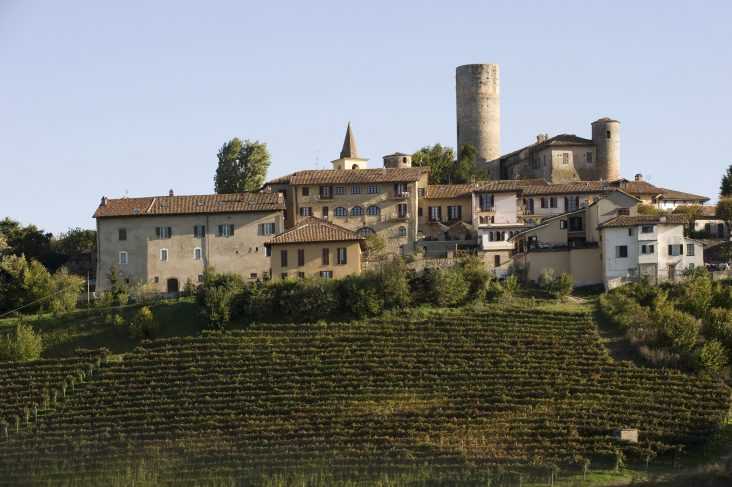 What you need to know about Piedmont. 
Generally.
Although Piedmont produces some decent white and sparkling wines, its focus is on red wines.  Two-thirds of its production is red, and that includes the prestigious Barolo and Barbaresco wines, as well as a variety of easy-drinking Barberas and Dolcettos.
Piedmont is the philosophical soul mate of Burgundy.  Among the things that they have in common:
The best wines are typically made from a single grape variety that is uniquely matched to the local terroir.  In Piedmont, that grape is the Nebbiolo.  In contrast, other Italian (and French) wine regions generally make wines from a blend of grapes.
The winemakers strive to produce wines that are "pure" expressions of the local terroir, with minimal intervention.
The average vineyard size is relatively small, and there are many small producers.
Piedmont is located in the northwest corner of Italy, bordered on the west by France and on the north by Valle d'Aosta and Switzerland.   (For a general overview of Italian wines, click here.)   Piedmont has more high quality (DOC and DOCG) wine appellations (57) than any other Italian region.  There is also a general Piedmont DOC, which encompasses the entire region and includes both still and sparkling wines from a variety of grapes.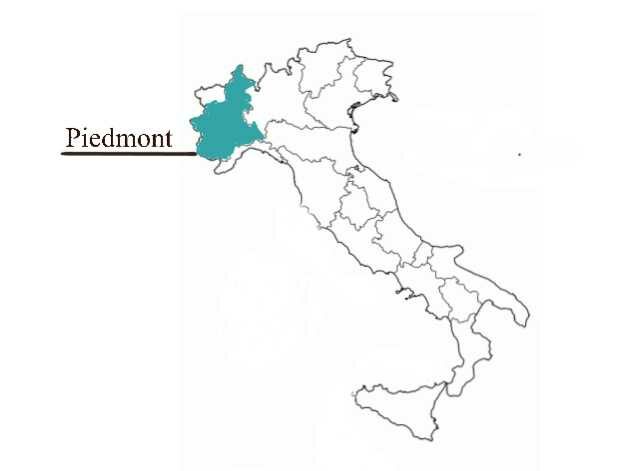 Terms that you should know.
DOCG.  (Denominazione di Origine Controllata e Garantita).  This is the highest Italian quality level.  Despite the use of the word "garantita" (guarantee), the DOCG designation doesn't really guarantee the quality of a specific wine.  That is because the DOCG classification is awarded to specific regions, not to particular vineyards or producers.
DOC.  (Denominazione di Origine Controllata).  This is the second highest Italian quality level.  These wines must meet similar, but less strict, standards as DOCG wines.
Riserva.  These wines are aged longer.   For example, Barolo is aged three years, two of which must be in oak, but the Barolo Riserva is aged five years, with three in oak.
Spumante.  The Italian term for sparkling wine.  Spumante wines are made by a second fermentation, either in a large pressured tank (the "Charmat" or "tank" method) or in the bottle ("Metodo Classico" or "champagne" method).
Frizzante.  The Italian term for semi-sparkling wines, generally produced by a partial second fermentation in a tank.  These wines have lower pressure than the spumante, and because not all of the grape sugar is fermented to alcohol, they have relatively low alcohol levels and noticeable sweetness.
Red wines.
The "big three" Piedmont red grapes are Nebbiolo, Barbera and Dolcetto.   Here's how to think about the wines produced from these grapes:
Nebbiolo.  Some of the best and longest-lived wines in the world are produced from this high-tannin, high-acid grape: Barolo and Barbaresco.  These two wines are named after the principal communes where they are produced.  Additionally, less prestigious (and less expensive) Nebbiolo-based wines are produced from surrounding areas.
Barolo is a powerful, intense wine that has been called "The Wine of Kings, and the King of Wines."

Despite its power, Barolo is relatively light-colored, like a Pinot Noir.
Because of its strong tannins, a Barolo should be cellared for several years before drinking, to allow the tanins to mellow, and should be decanted for at least an hour.  Traditionally, a Barolo was aged for at least a decade after its release, but modern wine making techniques have shortened that.
There are about 800 Barolo and Barbaresco producers.   Although their wines share the same basic characteristics, they vary in style based on vineyard location and production techniques.  A Wine Concepts favorite is the Pio Cesari Barolo (current vintages are about $65).
A Barolo is perfect for beef, lamb, game and pasta in a strong tomato sauce.  This is not a wine that you'd want to pair with most fish, as it would completely overpower the fish.
Barbaresco is typically a lighter-bodied, marginally less powerful version of Barolo.  It's not aged quite as long as the Barolo – a minimum of two years, and four for the riserva.  It also has strong tannins and high acidity, and should be cellared for several years before drinking.

Barbaresco is often considered the "queen" to "king" Barolo, although the two wines are becoming increasingly similar.
There are several high quality "cru" Barbarescos.   "Cru" vineyard bottlings are considered the "gold standard" for Barbarescos, but the cru vineyards are not ranked.  Two well-regarded  cru vineyards are Sori Tilden and Sori San Lorenzo.

A practical tip:  Nebbiolo wines are produced in the areas surrounding Barolo, and while they are not quite as highly regarded as a Barolo or Barbaresco, they can be good value wines.  Some areas to look for are Langhe, Ghemme and Gattinara.  Each of these appellations has its own personality, but are still distinctly nebbiolo.
Barbera.  The most widely planted red grape in Piedmont, Babera accounts for more than 50 percent of red wine production.  These are typically very good "everyday" wines - both because of their low price and their easy-drinking style.  They are high in acidity and relatively low in tannins.
Because of its smooth texture and plum flavors, Barberas are great for veal, pasta with a meat sauce or even a pizza.
Look for Barbera d'Alba, Barbera d'Asti or Barbera del Monferrato.   A Wine Concepts favorite is the Marchesi di Barolo Barbera d'Alba Ruvei  (About $16 retail).
Dolcetto. The name means "little sweet one," and it produces inexpensive, easy-drinking, very fruity wines with a deep purple/violet color, low acidity, and sweet tannins.    They have aromas of black violet and black fruits, and some licorice or coffee on the palate.  Their style can range from light and soft – almost Beaujolais-like – to plumper with sweet tannins similar to a California Merlot.
There's no need to age these wines, they're ready to drink when young.
Dolcettos pair nicely with darker meats, including beef and lamb, cold cuts and pasta or vegetable dishes with roasted tomatoes and garlic.
Look for Dolcetto d'Alba, Dolcetto di Ovada and Dolcetto di Dogliani.
Some good producers.   Good Piedmont producers include:
Renato Ratti,
Vietti,
Pio Cesare,
Marchese di Barolo,
Gaja.
White wines.

Cortese.   This is the most highly respected Piedmont white wine. It's light, refreshing and simple, with pear and mineral notes.

This wine pairs well with antipasti, seafood dishes and pesto pastas.
 Look for a Cortese di Gavi.
Moscato ("Muscat").   The two wines described below are generally made using the Charmat method, where the second fermentation occurs in a pressurized tank, rather than in the bottle.  The fermentation is stopped before it is complete, leaving residual sugar which gives the wines significant sweetness.

Asti Spumante.  This is a fully sparkling wine with a relatively low (about 9 percent) alcohol level.  It's typically crisp, aromatic and has peach and apricot flavors.   There are some very nice Asti Spumantes,  the best of which are made using the "traditional method" in which the second fermentation occurs in the bottle.

This wine makes a good aperitif, and will also pair well with light fish dishes.
 Some good producers are: Banfi, Giuseppe Contratto and Fontafreddo.

Moscato d'Asti. This is a semi-sparkling ("frizzante"), low alcohol, sweet wine.  The fermentation is stopped when the alcohol level reaches about five percent.

Think of this to go with fruity deserts, like a strawberry shortcake or a fruit tart.

Arneis.  One of the most interesting whites in Piedmont. It's floral and fruity.

This pairs well with creamy pastas, poultry and light fish.
 Look for the Roero Arneis.