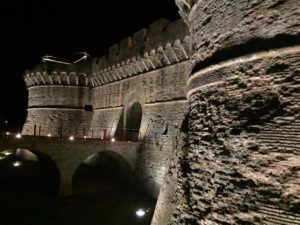 The Wines of Italy
Italy vies with France for the title of world's largest wine producer, and is also a major wine consumer.  Italian wines can be found in every wine style, including red, whites, rosé, sparkling and sweet dessert wines.  While there are many classic Italian wines that command very high prices, there is also a large volume of excellent, reasonably-priced Italian wines suitable for everyday consumption.  Even more so than France, Italian wines can be confusing, but it's worth a little effort to get to know them.
Below, we provide some key concepts to help you select the perfect Italian wine.  Following that, we provide more detailed information on key Italian wine regions.  As always, our goal is to skip the technical details and focus on practical information on how to expand your knowledge and increase your enjoyment of that region's wines.
The Italian wine quality pyramid. 
All Italian wines fall into one of the four categories on the following pyramid: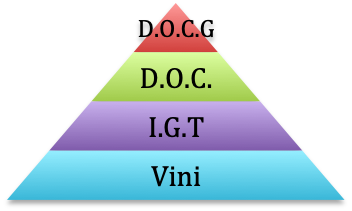 The Italian classification system was not enacted until 1963.  (To put that in context, although wines have been produced on the Italian peninsula for over 2,000 years, when Bordeaux implemented its famous 1855 classification system, Italy had not yet become a unified country.)  In 2009, Italy conformed its system with the newly enacted European Union classification system.  Today, you may see either the Italian or EU classification name on the label.
Although the Italian wine classification system was modeled after the French, a key difference is that it has two quality classifications that fall within the EU top level "PDO" designation:  DOC and DOCG.  Collectively, these wines account for about thirty percent of Italian production.
 DOCG (Denominazione di Origine Controllata e Garantita).  This is the highest Italian quality level; as of 2018, there are 74 DOCGs.  Note, however, that despite the use of the word "garantita" (guarantee), the DOCG designation doesn't really guarantee the quality of a specific wine.  That is because the classification is awarded to specific regions, not to particular vineyards or producers.  Thus, all producers in Chianti Classico are DOCG - obviously, the quality of the wines will vary among producers.
To qualify as a DOCG, a wine must:
come from a specified geographical area;
be made from authorized grape varieties;
conform with strict regulations on how the grapes are grown, how the wine is made and aged; and
conform with restrictions on the amount of grapes ("yield") that can be produced.
DOCG wines generally come from smaller delimited areas than lower quality wines, and are held to stricter production standards, both in the vineyards and in the winery.  These wines must undergo both a laboratory analysis and a blind tasting to assure conformity with the region's wine laws.  Before an appellation can be promoted to DOCG, it must have held DOC status for 10 years.
2.  DOC (Denominazione di Origine Controllata). This is the second highest Italian quality level; as of 2018, there are 334 D.O.C.s.  either the D.O.C. or PDO designation may appear on the label.  These wines must have to meet the same general of standards described for DOCG wines, but those standards are less strict. For example, higher yields may be permitted (lower yields generally translate to a more concentrated, higher-quality wine).  Note that a DOC wine may be labeled with the EU "PDO" designation."
The middle quality level for Italian wines is IGT (Indicazione Geografica Tipica).  There are 118 IGTs, and these wines account for roughly 30 percent of Italian production.  Wines in this category are sometimes labeled with the EU designation Indicazione Geografica Protetta (IGP).  These wines come from relatively large geographical areas, and the production standards are much less strict than the DOC/G.  That is not necessarily an indication that the wine is a lower quality, however.  Some highly prestigious wines, such as the Super Tuscan "Sassicaia," are classified IGT because that gives the winemaker more flexibility in  the selection of grapes and production methods.
Vini.  Wine that do not fall into one of the above categories are "Vini."  These wines account for about 40 percent of Italian prodcution.  The grapes can be sourced anywhere in Italy, and the label may indicate grape variety if made with 85% or more of one of seven grape varieties.
So, what should you make of these classifications?  They provide a general indication of the quality of the wine as well as the style of the wine.  Importantly, however, a D.O.C. or D.O.C.G. designation doesn't guarantee that the wine will be better than a lower classified wine.   In some instances a producer may elect to produce a very high quality IGT wine so that it can use grapes that are not authorized for the higher classification.
Some terms that you should know.  The terms below will appear on the label, and provide useful information about what is in the bottle.
Classico.  This term indicates that the wine comes from the original district within the appellation.  For example, Chianti Classico means that the wine comes from the region where Chianti was originally produced.  Typically, when an appellation was expanded to outlying areas, the terrain was less favorable for wine production, and therefore Classico wines are often superior to those from the surrounding areas.
Superiore. This designation indicated that the wine contains a slightly higher alcohol level than "normale" wines. That higher alcohol level is achieved by either lower yields or riper grapes, so the Superiore wines are typically better quality than the the normale.
Riserva.  A reserve wine is aged for a longer period of time than regular wines, typically in oak for part of the aging period.  The specific aging requirements vary among the different appellations.
Key regions.   There are 20 wine regions in Italy.  While there interesting wines in each of these regions, the following six are the regions that you should know.
Tuscany.   Tuscany, or Toscana as it's known to the Italians, is the land of Chianti, Super Tuscans and other fine wines.  It's probably the best known of the Italian wine regions.
Piedmont.  This region produces some of Italy's finest wines, including the Barolo and the Barbaresco.  Click on the Piedmont page to learn about these wines and more.
Veneto. Coming soon.
Friuli-Venezia Giuila. Coming soon.
Trentino-Alto Adige.  Coming soon.
Sicily.  Coming soon.