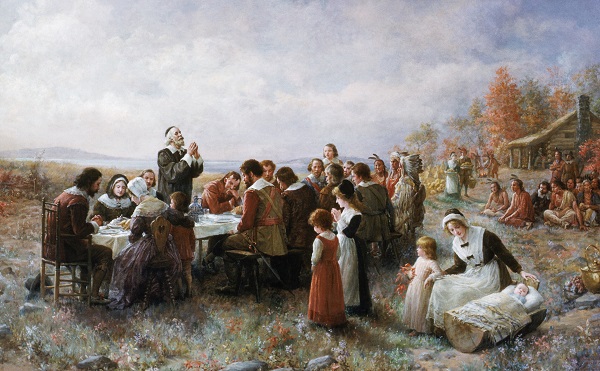 Back in 1621, the Puritans held a celebration in Plymouth to mark the success of their first harvest. It wasn't the first such celebration in the "New World" (Jamestown, Virginia preceded them by several years), but it's generally accepted as the model for our modern Thanksgiving celebration. Of course, the Pilgrims had to work with the basics, such as turkey, fish, maize and fruit. Stuffing and football came later. But the tradition of family and friends coming together to celebrate their blessings was launched.
Fast forward four hundred years and we've refined the Thanksgiving celebration to an art form. Of course, everyone has their own special recipes and traditions. That leads to the inevitable question of, "What wine do we pair with that?" Sure, some guys pop a beer at the first kickoff, and the meal is just a speed bump between football games, but this is a wine blog and we won't go there.
There are countless pairings that will work well, but below I have some suggestions to get you started. Let's start with a couple of general thoughts. First, don't get to hung up on the perfect pairing – just stay away from big, high tannin reds and overly oaked whites and you'll be fine. Second, when selecting your wines, it's worth considering that lower alcohol (12 – 13 percent) is a good thing -- unless you enjoy watching Aunt Gertrude dance on the table.
Aperitif. Sparkling wines are traditional, but why not kick it up a notch with a sparkling rosé? It's perfect while nibbling munchies and waiting for the main event, and goes surprisingly well with the whole meal. Nicolas Feuillatte makes a great rosé Champagne ($45 retail). A less expensive alternative is a Crémant d'Alsace; Trimbach is one of our favorites ($22 retail).
The main course.  There's a lot going on in a traditional Thanksgiving dinner, with turkey and various side dishes, and that affects wine pairings. But you won't go wrong with the following:
Red wines. Look for something with light tannins, moderate acidity, good fruit flavors and maybe a little earthiness.  Unless you're serving beef, save the big Cabernet Sauvignon for another day.
Pinot Noir is a natural match for turkey, both dark and light meat, and goes well with most of the traditional sides, including cranberry. Our favorites come from Burgundy and Oregon's Willamette Valley.

Burgundy suggestions:  Lignier-Michelot "Vielle Vignes" ($85 retail) from Chambolle-Musigny; Louis Latour Marsannay Rouge ($30).
Willamette Valley suggestions:  Domaine Serene Evenstad Reserve (about $80) and Lemelson Thea's Cuvee ($30).

Beaujolais. There's more to Beaujolais than bubble gum-like Beaujolais Nouveau. The best of these are from the ten "cru" appellations in northern Beaujolais, particularly from Morgon or Moulin-à-Vent. These wines have lighter tannins and are fruitier that the Pinot Noir, and they pair well with turkey and most traditional sides. (Click here for a primer on Beaujolais). Suggestion: Stephane Aviron Morgon "Côte de Puy" (about $24 retail).

White wines. It's best to avoid the big, buttery, oaked New World Chardonnays, and look for something a little more subtle with a refreshing acidity.

Burgundy Chardonnay. There are lots of great choices, depending on how much you want to pay.  Some suggestions: 2017 Olivier Leflaive Puligny-Montrachet ($80 retail) and Wm. Fevre Chablis Champs Royaux ($25).
Alsatian Riesling. Dry Alsatian Rieslings are one of most food friendly wines and will match most everything on your plate. Suggestions:  Domain Trimbach Riesling ($20) or  Trimbach Cuvée Frédéric Emile (about $70).
Dessert.  A nice dessert wine is a great way to end a meal.
Tawny Port.  Taylor Fladgate 20-year-old Tawny Port (about $40 retail). Great with apple pie.
Sauternes. Great with cheese cake, particularly with a fruit topping.
A note on wine temperature:  There's no sense in picking a nice wine for your meal and then serving it at the wrong temperature. Generally, the ideal temperature for sparkling wines is 43 - 50 degrees; dry white wines 50 - 55; and lighter reds such as Pinot Noir at around 55-60.
Serving a white wine too cold will kill the taste; too warm makes it seem more alcoholic and coarser. A red wine that is too warm will seem alcoholic and jammy, and over chilled will seem thin.
If you don't have temperature-controlled wine storage, the simple way to approximate the right temperature is to put a white wine in the refrigerator for an hour and take it out 15 minutes before serving.  For reds, put the bottle in the fridge for 20 minutes before serving it and you'll be fine.
Happy Thanksgiving!