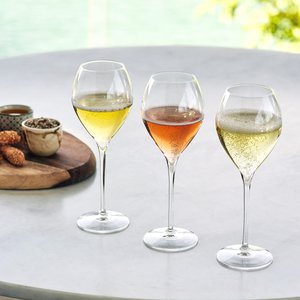 Let's start 2022 with a Spanish sparkling wine ("vino espumoso"). You're probably thinking, not another sparkling wine – the holidays are over. But bear with me – a few weeks ago I received my Spanish Wine Scholar certification and a glass of Spanish bubbly seemed in order.
Spanish sparklers used to be almost exclusively Cava. But some producers became dissatisfied with the perception of Cava as a low-quality wine, in the same class as budget bubblies like Prosecco, and decided to do something about it; more on that below.
The good news is that the Cava appellation recently responded by taking steps to raise its overall quality.
Many people don't quite know what to make of Cava. It's not as well-known as other sparkling wines, such as Champagne. The name "Cava" has only been widely used since the 1970s. The folks that named it weren't terribly creative – "Cava" means "cellar" in Catalonian. I'm guessing there were no PR firms and focus groups involved in that decision.
Cava is made using the same "traditional method" as Champagne. Still wines made from several grape varieties are blended, and a second fermentation (to create bubbles) occurs in the same bottle in which it is sold. For lower quality sparklers, the second fermentation occurs in a large, pressurized tank.
Only wines produced within the designated Cava DO territory may be called "Cava." That appellation covers seven Spanish regions, but 95 percent of Cava is produced in the Penedés region, near Barcelona.
Cava and Champagne differ in two important ways. First, they use different grapes – Champagne uses mostly Pinot Noir, Pinot Meunier, and Chardonnay, and Cava uses the native Spanish grapes Xarel-lo, Parellada and Macabeo. Second, the grapes are grown on vastly different terroir.
Both are good quality wines, and which you prefer boils down to taste preferences and perceptions of prestige. Generally, Champagne has more yeasty, brioche notes and is more crisply acidic, and Cava is more fruity and minerally. I've done several blind tastings with a range of sparkling wines, and more expensive champagnes often rank lower than French crémants, Cava, and other New World sparklers. My conclusion is that some people prefer the prestige of Champagne, and some occasions demand it.
Don't take my word for it, have some friends over and taste some sparklers blind – say, a Nicolas Feuillate Champagne, a Lucien Albrecht Crémant de Alsace, the Cava described below, and a Gruet Brut from New Mexico (all at similar price points). See which ones you like, and think about why you like or dislike them.
Spanish regions other than Cava can label their sparkling wines Vino Espumoso de Calidad ("Quality Sparkling Wines"). And, some producers within the Cava DO have chosen not to be called Cava.
One winery went its own way and proposed a new appellation called Conca del Riu Anoia (Anoia River Basin). That never gained traction, but it's nevertheless used as a marketing tool. Which leads to . . .
Our wine of the week is a 2018 Vintage Raventós I Blanc 'Blanc de Blancos' from Conca del Riu Anoia ($23 retail). Technically, it's a Vino Espumoso de Calidad that comes from a single producer in a very small area. We really enjoyed this wine, and it's hard to beat the price. It's Extra Brut and had nice strings of fine bubbles, although perhaps a bit less frothy than Champagne. This Cava had citrus and fruity aromas, and on the palate was nicely balanced with apple and citrus fruit, a hint of almonds, and a long finish with a pleasing touch of bitter. It has a relatively low alcohol level of 12 percent.
If you're looking for a good value bubbly, give this one a try.
Cheers!