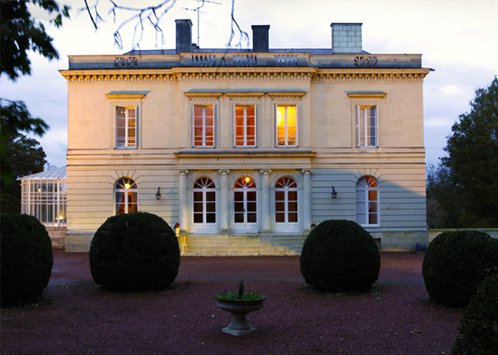 Saumur, in France's central Loire Valley, is one of France's main production centers for sparkling wine (known as "fines bulles" in the Loire region).   Most people don't think about the Loire sparkling wines, but they are very good.  Best of all, they're relatively inexpensive.  A good way to think about it is this: Saumur sparkling wines are comparable in quality, but significantly cheaper, than moderately-priced champagnes.  On the other hand, they're a clear step up from Prosecco for not much more money.  Sound like a good deal?  Read on . . .
Like Champagne, the central Loire Valley, where  Saumur is located, is relatively cold.  That happens to be ideal for sparkling wines because it creates the characteristic high acidity that make them mouth watering.
Also like Champagne, there are miles of wine cellars running under the city.  Centuries ago, Saumur's soft limestone (called "tuffeau") was quarried for building materials.  That left behind perfect underground cellars for aging sparkling wines.
Saumur sparklers are made using the same "traditional" method as champagne, but tend to be softer and less complex. They can be white or rosé, but are made from different grapes than Champagne, primarily Chenin Blanc, Chardonnay, and Cabernet Franc.  So, they'll taste a little different.
For a broader view of the Loire Valley, check out the Wine Concepts Loire Primer here.
Our wine of the week is a nonvintage Louis de Grenelle Samur Rosé Brut "Corail" ($19). The vineyard has been in business since 1859, and is the last of the independent family houses in the Saumur region.  (The photo above is the Grenelle château.)  Let's start with the big picture: this is a very nice wine for the money.  It makes a great aperitif, but takes on a whole new character with chocolate.  It would be perfect with chocolate cake, or fruity desserts.  OK, I confess - I just sat down with a hunk of milk chocolate and sipped it, and I was one happy camper!
It's made from 100 percent Cabernet Franc grapes, and has a light salmon color.  On the nose, we detected strawberry, pear and peach aromas, with a hint of honeysuckle.  On the palate, there was strawberry, good acidity and a velvety effervescence.
This particular wine is imported in small quantities, so it may be hard to find.  But, if you can't find this particular wine, try another Saumur sparkler. The rosés are good as an aperitif and with the dessert course, but the whites are a little more flexible and can be served with a variety of foods, particularly seafood and fried foods.
Finally, an update on the wine tariff wars.  First, the good news – France and the U.S. seem to have reached a compromise on their digital tax dispute that could have led to a 100 percent tariff on French sparkling wines.   Now, the bad news – based on the ongoing dispute with the European Union over subsidies to Airbus, the U.S. has proposed a 100 percent tax on all European wines. There is no clear timetable on when the tax might be imposed, although it is thought to be a matter of days or months.
The uncertainty associated with this proposed tariff has already disrupted the industry.  Importers and retailers are concerned that the tariff will be approved after they place their orders, thus doubling the price of their wines and potentially bankrupting them.   Already, there have been canceled orders and layoffs in the U.S. So, even if the tariff ultimately is not approved, the import pipeline has been disrupted and the likely result is scarcity and increased prices.
One observer has described the situation as the most serious disruption of the wine industry since Prohibition.  A bit overblown, perhaps, but you get the idea.
Cheers!