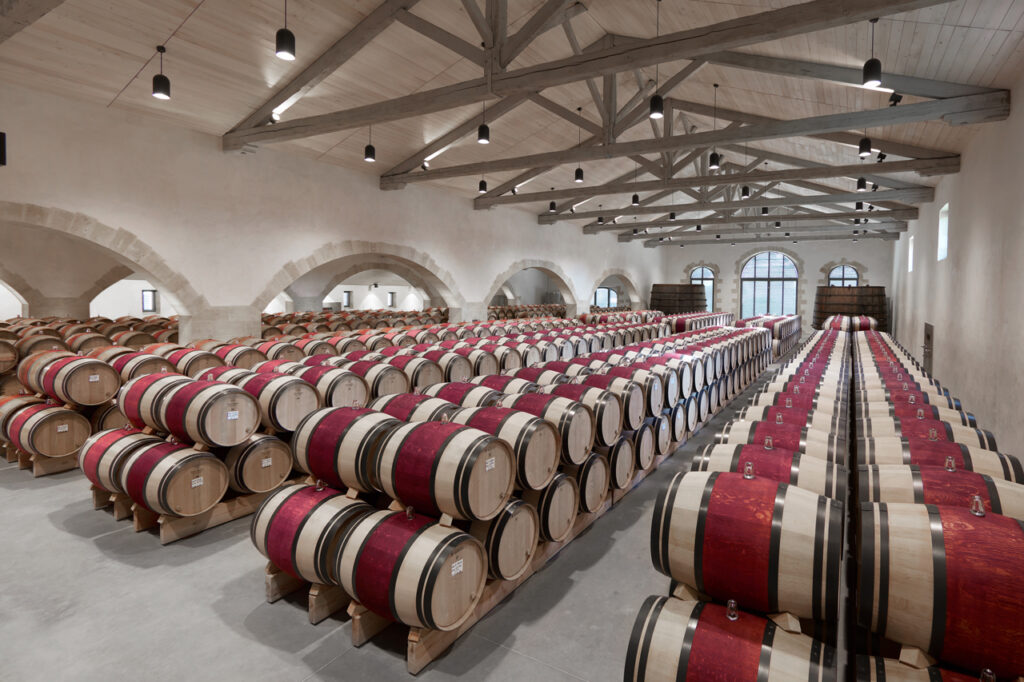 In confusion there is opportunity.  Several readers expressed some confusion about how to assemble a well-rounded collection of wine, which gave me the opportunity to raid the Wine Concepts cellar for nice Bordeaux to use as an example of an age-worthy wine.  There you have it -- a win-win situation.
We're going to cover cellaring in two parts: today, some basic concepts;  Part II will dig a little deeper and also discuss specific recommendations.
Let's start with some basic concepts:
Most wines are best consumed within a couple of years of their vintage.  Old doesn't always mean better - like people, some shine in their later years while others peak in kindergarten.  Generally, a wine with a good tannin or acid level ("structure"), or a dessert wine with plenty of residual sugar, will be capable of aging -- assuming that it's well made and properly stored.
Good wines evolve as they age.  But . . . even though a wine may "improve" with age, you may not like an older wine.  When a fine wine matures, it softens and becomes more complex, but its youthful fruitiness fades and different aromas emerge.   So, before you invest in some expensive Bordeaux or Burgundy wines with the notion of cellaring them for the long term, make sure that you try some older wines and that you like their flavor.
Determining the optimal time to drink a wine can be tricky.  Fine red wines evolve and soften over time, but the "sweet spot" for consumption varies considerably among wines.  If you drink a fine wine too young, you'll miss out on much of what it has to offer.  But if you wait too long, it will have faded.  Here are a few clues:

Firmer, more structured wines, such as Cabernet Sauvignon, Bordeaux blends and Nebbiolo can improve for decades, and may not be ready for consumption for eight to ten years.  Similarly, sweet dessert wines, such as Sauternes and Port, can last for decades.
Often the producer's website will have information about when the wine should be ready.
The best method is to buy multiple bottles of a given wine and try it in successive years to see how it is developing.

Proper storage conditions are critical if you're going to cellar wines.  The cellar doesn't have to be anything fancy, a $2,500 - $5,000 movable unit is fine.  The ideal conditions are:

Temperature: a stable 55 degrees F.   Wine ages as a result of complex chemical reactions, which occur more slowly at lower temperatures.
Humidity: approximately 70 percent keeps the cork from drying and shrinking, which would allow oxygen to enter the bottle.  The downside is that it's hard on labels.
Protect the wine from sunlight.  Ultraviolet light harms wine.
Store bottles horizontally, so that the cork stays moist.
Stocking your cellar.  Let's take this head on:  despite what some "experts" say, there is no "ideal" cellar -- what's ideal for you is a function of your preferences, budget and consumption pattern.  That said, a good way to start out is about 200 bottles using the following guidelines.
Have a plan.  If you're planning to invest, that's a whole (complicated) different discussion.  Most people want a balanced cellar, with a mix of reds and whites, some for immediate drinking and others to age.  And if it suits you, some "prestige" bottles.
What's your budget?  Think about it – if you buy 200 bottles at a moderate price point of $20/ bottle – you just spent $4,000.  And if you're looking at some more expensive wines to age – well, you get the idea.
Select wines from different regions.  Much of the fun with wine is experiencing the different characteristics from different regions, and pairing them with different foods.  Probably the most fun is to ship back wines from regions that you visit. That way, you have a nice selection and also get to relive your vacations.
Consider verticals and horizontals.  A vertical – different vintages of the same wine – allows you to see how it develops over time.  A horizontal – different producers from the same vintage – let's you explore differences in the same region.
Keep good records.  I know, this isn't the fun part, but if you keep a record of the price, purchase date, and estimated maturity date you'll be happier in the long run.
Some good regions to focus on.  The key is to get good quality wines from good producers that have been handled properly (not the discount bottle that you found in the bargain section at the wine shop).  Some suggestions (the links provide additional information) include:
Bordeaux.  There's a reason that people collect Bordeaux -- these wines develop in the bottle, and when they're mature can be well balanced, complex, and spectacular.  The reds often need eight to ten years in bottle to mature.
Burgundy.  Wines from the Côte d'Or are the anti-Bordeaux – subtle and refined. The best reds will keep for decades, and the best whites for a decade or more.
California Cabernet.  Really, you know you want some.  Pick your favorites -- no cellar would be complete without a good Napa Cabernet.
Italy:  There are two key areas to focus on here:

Super Tuscans.  These can be either a blend of Cabernet and Merlot, or a Sangiovese blend.
Piedmont.  Barolo and Barbaresco, based on Nebbiolo, are highly tannic and age-worthy.

Rhône Valley.  In the north, there are fabulous Syrah-based reds and Marsanne/ Rousanne based whites. The south features Grenache-based blends such as Châteauneuf-du-Pape.
Spain. This is the land of big reds.  Among other things, look for Rioja Riserva and Gran Riserva, Priorat and prestige wines such as Pingus and Vega Sicilia Unico.
Our wine of the week is a 2012 Calon-Ségur from the left bank Bordeaux town of Saint-Estephe (about $120 retail).  (Their aging cellar is shown above).  This is a "third growth" in the 1855 classification from a great producer.  It's 78 percent Cabernet Sauvignon, 20 percent Merlot and 2 percent Petit Verdot.  It has aromas of dark fruit, spice and earth, and on the palate shows a nice complexity and balance, dark fruit, spice and sweet tannins.
This was a really nice wine – complex, well-balanced, with a nice finish -- but I think it would benefit from a couple more years of bottle age.  Fortunately, we have five more bottles of this vintage so we can see how it develops.  It should be good for another ten to fifteen years.
For an inexpensive left bank Bordeaux, try the "Reserve de la Comtesse" (about $35 retail).  This is the "second wine" of the Pauillac "second growth" Château Pichon-Longueville-Comtesse-de-Lalande.
Cheers!