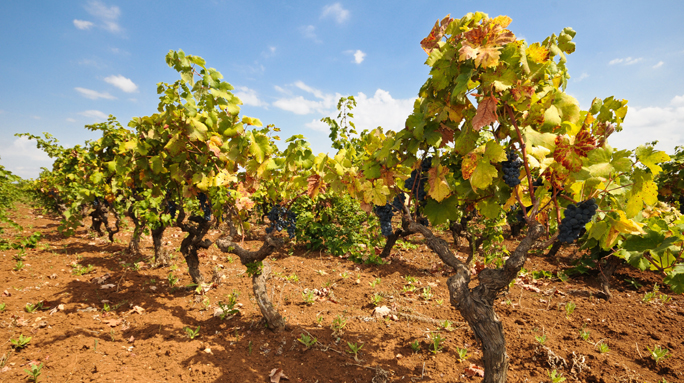 Sometimes we can get too serious about wine.   So, let's step back and look at some fun "legends" of wine history before exploring our wine of the week.
Have you ever thought about how wine came to be?  There are a few theories on that, but the distilled essence of centuries of intense scientific research is that, well . . . it just sort of happened one day.   Yeasts met grape juice, and the era of dancing on tables and hangovers began.  One of the more entertaining legends, however, is that around 2350 BC a Persian king had his servants store grapes in jars so that he could munch on them at his pleasure.  The grapes in one jar were accidentally crushed, the juice leaked out and it fermented.   Because the jar emitted an odd odor, it was marked as poison and set aside.  That would have ended the story, except one of the king's harem was having a bad day and decided to end it all by drinking the poison. Apparently, things took a sudden turn for the better (the exact details of which are lost to history) and the king decided to order up more of the "poison" for his own use.  And thus, a star was born.
Speaking of stars.  It's been said that Dom Perignon "tasted the stars" when he discovered the sparkling wine that we know as Champagne.  Except, he didn't actually "discover" Champagne; he spent much of his career trying to keep those pesky bubbles out of the wine.  Fortunately, he didn't succeed, or else generations of professional athletes wouldn't know how to celebrate winning a championship.  What he did discover is that blending several different base wines would create a "cuvee" that was better than the sum of its parts – a key aspect of Champagne today.  Then, he decided that if you can't beat 'em, join 'em, and worked on perfecting sparkling wines.  His contributions included using stronger English glass so that the bottles wouldn't explode and digging cellars to store the Champagne in perfect conditions for aging.  All in all, a fair body of work.
Mondavi packs a punch.  In 1966 Robert Mondavi was working with his brother Peter at the family-owned Krug Winery.  By and large, wine guys tend to be pretty mellow, but the brothers exchanged harsh words, whereupon Robert punched his brother in the mouth and walked out.  Perhaps a letter of resignation would have been more appropriate, but Robert marched to his own drummer.  With that, a new era in California wine was born.  Robert went on to found his own winery – the first new winery in Napa after Prohibition – and the rest is history.  The brothers eventually reconciled, and each was one of the major contributors to the development of Napa Valley wines.
A quick tariff update.  Last Friday, the federal government announced that it would not impose its threatened 100 percent tariff on all European wines, but it continued for another 180 days the existing 25 percent tariffs applicable to French, German and Spanish wines with under 14 percent alcohol. Score that as a significant, albeit partial, victory for wine lovers.
Our wine of the week is a 2015 Leone de Castris Salice Salentino ($20 retail).  This wine comes from Puglia, the "heel" of the Italian "boot."  To be honest, not much good wine comes from Puglia - it's mostly used as blending wines in other regions.  But the Salice Salentino DOC produces some interesting, relatively inexpensive wines.  Our wine of the week is a really nice, medium- to full-bodied red that makes a nice change of pace from a Rioja or mid-level Cab.  It's made from 90 percent Negroamaro and 10 percent Malvasia Nero grapes, and aged for one year in oak.  The wine has a nice garnet color, with prominent red fruit and floral aromas and a touch of spice.  On the palate, it has firm tannins, spice, nice red fruit and good balance.  It would go great with beef or a roasted meat.
Cheers!