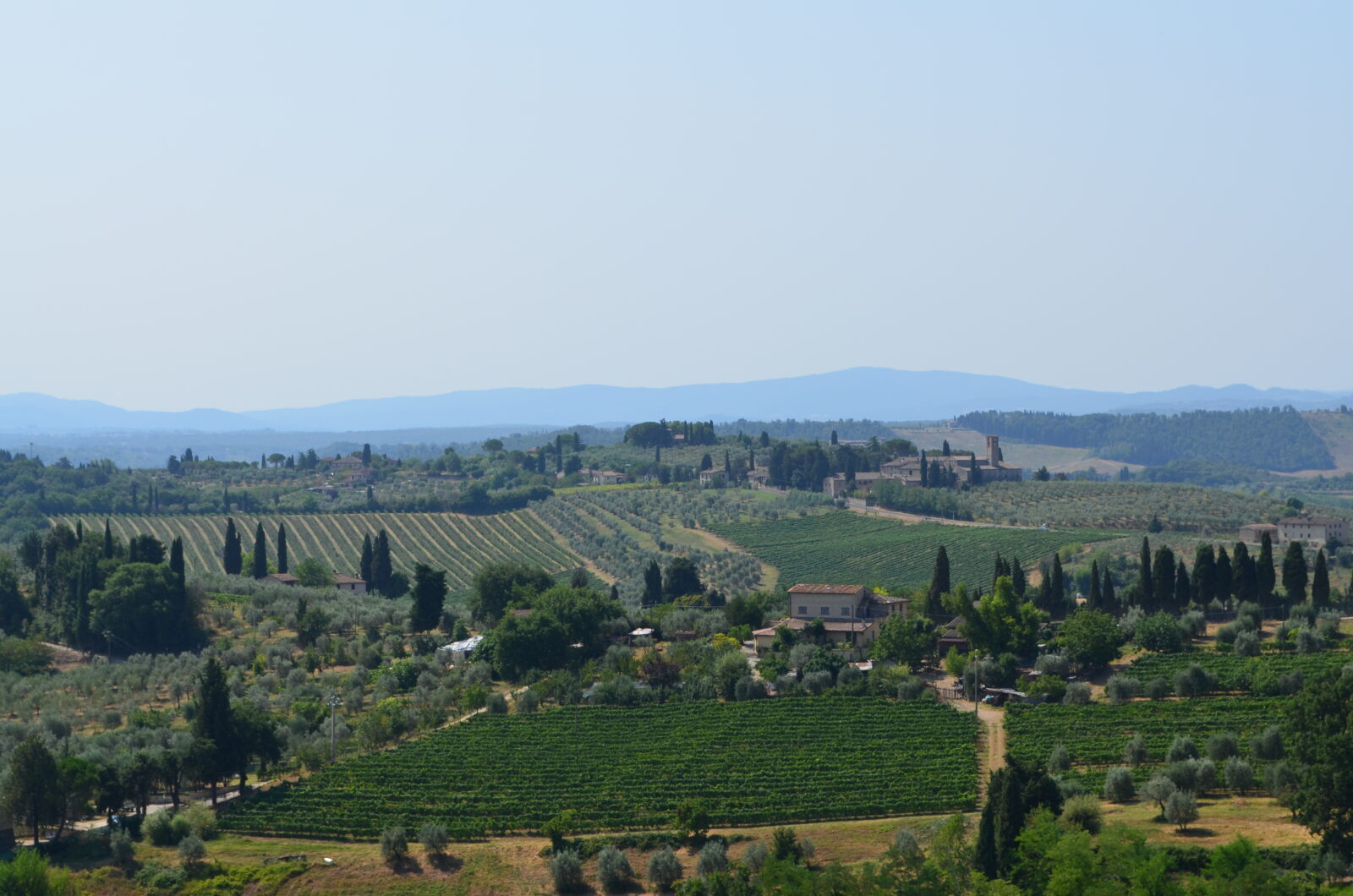 Looking for a good value red from Tuscany?   Something a little different than a Chianti, maybe to go with a nice pasta with tomato sauce, or even a steak?  A great choice is Vino Nobile di Montepulciano, made in a small town located in the hills of Tuscany, about 75 miles south and east of Florence.   This is a Sangiovese-based red wine, typically with nice red fruit notes and a stimulating acidity.  (For the Wine Concepts Tuscan primer, click here.)
You can find good values because Vino Nobile di Montepulciano is often overlooked.   Part of the reason it gets overlooked is that it's a relatively small appellation with a hard-to-pronounce name (vee-no no-bee-lay dee Mon-te-pull-chee-ano).  It's a lot easier for people to remember - and pronounce -- "critter wines" like Yellow Tail and Dancing Bull than Vino Nobile di Montepulciano.   But the larger problem is that it is often confused with another Italian wine:  "Montepulciano" is the name of the town where Vino Nobile is produced, but it's also the name of the grape used in Montepulciano d'Abruzzo -- an entirely different wine made in the Abruzzo region.  Got it?
This is Italy, it's not supposed to be easy . . . if it was, they'd put critters on the label. Of course, critter wines have never been known for quality.
Despite its relative obscurity, Vino Nobile has been around for a long time.   It was regarded as one of Italy's finest wines in the 1500s, when it was a favorite of Pope Paul III.  Fast forward to 1980, and it was one of the first four Italian wines to be designated as DOCG, the highest of Italy's quality levels.
The quality of the Vino Nobile wines has increased significantly in the last several decades, as the authorized grapes and wine making techniques have been refined and producers have become more quality focused.  Additionally, a group of six prominent winemakers has created an alliance that focuses on making the best possible quality wines - each of these produces a special 100 percent Sangiovese wine that reflects the unique Montepulciano characteristics.
Vino Nobile di Montepulciano is similar to its "cousins" Chianti Classico and Brunello di Montalcino.   That's not surprising since they're all made from different strains of the Sangiovese grape.  Typically, Vino Nobile has softer tannins and is less intense than the more prestigious and full-bodied Brunello, and is less acidic than the Chianti Classico.
The differences are caused in part by the soils and slightly different climates, but also because Chianti Classico and Vino Nobile allow a small proportion of other grapes to be blended in the wines.  For example, both regions permit up to 30 percent of the wine to be made from red and white grapes other than Sangiovese.  The more modern wines include Cabernet Sauvignon, Merlot and Syrah in the blend, but by doing so they lose the Vino Nobile character.
Our advice: try one of the 100 percent Sangiovese versions of the Vino Nobile - as is the case with our wine of the week.
Our wine of the week is the 2015 Avignonesi Vino Nobile di Montepulciano ($19 retail).   It's made from 100 percent estate-grown Sangiovese grapes, and aged  in oak for 18 months.  This is a really nice garnet-colored wine, with notes of red fruit and a hint of spice, gentle tannins and a tart acidity.  The alcohol level is 14 percent.  This is a Wine Concepts' favorite.
This is a very food friendly wine, and goes nicely with tomato-based pasta, stews, beef, and game meats.
A caveat - while we bought this wine for $19, we've seen it priced as high as $26 - so it pays to shop around.
A lower-priced alternative by the same producer is Rosso di Montepulciano ($16 retail).  This wine has small amounts of Syrah in the blend, and is aged for only six months in oak.  This is a pleasant, easy drinking wine and a good value for the money.
Cheers!