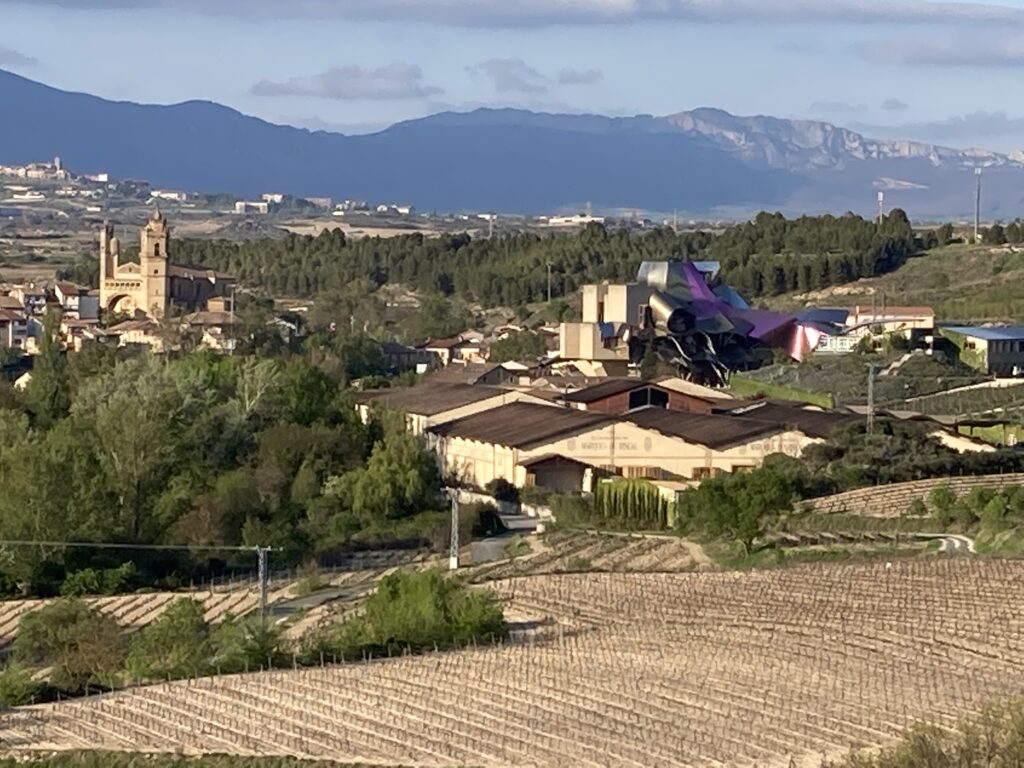 We just spent a couple of weeks in Spain, prowling vineyards and wine cellars and sampling incredible foods. Let's face it, there's no better – or more fun -- way to understand a region's wines than to explore them at the vineyard and pair them with foods in local restaurants.
No matter how much you think you know about a region, there's much to learn from knowledgeable locals. We received some great pairing suggestions and tried some amazing wines that, sadly, aren't widely available in the U.S. No worries though, by "calibrating" our palates to recognize what a region's quality wines should taste like, we can identify the best of the domestically available wines.
Our visit underscored the incredible variety and value of Spanish wines. We often found that a restaurant wine price we assumed was for a glass was the bottle. That requires some serious self-control if you have any hope of finding your hotel after a meal.
By coincidence, the Wine Scholar Guild published a profile on Jim's Spanish Wine Scholar certification while we were in Spain, which you can read here.
It's impossible to cover our experiences in a single post, so we'll focus on some highlights from Rioja. Although it had snowed a week before we arrived, the weather was warm and sunny, and buds were beginning to appear on the vines. That worried the winemakers, since a late cold snap could kill the delicate buds and decimate the year's crop.
We stayed in Elciego at the Frank Gehry-designed Marqués de Riscal hotel, set in the middle of the vineyards atop a 5 million bottle wine cellar. Talk about bragging rights! The winery, one of Rioja's largest, was founded in the late 19th century, when the Marqués returned from exile in Bordeaux and introduced French winemaking techniques. Although their wines are generally good, there are better choices for the money. One local winemaker observed that Riscal has opted for quantity over quality, noting that their Gran Reserva was unimpressive (we found recent vintages unbalanced and lacking in complexity and depth).
An impressive large winery is CUNE, in Haro. This family-owned winery was founded in 1879. Although its proper name is "CVNE" (Compañía Vinícola del Norte de España), the printer mistakenly printed "CUNE" on the original label. The founders planned to correct the typo on the next batch, but fate intervened and their wine won a gold medal in Paris – thus the CUNE brand was born. The winery features a cellar with an innovative roof designed by Gusatve Eiffel and a large window that allows wine barrels to be rolled directly onto a train. The CUNE wines are impressive; we particularly enjoyed the Imperial Gran Reserva  and the CUNE Gran Reserva, both readily available domestically for about $85 retail.
A highlight of our Rioja tour was Bodegas Lecea, in San Asensio. This tiny village has focused on winemaking since the 1500s, but only the Lecea family continues to make wine; the other vineyards sell their grapes to the local cooperative. A Lecea family member explained traditional winemaking techniques during a tour of the centuries-old, hand-carved cellars, and then led us on a bike tour through the vineyards.

Ten percent of Lecea's production is Corezón de Lago, made from 100 percent Tempranillo using a technique called carbonic maceration – where enzymatic fermentation occurs within grapes — after which the grapes are stomped by human feet and traditional alcoholic fermentation occurs.
Lecea also makes modern style wines, and produces a nice Chardonnay — a grape only recently authorized in Rioja. Lecea wine is difficult to find domestically, so we shipped an ample supply back for our cellar.
Some favorite wines. The are many excellent Rioja wines produced in various styles, with many reservas available for about $20, so there's something for everyone to like. Our favorite was a 2017 Roda I Reserva, a predominantly Tempranillo wine that had intense dark fruit notes, sumptuous tannins, and a wonderful complexity (about $75 retail in the U.S.). Some other Rioja producers to look for: Ysios; R. López de Heredia Viña Tondonia; Viña Real; Marqués de Cáceres; and Muga.
Cheers!