The wines of Southwest France rarely come to mind, and that's unfortunate since the region offers a wide variety of good value wines. I was reminded of this recently when I joined a group of winemakers who were visiting Austin to showcase their wines to the trade. The wines ranged from the familiar, such as Chardonnay and Malbec, to obscure local grapes, and all were excellent quality. But the region suffers from a chicken and egg problem: consumers are unfamiliar with the wines, so they tend not to buy them, and given the tepid demand retailers tend not to stock them.
The Southwest France "region" (shown below) consists of forty-two distinct appellations scattered across an area bordered on the west by the Atlantic, on the east of by the Massif Central, to the south by the Pyrenees and Spain, and to the north by Bordeaux.
The region produces a mix of red, white, and rosé wines from over three hundred grapes. Sounds like a high school math problem – if you have 42 appellations and 300 grape varieties, how long will it take you to reach inebriation?
There's a reason why the region's wines are largely unknown: historically, most of the Southwest wines were shipped to the market through the port of Bordeaux, whose wine merchants blocked the Southwest wines from the market until all of their wines were sold. As they say, all's fair in love and wine . . .
While we can't tackle all of Southwest France in a blog, we'll focus on two wines that you should know about. If you're interested in learning more about the region, check out the Southwest France Wine Council website.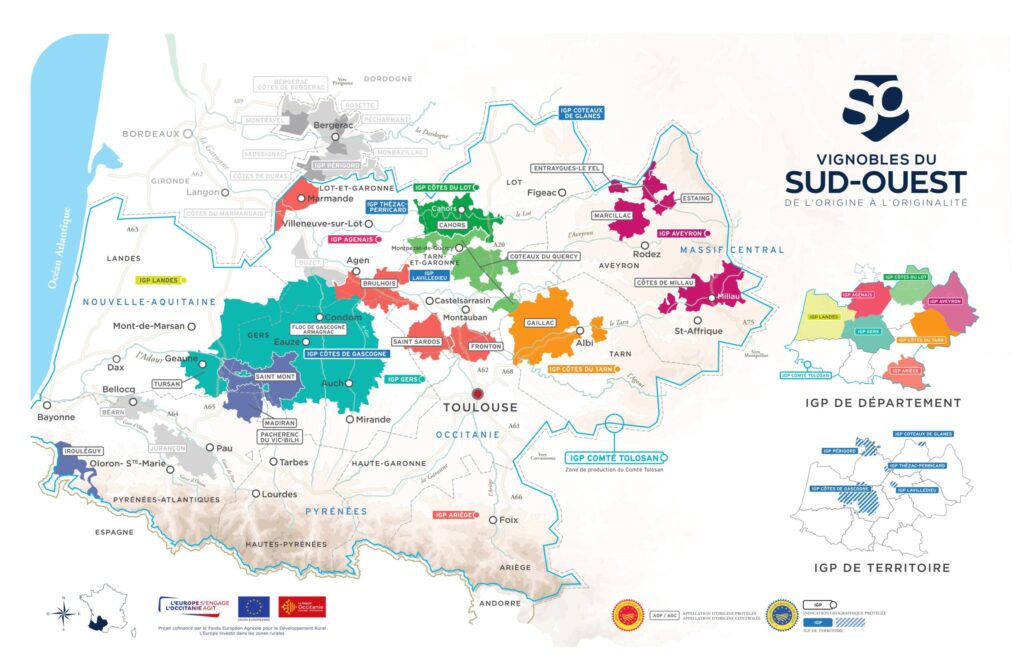 Although most people think that Malbec originated in Argentina, its native to Cahors in Southwest France. If you're a Malbec fan, give the Cahors version a try! It contains a minimum of 70 percent Malbec, and may have Merlot or Tannat blended in. The Argentine version tends to have lush dark fruit flavors and milder tannins, while the French tends to have notes of plum, tobacco, a hint of green apple, and firmer tannins. Cahors wines are often available in good wine shops, but rather than recommending producers that you may not be able to find, it's best to ask your wine shop for a recommendation.
The wine that really hooked me was a Tannat from Madiran. Tannat, a tannic, highly acidic wine that ages well, can be tricky – in the hands of a good winemaker and with a decade of age to soften the tannins it can be wonderful. On the other hand, a young, 100 percent Tannat wine made by a lesser winemaker practically snarls at you when you drink it. With this in mind, I was hesitant to taste a Tannat until the winemaker enthusiastically assured me that'd I'd love his wine – he was right, and he converted me into a Madiran Tannat fan.
Tanat is native to Madiran, where it's the dominant variety. It's often blended with Cabernet Sauvignon and Cabernet Franc, which tends to soften it.
It's also the signature grape of Uruguay, where the different climate produces a softer, more approachable wine.
Our wine of the week is the Château Montus Prestige (about $80 retail). This is the wine that I fell in love with at the tasting. The 1999 vintage that I tasted was complex, and featured muted dark fruit with prominent leather and tobacco notes, all of which integrated wonderfully. It had a long and interesting finish and left me wanting more. So, I promptly went to the local wine shop and bought their two remaining bottles of the 2009 vintage. The interesting thing about the 2009 was that it is continuing to develop and should improve over the next five or more years; it shows great promise. This wine showed aromas of muted black fruit, an interesting but unidentifiable spice, leather, tobacco, and chocolate. On the palate, it's full-bodied, with grippy tannins that need more time to soften, a pleasant acidity, black fruit, and spice. it's moderately complex with a medium finish.
The Tannat pairs perfectly with beef or lamb. If you can find the 2009, put it in the cellar and set the clock for 2027. If you can't wait - decant it for an hour or so and it will evolve nicely.
Cheers!