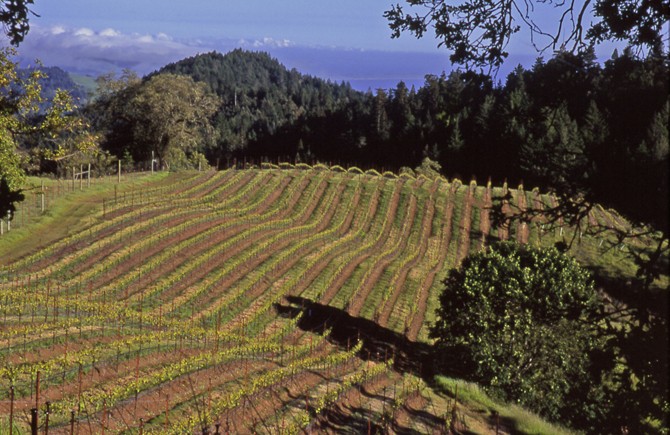 I'm a sucker for a cool-climate Chardonnay.  One with notes of apples, pears and minerality, perhaps a hint of citrus, a nice acidity and an intriguing complexity. A wine that conveys a sense of place, not an over-oaked, high-alcohol fruit bomb. The model for that, of course, is Burgundy – after two millennia, they've learned a thing or two about making good wine. Many of California's leading Chardonnay producers have made the pilgrimage to Burgundy and adopted their techniques, but with their own style.
Chardonnay is a like a blank canvas, producing a wide range of styles based on terroir and winemaker decisions. Well-made, cool-climate Chardonnay can vary from austere, tart, and minerally to rich and full-bodied.
The "cool" place for high-quality California Chardonnay is the Sonoma coast.  By that, I mean the "true" Sonoma coast – close to the Pacific Ocean and its cooling breezes. Although there is a Sonoma Coast AVA ("American Viticultural Area"), it covers nearly a half million acres of diverse territory, much of which isn't actually near the coast and some of which can be quite warm. So, "Sonoma Coast" on a bottle doesn't tell you much of anything. Some of California's best cool climate Chardonnay can be found in the following Sonoma AVAs: Fort Ross-Seaview, Russian River, Green Valley, and the recently created (as of 2022) West Sonoma Coast.
Of course, other California regions produce some excellent Chardonnay, such as Napa and Santa Barbara
Which brings us to the Russians. What, you ask, does Russia have to do with California wine? In 1812 the Russian American Company sent Russian settlers from Alaska (which Russia owned until 1867) to Fort Ross to trap seals and sea otters for their valuable fur. Fort Ross is located in northern Sonoma, near where the Russian River empties into the Pacific Ocean. While they were there, the Russians planted grape vines – making Fort Ross the only area in California where the vine wasn't introduced by Spanish missionaries.
The vines remained after the Russian settlers depleted the seal population and departed in 1841. Later influxes of Italian, French, and German immigrants continued the wine making tradition.
Today, Fort Ross-Seaview is one of Sonoma's most distinctive AVAs. It's located along the rugged Pacific coastline, with cool ocean temperature but above the fog line so that it gets lots of sunlight to ripen the grapes.
Our Wine of the Week is a 2018 Ramey Fort Ross-Seaview Chardonnay ($42 retail). David Ramey, known as "the professor" for his focus on the science of wine making, models his Chardonnay on Burgundy but brings out a distinctive California style. The grapes come from the Martinelli-Charles Ranch, located due west of Healdsburg on soaring cliffs two miles from the Pacific Ocean. The wine is aged on its lees (dead yeast cells which give it a richness) for 15 months in mostly old French Oak.
The Ramey Chardonnay is a rich golden yellow with subdued but pleasant aromas of apple, pear, citrus and a hint of honey. On the palate, it's dry with a rich texture and notes of apple, pear, spice and butterscotch. The wine had a vibrant acidity and a touch of minerality, with a very long and interesting finish.
This is an excellent wine, and we've added it to our Wine Concepts favorites list. It starts off subtly and then builds in your mouth. It's well-integrated – all of its components blend together into a single, seamless whole.
Pair it with seafood, white fish, or white meats. It's also great with Kerry Gold Cheddar.
Cheers!