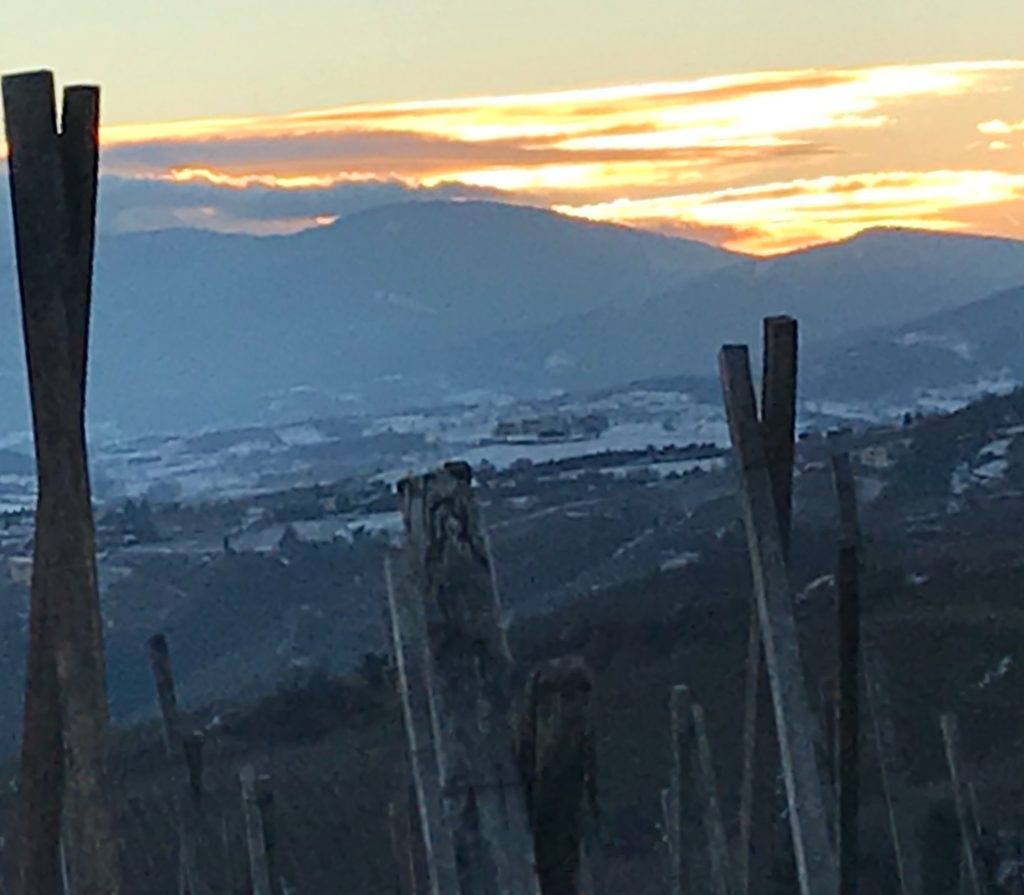 The picture above shows the view from Côte Rotie, the most northern of the Rhône Valley Crus, as we wrapped up a long day of exploring the northern Rhône.
We began today in the Coteaux du Lyonnais region, where we visited le Château La Gallée in Millery. The Coteaux du Lyonnais is a relatively new (1984) and unknown appellation located about 20 minutes south of Lyon, and its primary authorized grapes are Gamay and Chardonnay. The owners have been engaged in a major renovation of the Château and its vineyards, and the results are remarkable. After a private tour of the Château with the owners, we spent several hours with winemaker Régis Lescotes. Some highlights: in exceptional years La Gallée produces its marquis Archevêque, named for the winemaker's ancestor who was an archbishop, which is 100 % gamay. La Gallée is also experimenting with non AOC wines, including Chenin blanc. The wines are not yet available in the United States (their annual production is currently only 60,000 bottles), but well worth trying if you come across one.
Moving on to Côte Rôtie, we toured Domaine Corps de Loup. Here the vines grow on steep terraces that date from Roman times. We walked the vineyards, and sampled wines both from barrels in cellar (which are not yet filtered or fully aged) and in the tasting room. Their several Syrah-based Côte-Rôtie wines were, as one would expect, powerful and intense. These would stand up well with beef and game. Of the three viognier-based wines, their Condrieu was by far the best – aromatic and fuller bodied – and would pair well with white fish.
Tonight, dinner will be at the 2 Michelin starred La Pyramide restaurant in Vienne, where we'll put some of our newfound knowledge to practical use. More on that tomorrow.