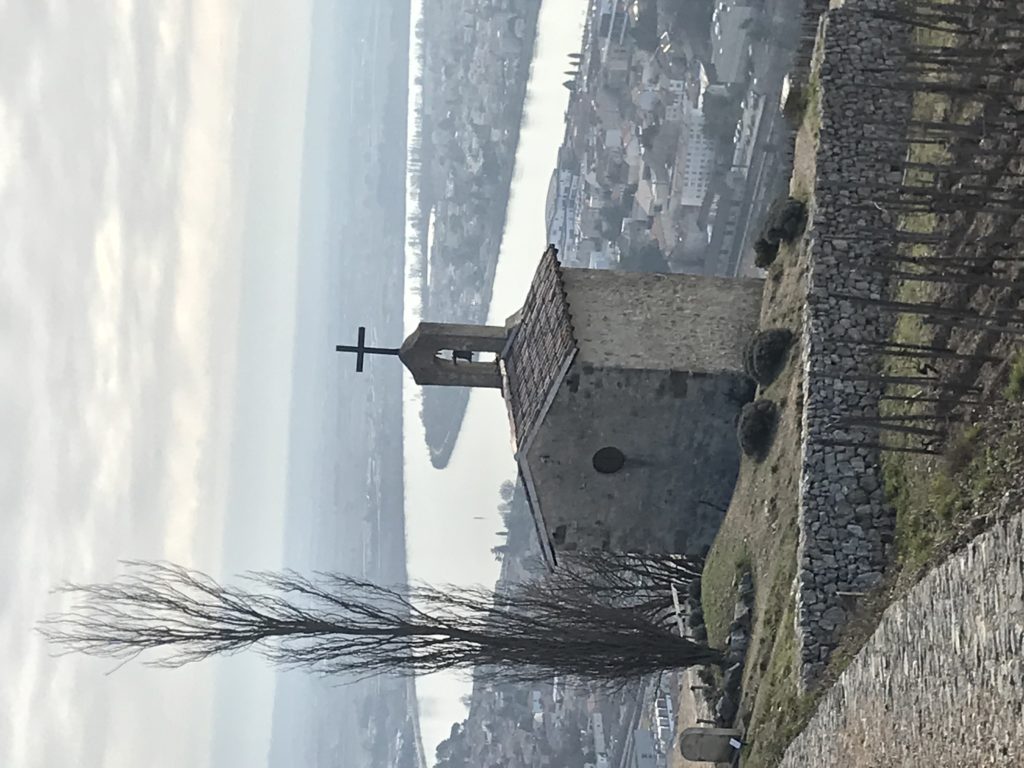 Friday night we dined at La Pyramide, a Michelin 2 star restaurant located in Vienne, a small town about 20 minutes south of Lyon. We had the chef's tasting menu, which was a procession of extraordinary plates. Of note, a 2015 Domaine Jamet Côte-Rôtie (Syrah grape) paired wonderfully with a perfectly done filet of beef.
Saturday morning we were off to Hermitage, one of the most prestigious appellations in the Northern Rhône. The picture above is the historic La Chapelle at the top of Hermitage, looking down on the Rhône. According to legend, after returning from the crusades in the 13th century, knight Gaspard de Sterimberg chose to live his life as a hermit on the top of this hill, where he constructed a chapel. Today, the chapel (which was reconstructed in the 18th century) and various Hermitage vineyards are owned by Domaine Paul Jaboulet Aîné.
We visited the Jaboulet tasting room, where we sampled a number of Syrah-based reds, as well as several whites (less common in Hermitage). Our favorite red was a 2006 "La Chapelle," the Domaine's flagship wine, which is made from a blend of Syrah from the best terroirs on the hill. La Chapelle, a full bodied wine with ripe Syrah fruit, spices and pleasant tannins, is best enjoyed 10 to 20 years after the vintage. The addition of several bottles to our cellar inflicted considerable damage on our wine budget. Our favorite white was the Chevalier de Sterimberg, made with Marsanne and Roussanne grapes, which featured a nice acidity and notes of pineapple and hazelnuts. After our tasting we ascended the hill and visited La Chapelle.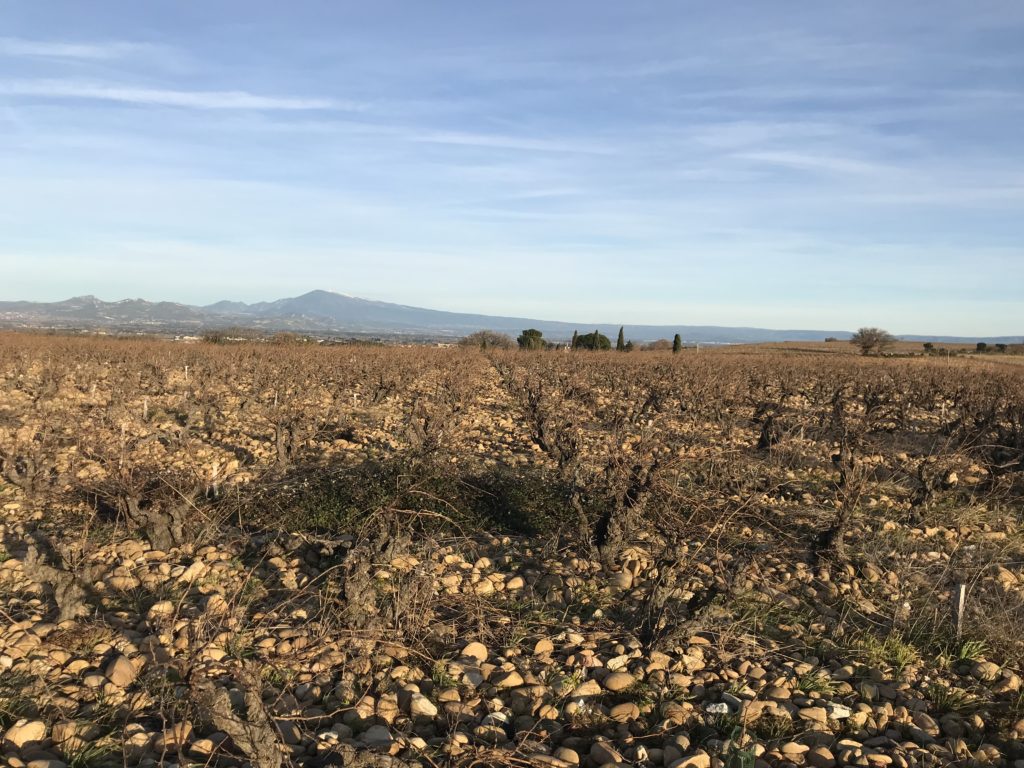 After lunch at a restaurant in Tain Hermitage owned by the local wine cooperative, we drove to the Southern Rhône and had an initial tour of Châteauneuf-du-Pape. The picture above was taken in a Châteauneuf du Pape vineyard, looking towards Mount Ventoux. On the ground you can see the famous "galets roulés," large yellowish pebbles that are common in this appellation. These pebbles, which were swept downriver from the Alps millions of years ago, benefit the vines by storing heat during the day and retaining water.
We'll have a day off on Sunday in Avignon — believe it or not, you really can have too much good food and stellar wine — and then Châteauneuf-du-Pape and Tavel (a 100% rose appellation) tastings on Monday.