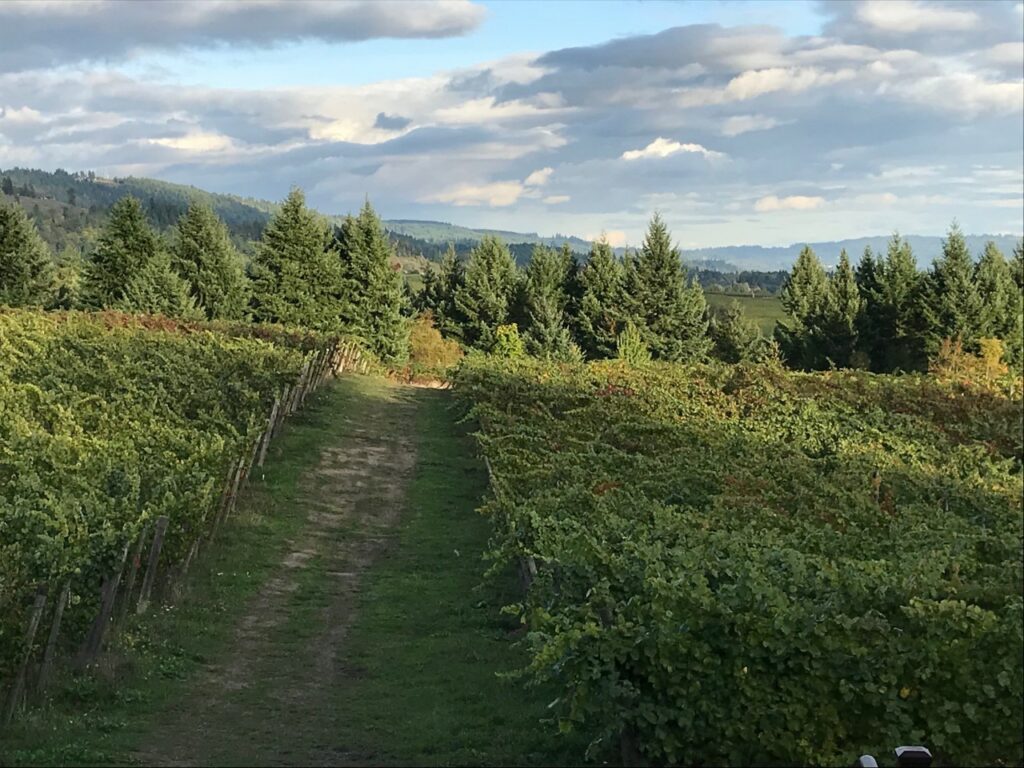 In the late 60s and early 70s, some Californians looked north and decided that Oregon's Willamette Valley would be a great place to make wine.  It had cool growing seasons, cheap land, and terroir that was reminiscent of Burgundy.  So, they ignored the "experts" who said that the climate was too harsh to make quality wine.
Oregon is now the fourth largest wine producing state, with most of its production in the Willamette Valley, and it produces some world-class wines.
The leading grape is Pinot Noir, which accounts for more than 60 percent of the vineyard acreage.  The leading white is Pinot Gris, which makes easy drinking, crisp whites that the locals are said to have while they're debating which Pinot Noir to drink.
The Willamette Valley AVA begins just south of Portland, and is over 120 miles long and 60 miles across at its widest.  It's bordered on the west by the Coast Range, and on the east by the Cascades.  Based on our recent visit, this is an area worth getting to know well.
Willamette Valley feels different from most wine regions. First, the vineyards are scattered among farms, orchards and roadside fruit stands.  And you won't find large wineries here; most are small- to medium-sized, family run operations.
Willamette has seven sub-AVAs, each with its own personality: Chehalem Mountains, Dundee Hills, Eola-Amity Hills, McMinnville, Ribbon Ridge, Yamhill-Carlton and the Van Duzer Corridor.  If you want to learn more about these areas, and Willamette Valley wines generally, click here.
The 1987 arrival of Domaine Drouhin, a famous Burgundy producer, underscored the fact that Willamette was a great place to produce high-quality Pinot Noir.  (The back story here is that a Willamette Pinot Noir bested a Domaine Drouhin Pinot in a prestigious blind tasting event in France and, what the heck, if you can't beat 'em join 'em).  This raised the Valley's profile and triggered further growth.  More recently, in 2013, Maison Louis Jadot opened its first winery outside of Burgundy - Résonance Vineyard.
Unlike Burgundy, which has 2,000 years of wine making experience, the modern Willamette Valley industry is only fifty years old and still finding its way.  Folks are still refining what grapes grow best, and where, as they develop their own styles.  Unlike the strict laws governing the production of Burgundy wines, the laws governing Oregon wines are flexible and allow for innovation.  Oregon is stricter than other states in one respect: a bottle labeled Pinot Noir must contain at least 90 percent Pinot grapes, compared to 75 percent in most other states.
Our wine of the week is the Brick House 2015 Evelyn's Pinot Noir (about $60 retail).  This wine shows what happens when mother nature smiles on the vineyards and a talented winemaker does everything right.  "Evelyn's" is named after the winemaker's mother, and only produced in exceptional years.  It's light-to-medium bodied, subtle and complex.   It shows notes of earthiness, spice and a hint of tea, along with red berries and smooth tannins.  It's well-balanced, with an interesting medium finish.  Typical of high-quality Willamette Pinots, you'll want to let this wine open up for a while to  appreciate fully its beauty.  

About the winery (the picture above is taken at Brick House Vineyards in Ribbon Ridge):

Brick House is an "estate" winery, meaning that it grows all of its own grapes and therefore can carefully control the quality.
The winery is certified as organic, which is about things that the winemaker doesn't do, such as using pesticides and chemicals.  It's also certified biodynamic, where the winemaker pays close attention to nature's cycles and its ability to transform materials.  For a more detailed explanation of the Brick House approach, click here.

Brick House also makes a very nice Cuvee du Tonnelier Pinot Noir ($48 retail) and a Gamay Noir ($29 retail).
Pairing.  The perfect pair for an Oregon Pinot Noir is salmon.   That said, Pinot Noir is a very food friendly wine, and it pairs well with a wide range of dishes, such as coq au vin, pork and lighter cuts of beef.
Some other wineries to know.   A few of our favorites include:
Domaine Serene Evenstad.
Shea Wine Cellars.
Lemelson Vineyards.
Resonance Vineyard.
Stoller Family Estate.
Finally, in the $20 or under category, Four Graces Pinot Noir is a nice, readily available wine.
Cheers!