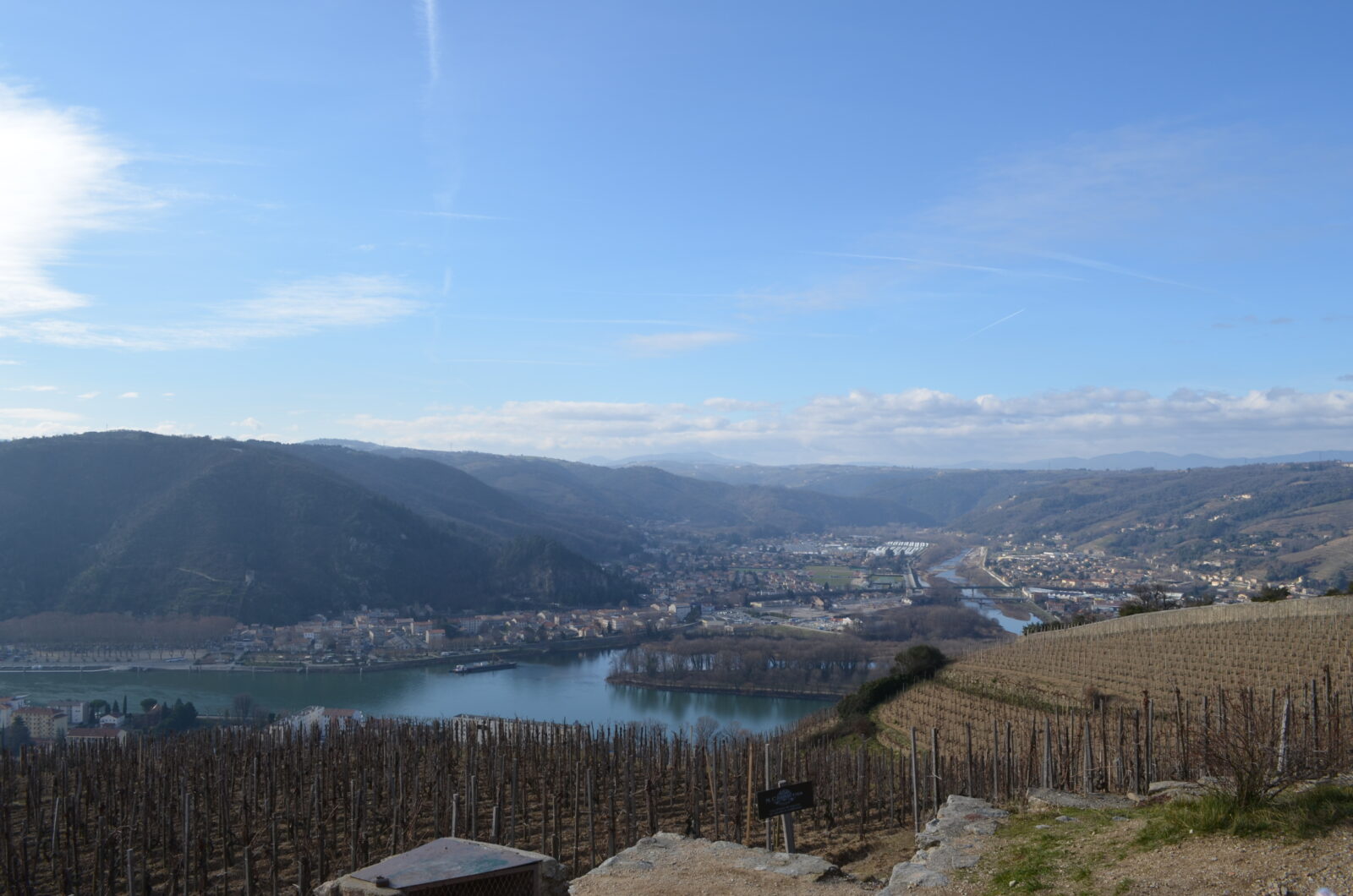 I was recently asked to name my favorite wine region, and I didn't have a ready answer. I've visited so many incredible wine regions, so how to choose? On any given day, my own tastes might cause me to pick a different wine as my favorite, but after some thought, my favorite region is the Rhône valley (with apologies to the close second place contenders of Burgundy and Rioja). It came down to this: there's nothing quite like the scenery and history and food and wine of the Rhône.
The Rhône is really two separate wine regions, separated by a sixty-mile buffer zone devoid of vines, and the north and south have very different characteristics. Today, let's focus on the north.

The northern Rhône is a wonderful place to wander through vineyards and sample incomparable food and wine. Start off in Lyon, known as the gastronomic capital of France, and then move south to Côte-Rôtie, where the wine region begins. There, the river ambles though narrow gorges, lined with steep, vineyard-carpeted terraces that were built in Roman times. (The picture above was taken from Hermitage looking north.)
In Lyon, the place to stay is the five-star Cour des Loges, comprised of four connected Renaissance era houses. After a night to recuperate from your travel, drive twenty miles south to Vienne, adjacent to Côte-Rôtié, where you'll find the magnificent two-Michelin-starred La Pyramide restaurant and hotel (named after a nearby Roman monument).
The northern Rhône accounts for only five percent of Rhône wine production but focuses on fine wines. While there are some nice white wines, this is hearty red wine country. There are eight "cru" appellations in the northern Rhône, each with its own personality.
The most prestigious (and expensive) crus are Côte Rôtie and Hermitage, each producing primarily Syrah-dominated blends. The former produces softer and fruitier wines, and the latter produces more powerful and age worthy wines. These are wines to put in the cellar for a decade or so until they've softened and reveal their true quality.
Cornas is the only cru that requires its wines to be made from 100 percent Syrah. These are the darkest and most robust of northern Rhone reds, although they lack the sophistication and are generally less expensive than the more prestigious crus. These wines are also ready to drink while Hermitage is continuing to mature. Since I love a bargain, we'll take a closer look at Cornas with our wine of the week.
Condrieu and tiny Château Grillet produce aromatic wines from the native Viognier grape, which produces white wines with a soft texture and a creamy richness. Although Viognier was practically extinct a couple of decades ago, it popularity has blossomed and it's now produced in significant quantities in California and Australia.
Other cru appellations include Joseph, Crozes-Hermitage, and Saint-Péray. These wines tend to be good quality but less interesting.
Our wine of the week is a 2015 Paul Jaboulet Aîné Cornas Les Grandes Terrasses (about $50 retail). (The picture below is Jim and Marisa sampling wines in the Jaboulet tasting room in Tain Hermitage). The grapes are grown on 45+ year-old vines on ancient Roman terraces, and the wine is aged in French oak barrels. First, the surprise. This wine was completely different -- and much better -- after decanting for two hours. We tried it straight from the bottle, and while it had enticing aromas of blackberry and spice, the rugged tannins threw the wine out of balance and made us long for something else. Two hours later, the aromas were subdued, but wow- the tannins had softened, the wine had integrated, and we had something really nice. The palate showed notes of black fruit, spice, and garrigue (herbs native to the Rhône), along with a pleasant high acidity. The wine was moderately complex, and had a long and intriguing finish.
The verdict: we really like it, and we learned something about decanting a northern Rhône Syrah.
The wine probably has another five years in its sweet spot, and after that will probably decline.
The Jaboulet may be hard to find, but don't despair - several other excellent Cornas producers are widely available -- those include Auguste Clape, Chapoutier, and Chave.
Cheers!