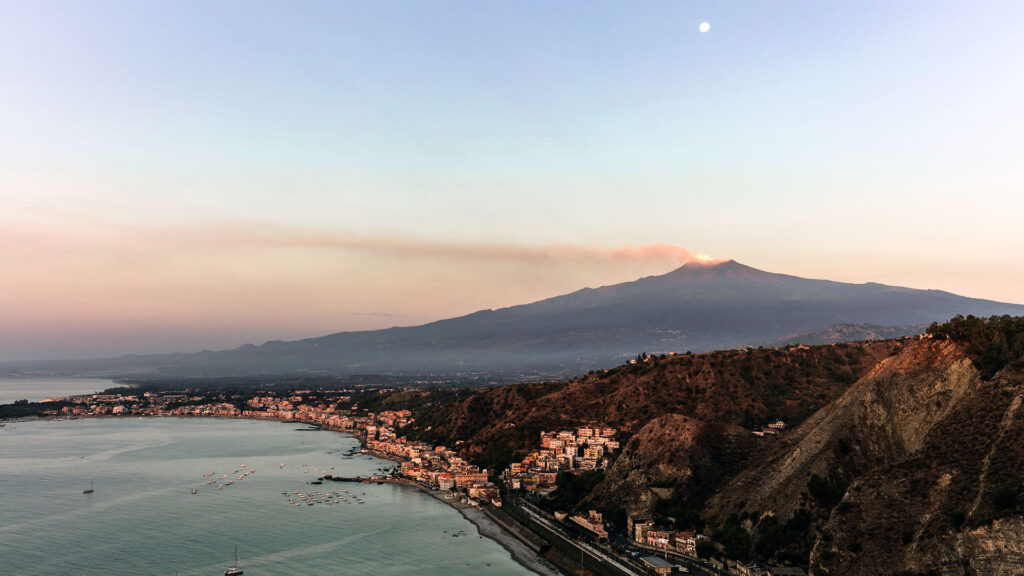 Let's start the New Year with a vinous bang. To get things rolling, we picked a wine from Sicily's Mount Etna, an active volcano. The slopes of the nearly 11,000-foot mountain, Italy's tallest south of the Alps, are covered with vineyards planted in volcanic soils. Because of the ongoing volcanic activity, Etna is constantly changing; the last major eruption was in 2001 and subsequently there have been numerous minor eruptions. These eruptions spread volcanic ash over the vineyards and sometimes engulf them in molten lava. As if running a vineyard isn't already challenging . . .
So, queue up the theme from the Godfather and let's dive in. You may be thinking that Sicilian wines have a poor reputation, and that was true until the last couple of decades. In recent years, producers have focused on quality and indigenous grapes that are well-suited to the Sicilian terroir. Although the wines are greatly improved, they're still a tough sell.
The only Sicilian red wine to receive widespread international acceptance is Nero d'Avola. It's the leading red grape in Sicily and typically produces fruity, full-bodied, spicy wines that can be confused with Syrah.
Mount Etna DOC showcases a different grape, Nerello-Mascalese, that deserves wider recognition. This grape rarely produces notable wines other than in Etna's unique terroir, where it produces excellent light-colored, high alcohol wines.
Etna DOC wines have an interesting parallel with those of Burgundy.  Although the wine styles are quite different, both regions have identified discrete areas that produce distinct wines. For example, Burgundy has carefully delineated "climats," and moving one hundred yards can mean the difference between Grand Cru and Village levels. Etna DOC has "contrade" (small plots of historic or cultural significance), some of which are considered "Cru" level. That's the theory, at least, although more refinement needs to be done.
A pioneer of quality Etna DOC wines, American-born wine merchant Marco de Grazia in 2003 founded Tenute delle Tere and is a strong proponent of the contrade system. Let's take a look at his "prestige" wine.
Our wine of the week is a 2020 Tenute delle Tere Etna Rosso Caldara Sottano ($50 retail). The name is a mouthful, so let's sort that out first. "Tenute delle Tere" is the producer, and "Etna Rosso" is the appellation in which the wine is produced. It's made entirely from grapes grown in "Caldara Sottano," the "contrade" where the vineyard is located, and the producer considers it a grand cru. Got that? Let's try the wine . . .
Although some of the Etna wines are a blend of grapes, the Caldara Sottano is 100 percent Nerello-Mascalese from 60- to 100-year-old vines. It's aged fourteen months in French oak and is pale ruby in color. It's a dry wine with delicate aromas of red fruit and spice. On the palate it's medium-bodied, with notes of red fruit, most noticeably cherry, a pleasant acidic tartness, and soft tannins. This wine has a subtle elegance and complexity, much like the Burgundian Pinots that the producer strives to emulate. The wine is fine by itself but also pairs well with beef and aged cheeses.
Here's the thing: I suspect that you'll either like this wine or will be indifferent to it. I tend to favor lighter, more subtle wines, and I thought it was very nice and worth the money. Another taster, a Cabernet girl at heart, thought it was pleasant but nothing special and not worth the price. That said, I noticed that she quickly drained her glass and went back for more!
Tenute delle Tere also makes a good entry-level Etna Rosso for about $20.
Cheers!