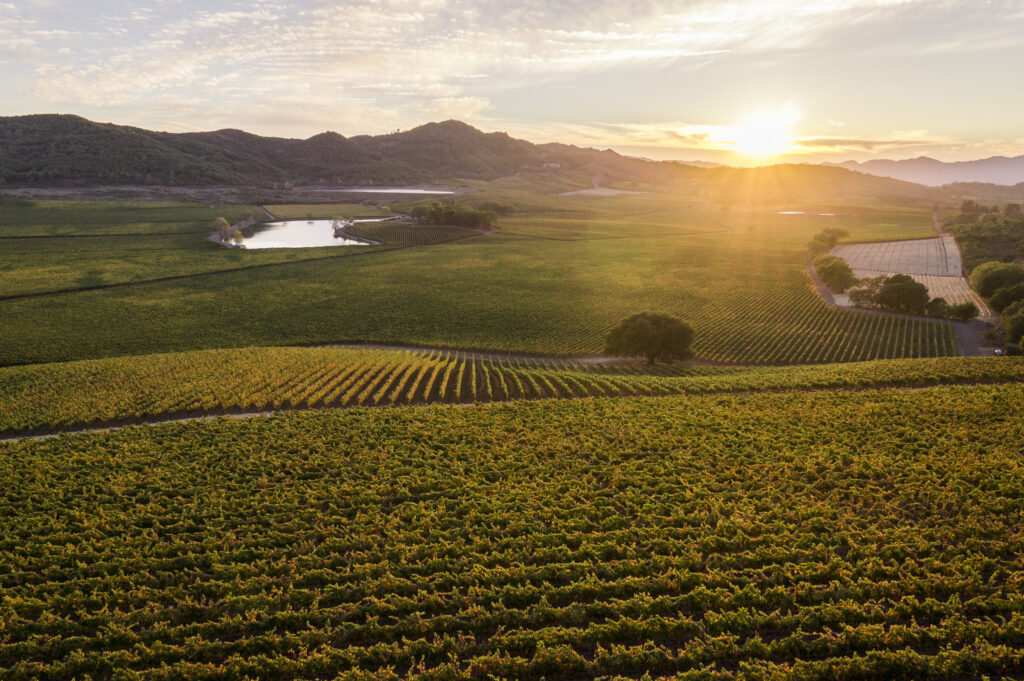 Beef was on the dinner menu, and we had narrowed our wine choice to a Napa Valley Cabernet or a Super Tuscan. It's hard to go wrong there – but, why not have it both ways? So, I pulled a bottle of Antica Townsend Vineyard from the cellar – it's a Napa cabernet made by a storied Tuscan winemaking family.
The name "Antica" is derived from the words Antinori and California. The Antica vineyards are located in Napa's Atlas Peak sub-appellation, and it's owned by the Antinori family, which has been producing wines in Tuscany for twenty-six generations. Antinori considers Antica to be the realization of their desire to craft exceptional estate wines that reflect the Napa Valley terroir and their family heritage.
Antica is one of the most prestigious Atlas Peak vineyards (the other is Stagecoach Vineyards) and it's considered to be one of Napa Valley's top values.
Napa Valley's higher elevation "mountain" appellations, such as Atlas Peak, produce wines that are distinct from those from the valley floor appellations.  They typically produce smaller grapes with deeper color and stronger tannins.  If you prefer bolder wines with firmer tannins, nice acidity, black fruits, spice, coffee, and earthiness, look here. In contrast, the valley floor appellations tend to produce lusher and more refined wines.  If you prefer wines with milder tannins, plum, mocha notes, and more dominant fruit, the valley floor is the place to look. Of course, a winemaker's practices can blur the differences.
Wine from mountain appellations typically should be held for several years before consumption and can age for longer periods. If you just can't wait to open the bottle – decant the wine for one to two hours.
Because of the gentler tannins, wines from the valley appellations can be consumed earlier, and peak around 15 years.
As shown on the map below, the broad Napa Valley AVA contains sixteen sub-appellations, five of which are considered mountain AVAs. The Mayacamas mountains on the west side of the valley include Diamond Mountain, Spring Mountain, and Mount Veeder. The Vacas mountains on the east side of the valley include Howell Mountain and Atlas Peak. Atlas Peak is one of the more isolated areas of Napa, with only two roads servicing it, and it vineyards are generally planted on volcanic soils, which impart distinctive characteristics to the wine.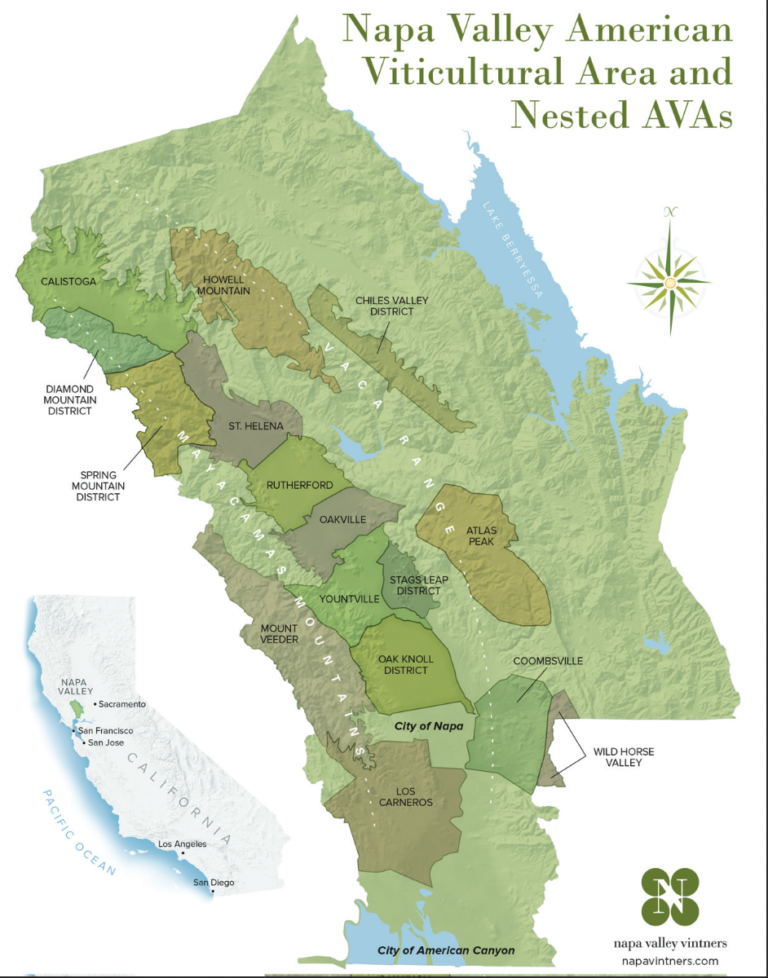 Our wine of the week is a 2014 Antica Townsend Vineyard Cabernet Sauvignon (about $85 retail). This deep purple, full-bodied, dry wine is primarily Cabernet Sauvignon, with about five percent Cabernet Franc blended in. It's an estate wine – all of the grapes are sourced from Antica's 24 acre Townsend vineyard (shown above) – aged for twenty months in new French Oak. We decanted it for about an hour. On the nose, it has aromas of dark fruit, spice, mocha and perhaps a touch of smoke. This is a full-bodied, but elegant wine that has notes of blackcurrant, mocha, black pepper, and spice. It has velvety tannins, a pleasing complexity, and is nicely balanced. The wine has a long, graceful finish that ends with pleasant dark fruit.
Not surprisingly, given its lineage, we really liked this wine and thought it was well worth the price. At this price point, it's among the best that Napa has to offer.
A tip when you want to buy an expensive wine: if the retailer provides a mixed-case discount, get five of your everyday wines and pick a really nice one, such as Antica, for the sixth to get the 10 or 15 percent discount.
Antica also produces a less expensive Mountain Select Atlas Peak Cabernet that retails for around $45.
Cheers!