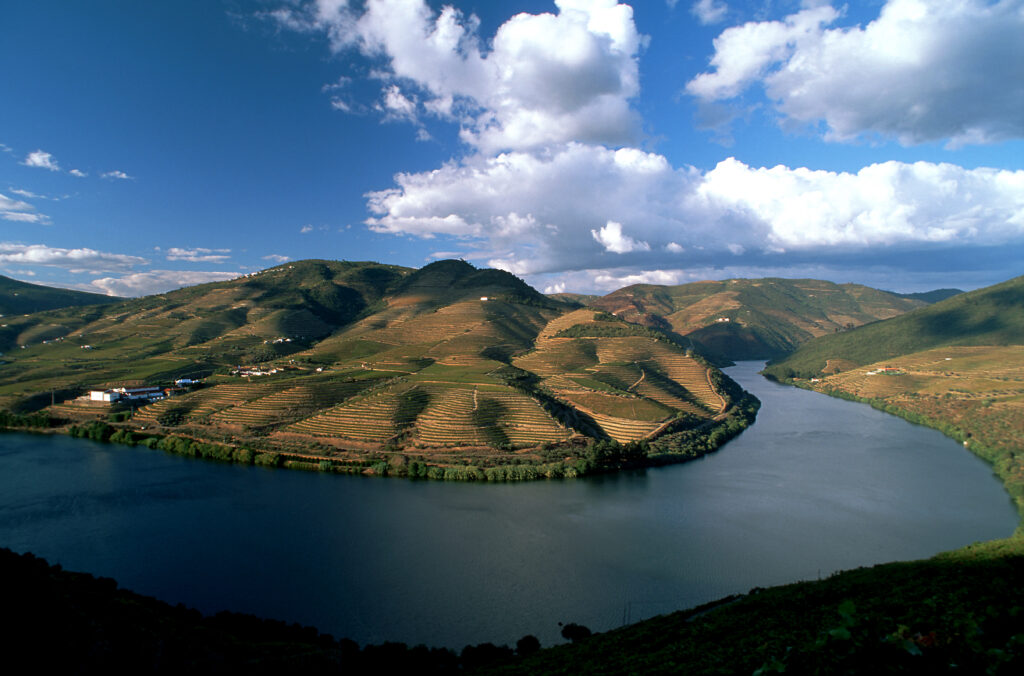 As wine regions go, it doesn't get much wilder than the Douro Valley in northeastern Portugal. This is a remote region that has only become accessible by road within the last thirty years. The climate is harsh, with cold, wet winters, and scorching hot, dry summers. The steep granite slopes, carved over the millennia by the Douro River as it coursed through the region, are covered with vineyards that had to be blasted from the mountainsides and terraced to retain their meager soils. Despite its isolation, the Douro became one of the world's first demarcated and regulated wine regions back in 1756.
Perhaps it's human nature that when people inhabit regions like this, where not much else will grow, they plant grape vines. Vines have a way of reaching down through seemingly impenetrable crevices to find water and nutrients, and they focus their energies on their fruit when they have to struggle to survive.
Although the vines love challenging conditions, it's not much fun for the workers that tend the vines. The steep slopes require that much of the work be done by hand in punishing conditions.
As with Portuguese wines generally, Douro wines are made from indigenous grapes, rather than the common varieties from which most wines are made. Consequently, these wines are distinctive in a world of increasingly standardized wines.
The Douro Valley has long been known for Port production, but the production of fine table wines is a recent development. Table wines historically were an afterthought, made from grapes left over when a producer reached its strict annual quota for Port production. Beginning in the 1990s, however, producers began to produce quality table wines in their own right, and the results have been encouraging.
Dry Douro table wine is made from the same grapes as sweet, fortified Port wine, but using different techniques. The grapes are indigenous varieties with largely unfamiliar names, such as Touriga Nacional, Touriga Franca, and Tinta Roriz (known as Tempranillo in Spain). Douro dry red wines range from the relatively cheap to very expensive (such as the Barca Velha of Ferrerira at $625).
Most of the wines are labeled Douro DOC, but some producers seeking more flexibility use the  Duriense Vinho regional appellation, with its relaxed regulations that permit the use of more familiar grapes, such as Syrah, in the blend.
Our wine of the week is a 2020 Quinta do Vesuvio "Comboio do Vesuvio" from the Douro DOC (about $20). We chose a relatively inexpensive wine with the hope that it might be a nice addition to our "everyday" drinker list, something a little different and fun.
This is an unoaked, fruit-forward wine, intended to be consumed young. It's a blend of roughly one-third each of Touriga Franca, Touriga Nacional, and Tinta Roriz. It's dry, medium-bodied, and deep purple. It 's not particularly aromatic, but had subtle notes of red berry, violet, and spice. On the palate it was tart with notes of raspberry and spice and velvety tannins. The wine had a moderate complexity and a surprisingly pleasant finish.
The verdict: The Combioio do Vesuvio was about what we expected - a pleasant wine that was a little different from the usual fare. While it will never make the list of the world's great wines, we thought it was a good value.
This would pair well with beef or even pasta, although I confess that I want to try it with a pepperoni pizza. Or maybe I'm just in the mood for a pizza - it's been a while! It would also be great with Camembert, pecorino romano or aged cheddar cheeses.
Some other nice Douro reds include: Quinta do Crasto ($45) and Prats & Symington Douro Chryseia ($95).
Cheers!