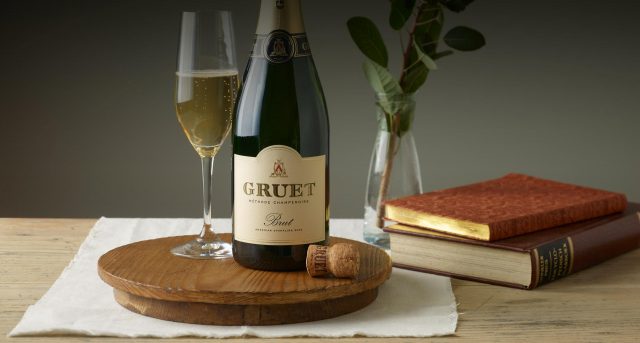 These are unusual times and they call for an unusual wine.  So, for our wine of the week we picked a traditional method (Méthode Champenoise) sparkler made by a French family in New Mexico (the "Land of Enchantment").  Nope, that wasn't a misprint, and you don't need new reading glasses.  And, while made in New Mexico, the Gruet Brut can hold its own with more expensive French sparkling wines.  More on that below.
First, a little bit about New Mexico wines.  The state began making wine almost 400 years ago, before California.  It began with some ambitious monks who needed wine for religious ceremonies and therefore imported (which is a polite way of saying smuggled) vines from Spain.  By the 1880s, New Mexico had about 3,000 acres of vineyards.  But, Prohibition and periodic floods pretty much decimated the state's wine industry.  It wasn't until the 1970s that the industry was revived by a small group of European winemakers attracted by low land prices and favorable growing conditions.
The key to New Mexico wines is that vineyards are planted at high elevations, typically 3,800 to 6,000 feet.  There, the nighttime temperatures are 30 to 40 degrees cooler than daytime highs that can reach 100.  Vines thrive on cool nighttime temperatures – that extends their growing season, allowing for more flavorful grapes, and preserves acid levels necessary for balanced wines.
New Mexico vineyards produce a wide variety of grapes, including Chardonnay, Pinot Noir, Sauvignon Blanc, Merlot and Cabernet Sauvignon.
Most wines are simply labeled "New Mexico," but the state has three American Viticultural Areas (AVAs) that may appear on the label: Mesilla Valley in the East, Mimbres Valley in the southwest and Middle Rio Grande Valley in the center of the state.  As with most AVAs, these don't really tell you much about the wine other than narrowing the geographic area where it is produced.
Our wine of the week is a Gruet Brut NV ($12 retail).  This wine is made from traditional Champagne grape varieties (75 percent Chardonnay and 25 percent Pinot Noir) and has 12 percent alcohol.  It's aged on its lees for 24 months, and has aromas of green apple, citrus and brioche.  It's a nicely balanced wine, and on the palate it has bright acidity, fine bubbles, citrus and brioche notes, and a touch of minerality.  This is a good value wine, and it's widely available.
This is a great aperitif, but for a real treat try it with Saint Angel cheese. It would also be good with light fish.
Some history on the vineyard: The Gruet family began making Champagne in France in 1952, and when Gilbert Gruet traveled through the American Southwest in the 1980s he encountered European winemakers that had successfully planted vineyards. That prompted him to plant his own vineyard in New Mexico, and he left two of his children to run it.
Gruet is the most highly regarded New Mexico producer.  It has several vineyards in the foothills of the Sandia Mountains, located at relatively high elevations of 4,300 to 5,100 feet.  The winery has tasting rooms in Santa Fe and Albuquerque, and it's worth stopping in when they reopen.
Cheers!