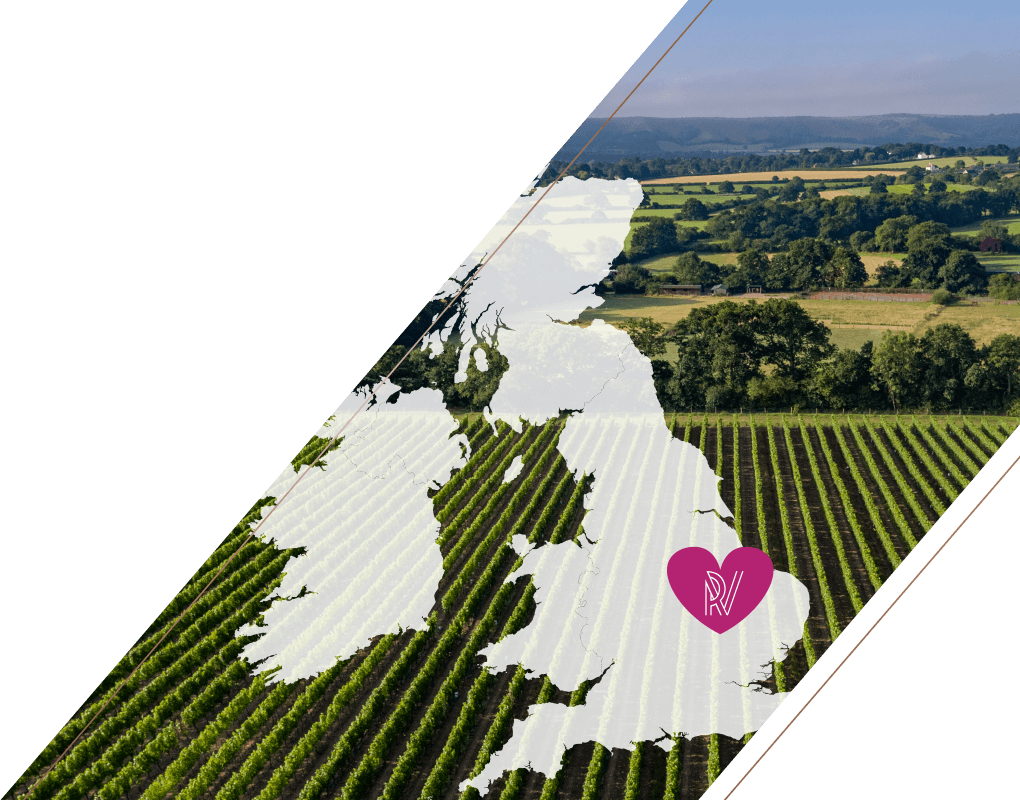 We stopped by the wine shop the other day to pick up a nice English sparkling wine. Yep, you don't hear that one every day. But England does have a fledgling wine industry that's producing some pretty nice wines. It's all about climate change – England traditionally was too cold to produce decent wines but over the last several decades the temperatures have risen enough to make the wine industry viable.
Be prepared to get a rather strange look when you ask for an English wine. Although the U.S. is the biggest export market, English wines are still relatively unknown here. Two large, good quality wineries that you may be able to find are Chapel Down and Nyetimber.
English wineries tend to be small family affairs; there are about 600 wineries with an average size of about 10 acres. There are also a couple of larger commercial wineries, in which at least two Champagne houses have invested.
England produces about 6 million bottles of wine a year and, largely because of the cool climate, sparkling wine is its strong suit.
Surprisingly, portions of southeast England share certain geological and climate features with Champagne. The region's chalky hills (think White Cliffs of Dover) have soils similar to those found in parts of Champagne, and the temperatures are about the same as what Champagne experienced twenty years ago. (Some are concerned that it may become too warm in Champagne to make great sparklers!)
Given the similarities, the traditional Champagne grapes -- Pinot Meunier, Chardonnay, and Pinot Noir -- thrive here.
Of course, the English terroir lends its own unique character to its wines; you won't confuse these with Champagne.
Our wine of the week is a 2013 Ridgeview "Cavendish" Brut sparkling wine ($45 retail). Ridgeview is a small, family-owned winery in Sussex, in southeast England (its location marked by the heart on the map above). Cavendish is a blend of 40 percent Pinot Meunier, 34 percent Chardonnay, and 26 percent Pinot Noir.  So, we have a sparkler made on similar terroir to Champagne using the same process and grapes -- our expectations were high.
Overall, we found this to be a good – but not great – wine. Of course, it's worth noting that when we finished discussing the wine, the bottle was empty – surely a good sign.
Cavendish is pale gold, with persistent strings of delicate bubbles and aromas of toast, brioche, almond and an unusual funky aroma that we couldn't really identify. It has tart acidity, flavors of toast, caramel and citrus, and a creamy texture. The wine has a pleasant, medium finish with a hint of bitter.
Although the Ridgeview was OK as an aperitif, it really shined when we had it with some Kerry Gold cheddar.
The bottom line: this wine is priced at the same level as good quality Champagnes, such as a basic Veuve Cliquot, but it's not yet up to their quality level. Then again, Champagne has been at it for 2,000 years and the modern British wine industry is only several decades old. Stay tuned . . .
Cheers!