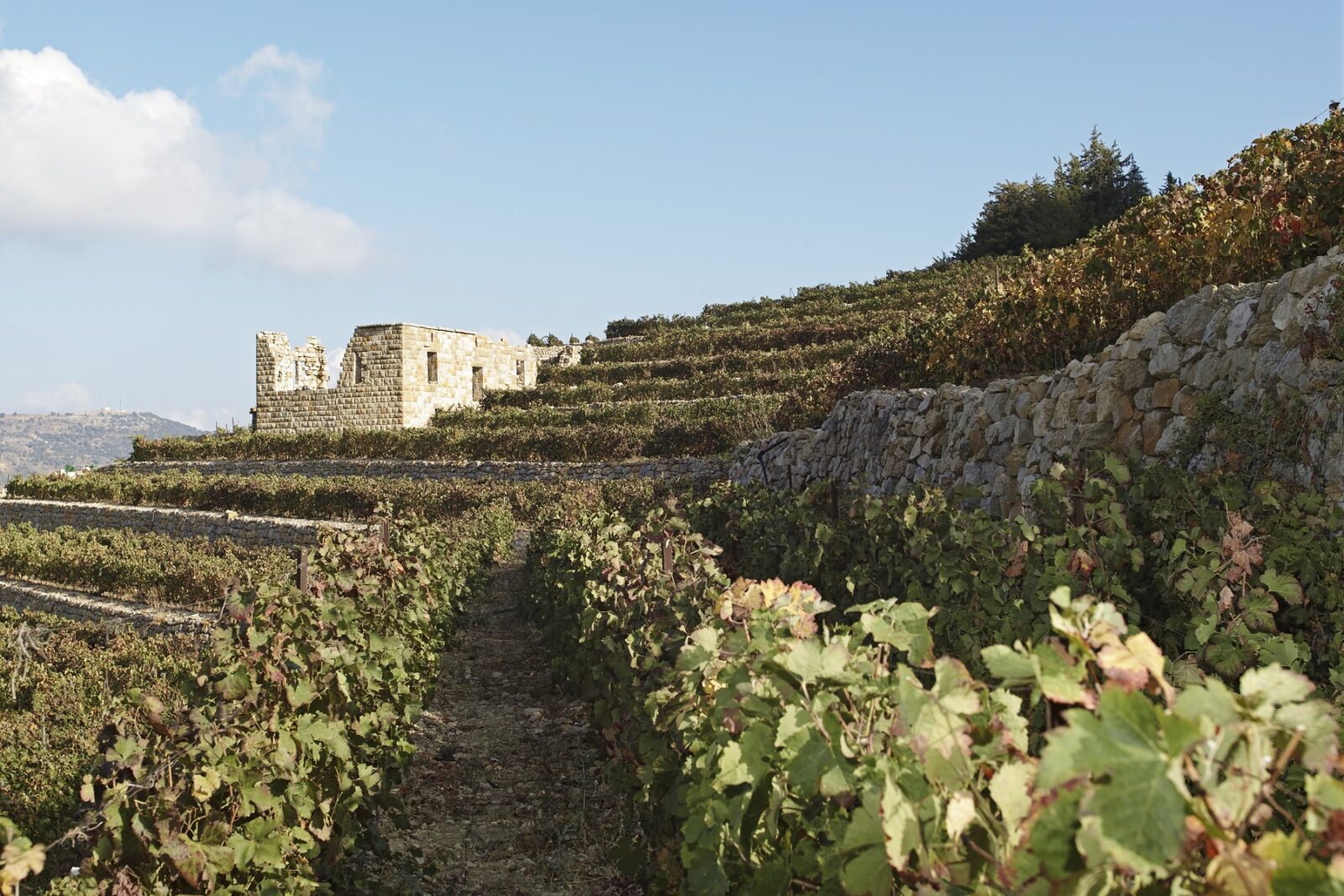 The best explanation for why I picked up a wine from Lebanon is . . . because it was there. I was browsing the aisles in a local wine shop looking for something different when I saw a collection of Lebanese wines, most made with familiar grapes such as Cabernet Sauvignon and Syrah. This deserved further investigation.
Lebanon actually has some of the oldest wine producing areas in the world, although its modern wine industry didn't evolve until the middle of the 19th century. It's main wine growing area is the Bekaa Valley, which contains an ancient Greek Temple of Bacchus that dates from the second century (pictured below). Bacchus, you may recall, is the Greek god of wine and ecstasy – a promising sign.
The Ottoman Empire conquered the area that is now Lebanon in the 16th century and banned winemaking other than for religious purposes. Some Jesuit missionaries used that loophole to found Chateau Ksara in 1857, using grape varieties and production techniques from French Algeria. Chateau Ksara, now in private hands, marked the beginning of the modern Lebanese wine industry and remains Lebanon's largest winemaker, accounting for one-third of the country's production.
The French influence is still pervasive. France governed Lebanon between the world wars, and several prominent Bordeaux producers have invested there.
Although Lebanon has been involved in various wars since 1975, the wine industry manages to persevere. The country has plenty of sunshine, suitable terroir and some dedicated winemakers.
Our wine of the week is the 2019 IXSIR "Altitudes" Rosé ($16 retail). This is a Provence-style rosé made from 40 percent Syrah, 40 percent Cinsault and 20 percent Caladoc (a cross of Grenache and Malbec). This is a salmon-colored wine with aromas of strawberry, watermelon and a hint of citrus. It's a medium-bodied wine with moderate acidity, light but sandy tannins and notes of red fruit. Overall, it's a pleasant wine that was a little outside the ordinary, which accounts for a split decision from the Wine Concepts judges; one found it undistinguished, put her glass down after several sips and moved on the next wine, while the other found it interesting and pleasant. If you like Provence rosés, it's worth a try.
IXSIR is a modern, world-class winery located in northern Lebanon, in the Batroun district. Its vineyards are above 5,000 feet, among the highest in the northern hemisphere, which provides cool evenings necessary for preserving the wine's acidity.
If you're interested in exploring, Lebanon has a number of other excellent wineries.  Those include:
Chateau Musar (the most prestigious but most quirky – people love it or hate it);
Chateau Ksara (the oldest and largest); and
Chateau Kefraya (founded in 1979, the country's second largest producer).
Cheers!