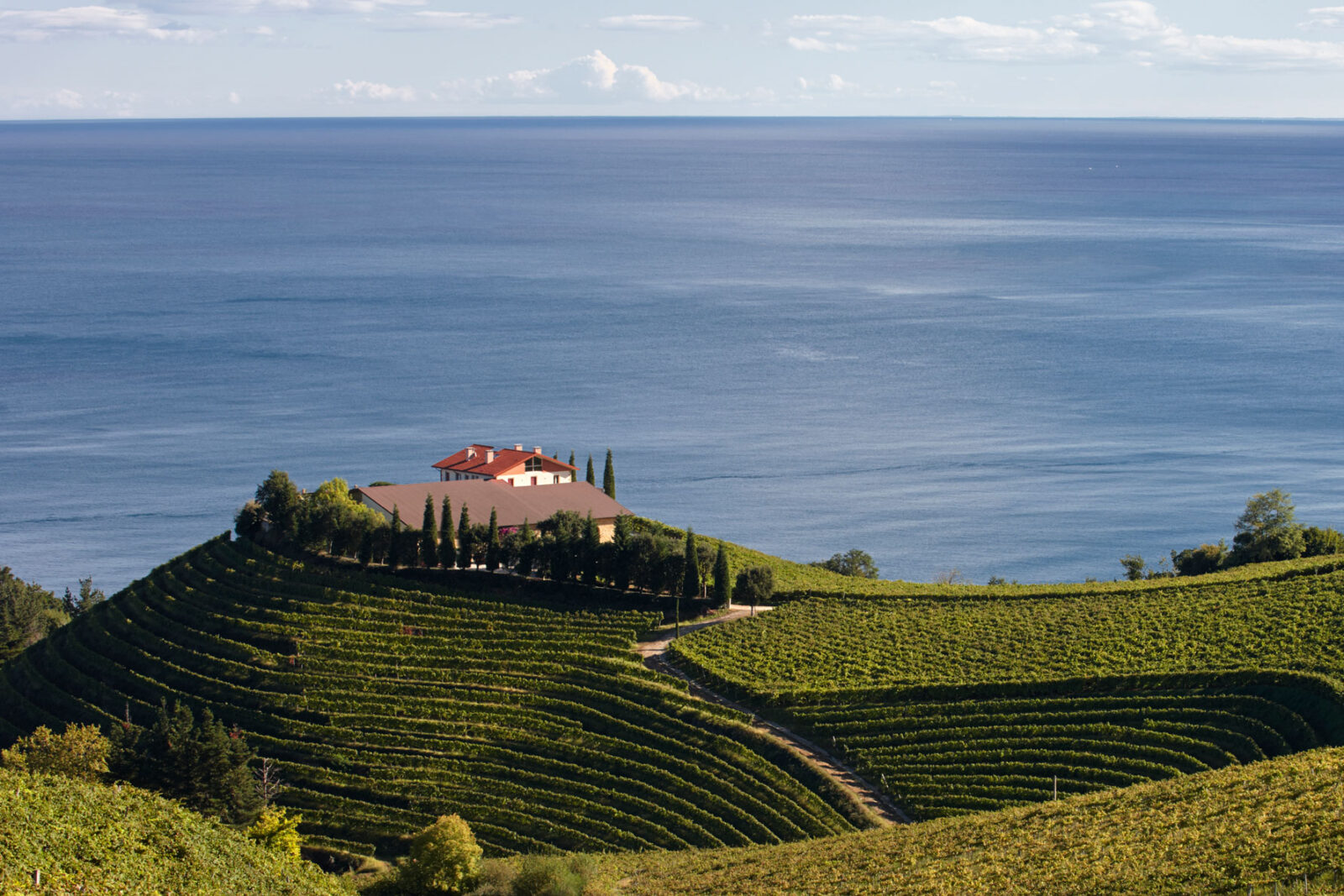 Let's talk about a wine with an unpronounceable name, from an obscure region, made from an unfamiliar grape.  Before you hit delete, here's a spoiler alert . . . We've added this wine to our Wine Concepts "favorites" list based on its quality, uniqueness, and value.
Txacoli is an interesting white wine that's frequently ignored because the bottle label is about as indecipherable as the federal tax code translated into Sanskrit. But this dry, light-bodied, slightly effervescent wine from Spain's Basque region is perfect as an aperitif for a hot summer day or for pairing with seafood or tapas. Its low alcohol content and crisp acidity makes it very refreshing. Besides, you can engage in a little showmanship, since traditionally it's poured from about eight inches above the glass to accentuate the effervescence. Ah, those crazy Basques . . .
Let's deal with the name first. In Basque, the "tx" is pronounced like the English "ch," so ask for a Chock – oh – lee. Better yet, just point to it on the wine list. Adding to the confusion, the wine is sometimes called Txakolina. By now you've probably figured out that the Basque dialect is unique and unrelated to any other living language.
Most Txacoli is made from the white Hondarrabi Zuri grape, which comes in three different varieties. As one authoritative source, Oz Clarke, explains, "no one seems to know precisely what it is and isn't." Mystery solved, time to move on . . .
Txacoli comes from Spain's País Vasco region, tucked in the north central part of the country along the French border. Most of the vineyards border the chilly Atlantic Ocean, such as shown in the above picture, and there's a hint of the sea in these wines.
País Vasco has three provinces, each with its own Txakoli appellation that will appear on the wine label: DO Bizkaiko; DO Getariako; and DO Arabako. My spell check just committed suicide.
As Txacoli gains in popularity, the País Vasco producers are experimenting with different styles that are fuller bodied and more complex. Perhaps the best is yet to come.
Our wine of the week is a 2020 Txomin Etxaniz Txakoli (about $20 retail). This wine is produced by one of the largest and best regarded family-owned vineyards in the DO Getariako Txakolina appellation. It's straw yellow with glints of green and a slight effervescence. It has aromas of citrus, green apple and white flowers. On the palate, it's light-bodied with a distinct minerality, crisp acidity, and notes of citrus, green apple, and an almost indescribable sense of the ocean.  If you're looking for a low-alcohol wine, it clocks in at only 11 percent.
This makes a great aperitif, and it's a very food friendly wine that we paired with sushi and scallops.
You'll want to drink traditional txacolis as young as possible.
In addition to Txomin Etxaniz, other good producers to look for include Eizaguirre and Virgen de l'Orea.
Cheers!