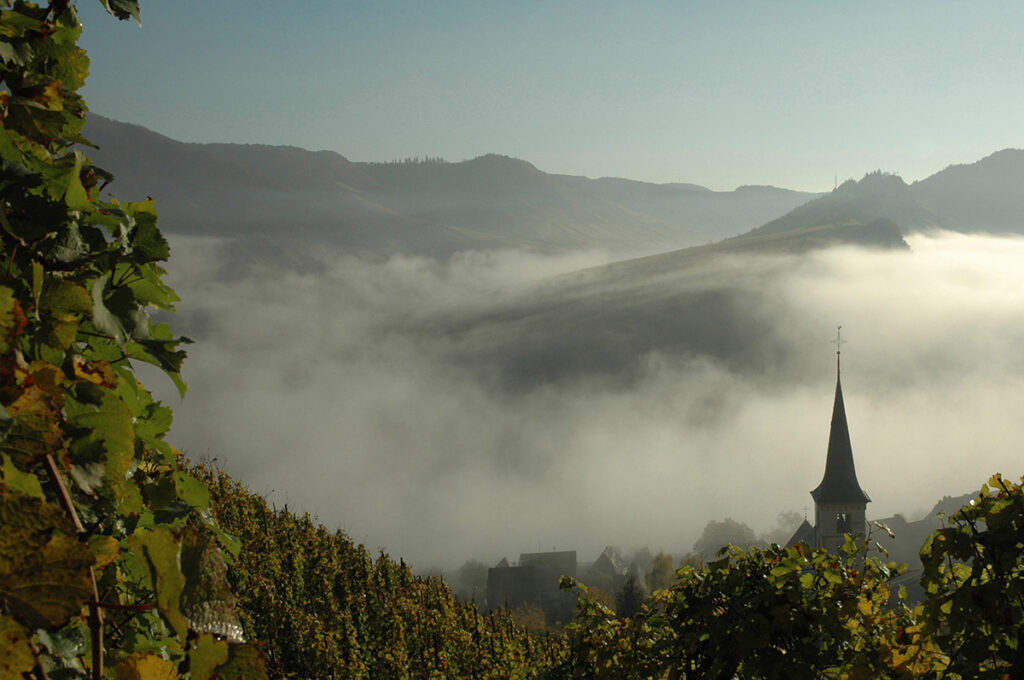 Before we turn to wine, I'm pleased to report that — after a year-long Covid delay — I've earned the Certified Wine Educator (CWE) credential. The CWE involves a comprehensive written theory exam covering just about everything from the vine to the bottle, two blind tasting exams, and a teaching skills demonstration. It's generally considered to be the academic equivalent of between the advanced and master sommelier levels. And now, after a celebratory glass of wine, let's take a look at our Wine of the Week . . .
Germany makes some wonderful wines, but figuring out what's in the bottle is complicated. Part of the problem is language (try to pronounce, much less understand, "Trockenbeerenauslese").  Mostly, the problem is that German wine labels are difficult to decipher. Let's try to simplify it a bit.
The big picture. Germany is one of the coldest wine regions in world, and about two-thirds of its wine production is white; the best of these are Riesling. Germany has thirteen wine regions ("Anbaugebiete"), shown below, and these are located primarily along the Rhine river and its tributaries.
German wine quality classifications are complex. Let me make this simple: the wines that you're likely to come across will be the Qualitätswein and the more expensive, higher quality Prädikatswein. These wines must use grapes exclusively from a single wine-growing region that must be identified on the label. If you really want to understand it, Wines of Germany has a helpful summary.

Qualitätswein (sometimes called"QbA") is the most commonly found German wine in the U.S. and is relatively inexpensive.
Prädikatswein is the highest, and more expensive, quality designation. It has six "special attributes" which describe the ripeness level of the grapes at harvest and may give hints as to wine style and sweetness.
Got that? Apparently the Germans were afraid that people would catch on so, in order to "simplify" things, a private group consisting of many of the most prestigious wineries developed its own "VDP" classification system. The group's members label their wines, in ascending order of quality, "Gutswein," "Ortswein," "Erste Lage,"and "Grosses Lage." These terms sometimes appear alongside the traditional classifications. Which apparently prompted the government this year to add four more levels to its top categories. That should clear things up.

Decoding the sweetness level. Traditionally, German wines ranged from off-dry to sweet, which did not sit well on the American palate. Today, more German wines are available in dry styles – but since there's is no industry-wide standard it's difficult to figure out what's actually in the bottle.

Some winemakers use a common sense approach, using a graphic on the label to show where their wine fits on a scale of dry to sweet. That's effective but not yet widely used.
Two key terms to know are Trocken ("Dry" ) and Halbtrocken ("Off-Dry"). Additionally, "Feinherb" is an unofficial term describing an off-dry wine. Because it wasn't already confusing enough.

Consider the region. The German regions have varied soil types, significant climate differences, and often different grape varieties, all of which yield stylistic differences.
What to make of all this? Don't be put off by the complexity - the Germans make some very nice wines. Find a knowledgeable wine shop or sommelier and explore.
Our wine of the week is a  Dr. Heidemanns-Bergweiller 2019 Single Vinyard Riesling Dry ($19 retail). It's Qualitätswein from the Mosel region. Although labeled "dry" there was a detectable sweetness, accentuated by the fruit, but that was balanced off by the wine's bright acidity. It had aromas of peach, citrus, honeysuckle and apricot. On the palate, it was surprisingly full bodied for a wine with 12% alcohol and showed notes of citrus, herbs and a touch of minerality.  This wine was balanced and ended with a pleasant, medium finish
The verdict: we liked this wine, but still prefer the drier Alsatian rieslings.
This wine would be nice for sipping on a warm summer evening, and would pair well with grilled fish or chicken.
Cheers!