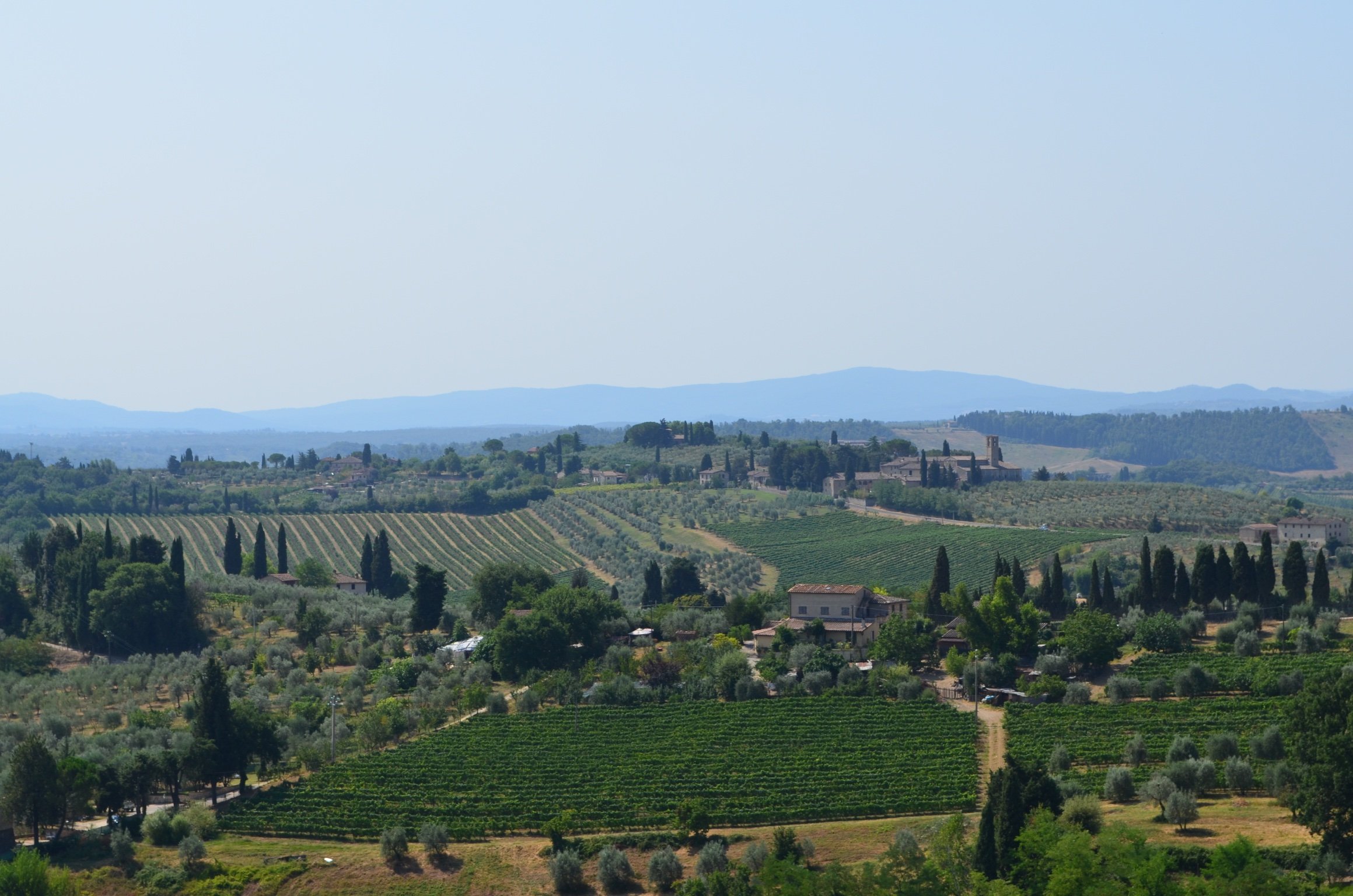 A thick, juicy steak was headed to a glorious fate on the grill.  Sure, a Cab would have been great, but we wanted something different.  So, from the Wine Concepts cellar we selected . . . a 2012 Il Poggione Brunello di Montalcino. Why this wine?  Brunello is a great match for steak (it pairs perfectly with 'bistecca alla fiorentino'). It has earthy, red fruit and spice aromas and flavors, along with firm tannins. This wine needs to open up before serving, so we decanted it for about an hour.
Il Poggione is a Wine Concepts favorite – an excellent wine for a reasonable price (about $70 retail). If that's more than you had in mind, Il Poggione also produces a "Rosso di Montalcino" — often called a "baby Brunello" — that sells for about $20. It's aged for a shorter period and the grapes come from lesser plots, but it's a great value.
A little background: "Brunello" is the name of the grape (it's a Sangiovese strain), and the wine is produced in the hills surrounding the town of Montalcino, a small Tuscan village located about 40 miles south of Siena. The wines of Montalcino are produced from 100 percent Brunello, and must be aged at least four years (two of which must be in oak), and five years for "riserva" wines.
Brunello is the most powerful of the Tuscan Sangiovese wines (more on that below).  In addition to red meat, it pairs well with game and pasta cinghiale (pasta with wild boar).  You can cellar it for a couple of decades, but if you like younger, fruity wines, after a decade or so you may be disappointed.  We recently opened a 2001 Il Poggione, another stellar vintage, and discovered that we had held it too long for our taste.
If you're in Tuscany, Montalcino is worth a visit.  Should you go there, a word of advice: don't drive into the town. Think of a maze with roads just wider than your typical Italian car, and apparently no exit.
For a special occasion, a great place to stay is the Castello Banfi, 12 miles outside of town. The renovated castle has nine guest rooms and five suites, as well as two excellent restaurants and an extensive tasting room.  You can relax at the pool looking out over acres of vineyards.  It's expensive but worth every penny.
So, how does the Brunello di Montalcino fit in with other Tuscan Sangiovese wines?  The "big three" are Chianti Classico, Vino Nobile di Montepulciano and Brunello. Click here for information on Tuscan wines.
* Chianti Classico is the original Chianti zone, and its wines are generally considered to be superior to those of the much larger Chianti region.  Classico wines must have a minimum of 80 percent – and are often 100 percent – Sangiovese, and may be blended with Cabernet Sauvignon and Merlot, among other grapes.  These wines are more subtle and less tannic than the Brunello. You can easily identify a Classico bottle by the black rooster (aka the "Gallo Nero") on the label.
* Vino Nobile di Montepulciano is made from another Sangiovese strain, the Prugnolo Gentile. Because the blending requirements are looser, it doesn't have a signature style. But, typically it will have softer tannins than Brunello and less acid than Chianti Classico.  Less well known, it produces many good value wines.  A Wine Concepts favorite is Avignonese.
* Brunello. These are bigger, darker wines with more tannins than the other two.
Joseph Bastianich & David Lynch sum it up nicely in their book Vino Italiano:
"A good Chianti, or Brunello di Montalcino, or Vino Nobile di Montepulciano, has a foresty, smoky quality; drinking it is like eating berries in the woods, the spicy scents of the underbrush mingling with the sweetness of the fruit."