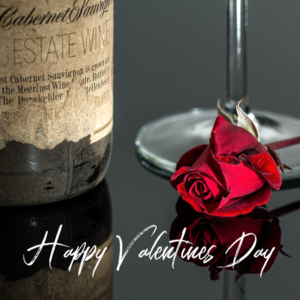 Most of you know that it's Valentine's Day. For those of the male persuasion who forgot, I'll pause while you do the two minute drill with restaurants and florists. Good luck with that.
Which brings us to today's subject. What to pair with chocolates? For a variety of reasons, chocolate is not the easiest thing to pair with wine. In fact, if you pick the wrong wine, both the wine and the food will suffer. So, here are a few tips:
Generally.
• The wine should be at least as sweet as the chocolate. If you're having a rich, sweet dessert like chocolate cake or fudge, pick a sweet dessert wine, such as a Banyuls or a Port.
• The intensity of the wine should match the intensity of the chocolate. Chocolate is very intense, and needs a similarly intense wine. A white or light red won't do. For example, if you're pairing a dry table wine, select something young, fruity and intense, like a Zinfandel.
Dark chocolate. With dark chocolate, the challenge is to pair a wine that will balance its bitterness. A dry red wine, particularly a highly tannic one, won't work, as it will enhance the bitterness. A few suggestions:
• Banyuls. Probably the best choice for any chocolate, Banyuls is a small appellation in the south of France, adjacent to Spain. A Banyuls "vin doux naturel" will have a high sugar level, but will also show nice fruit flavors. A Wine Concepts recommendation: M. Chapoutier Banyuls – widely available and a good value at about $23 retail.
• Vin Santo del Chianti. This is the signature dessert wine of Tuscany. It will have cherry, spice and nutty notes. If you're looking for something special, and are willing to pay accordingly, one of the best is produced by Avignonesi ($150+ retail).
• Ruby Port. There are several Port styles, and Ruby is the simplest, with a vibrant red color and nice fruity aromas.
• Zinfandel. There's a wide selection of good California Zinfandels available, typically with jammy, dark fruit and spice aromas and flavors, moderate tannins and the intensity to stand up to dark chocolate.
Milk chocolate. Here, you're trying to match a sweeter, creamier chocolate. Some recommendations:
• Tawny Port. This is essentially a Ruby port that has been aged for a much longer period. This is perfect for chocolate mousse. A Wine Concepts recommendation: Taylor Fladgate 20-year-old Tawny Port (about $40 retail).
• Brachetto d'Aqui. This is a sweet, sparkling wine from the Piedmont region of Italy. It will have strawberry flavors, and a natural affinity for chocolate.
• Muscat Beaume de Venise. The vin doux naturel wine from this Rhône Valley appellation will be very sweet with floral and fruit notes.
• Zinfandel.
White chocolate. The more delicate and sweet white chocolate is less prone to overwhelm a wine. Some good matches:
• Sauternes. A very sweet, almost syrupy wine from the southern part of Bordeaux, it will feature notes of honey, apricot and citrus. This is also spectacular with fruit-topped cheesecake.
• Tawny or vintage Port. A vintage Port is only produced in extraordinary years, and will be harder to find and expensive. It will be mellow and aromatic.
• Moscato d'Asti. A semi-sparkling, moderately sweet wine that displays peach and floral notes.
• Pinot noir. Yes, this will work with white chocolate. The wine's cherry and earthy notes, along with light tannins, complement the chocolate.
The bottom line. Have fun, it's Valentine's Day. Wine, chocolate and good company – how can you mess that up?