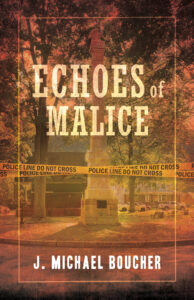 I often have a glass of wine at hand when I'm writing a novel. It's relaxing and somehow seems to stimulate my creativity. So, I suppose it was inevitable that I'd pair wines with some characters in my just-released thriller, Echoes of Malice. Wines, like people, have distinct personalities, so pairing was a lot of fun . . . and a good excuse to try some nice wines.
In the novel, a sleepy rural town is stunned when the district attorney is brutally assaulted and a disgraced former mayor with ties to a drug cartel is found dead in his jail cell of an apparent suicide. As the investigation unfolds, an internal cartel battle leaves a trail of bodies that stretches from Mexico to western Pennsylvania. The assailant's shocking identity is discovered just as a deranged hacker crashes the regional electric grid and plunges the region into darkness.
The easiest pairing was for Drago, a fearsome cartel enforcer of indeterminate Eastern European extraction. I selected a Hungarian Egri Bikavér, known as "bull's blood" since the sixteenth century, when the invading Turks feared that the deep red stains on the Hungarian beards and uniforms meant that they were drinking bull's blood to gain power. Truth was, the Hungarians were just a bunch of sloppy drunks. But "bull's blood" seemed a fitting pairing for Drago, a man who permits no living enemies.
Drago's wine is a 2017 Gál Tabor winery "Titi" Egri Bikavér Superior ($18), a dry, medium-bodied red blend made predominantly with the local grape Kékfrankos, along with Syrah, Cabernet Franc, Cabernet Sauvignon, Pinot Noir, and Merlot. The wine has intense aromas of red fruit and spice, and on the palate has sandy tannins and notes of smoke, spice, and red fruit. The wine's intensity, along with the touch of bitter on its finish, matches Drago's personality.
Two of three members of our tasting panel thought this wine interesting and liked it. The third panelist made odd faces and poured it down the sink. Go figure.
A more challenging pairing was for Guy Landry, a high-tech billionaire who can afford the best. Guy tries to dazzle the town mayor with an obscenely expensive bottle of Screaming Eagle, but the mayor is a beer and whiskey guy who is indifferent to the wine and appalled by the price. When he's not showing off, Guy likes the 2017 Il Poggione Brunello di Montalcino, a nice Tuscan sangiovese that retails for about $85. Guy is a powerful but down-to-earth guy, and the wine is powerful and earthy, with red fruit and spice aromas and flavors, along with firm tannins. Guy is also a thrifty guy at heart, and the Il Poggione is a great wine at a reasonable price. You can find our review of an earlier vintage here.
Then there's Gus, the violent cartel chief who has a refined side and runs a prestigious Italian restaurant as a front for his nefarious activities.  Gus is a powerful guy who insists on having his own way. Although he owns a massive wine cellar containing some of the worlds top wines, he has a soft spot for the Marqués de Grigñón Emeritus, a powerful but elegant Cabernet Sauvignon-based wine from Spain. It seems that Gus  identifies with the late Carlos Falco, the fifth Marqués de Grigñón, a renowned winemaker who was unafraid to defy convention and unwilling let anything get in the way of perfection. This is a limited production wine that's hard to find, but Gus has some good connections in the wine world. Besides, who would say no to Gus? Grab a bottle if you come across it.
Shockingly, not everyone like wine. Our protagonist, ex-Marine Mayor Matt Riley just can't warm up to a glass of wine. Sure, he'll drink a glass if cornered, but he's secretly eying the beer on the next table. Perhaps his tastes will evolve if there's a sequel.
Look for details on Echoes of Malice at www.jmichaelboucher.com.  
Cheers!