Wine Concepts French Wine resources. 
Below we provide an overview of key concepts that you should know about French wines.  Following that, for the key French wine regions we provide practical information on how to expand your knowledge and increase your enjoyment of that region's wines.
The French wine quality pyramid. 
All French wines fall into one of the three categories on the following pyramid: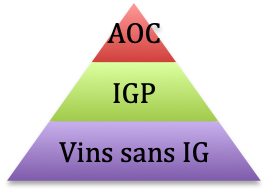 Although the French system has been in effect since the 1930s, in 2009 the European Union adopted a standardized classification system that is consistent with the French system.  Thus, you may see either the French or EU classification name on the label.
Appellation d'Origine Contrôlée (AOC).  This is the highest quality level, sometimes referred to by the EU name Appellation d'Origine Protégée.  There are approximately 550 AOCs in France.  To qualify as an AOC, a wine must:
come from a specified geographical area;
be made from  grape varieties authorized for that AOC;
conform with strict regulations on how the grapes are grown, how the wine is made and aged; and
conform with restrictions on the amount of grapes ("yield") that can be produced.
Importantly, an AOC designation doesn't guarantee that the wine will be better than a lower classified wine, but it does ensure that what is on the label is actually in the bottle.  It also provides a good indication of style and quality.  For example, in some instances a producer may elect to produce a very high quality IGP wine so that it can use grapes that are not authorized for the AOC.
Vins de Pays.  The middle tier on the wine quality pyramid, known as Indication Geographique Protegée (IGP) in the EU hierarchy.  There are more than 150 French IGPs, and these may be regional (e.g., IGP Méditerranée, which covers portions of Provence, Corsica and the Rhone), departmental (e.g., IGP Vaucluse in Province) and local (e.g., IGP Côte de Thongue).  To qualify as an IGP, a wine must:
come from a specified geographical area, which will be much broader than an AOC;
conform with specified growing and wine making standards; and
be made from authorized grape varieties, which again will typically be more expansive than for an AOC.
Vin sans IG (Table wine).  These wines can be made from grapes grown anywhere in France, and typically will contain the vintage and the grape name on the label. When you see a wine labelled "Vin de France," it is a Vin sans IG.
Key regions.
Rhone Valley:  The Rhone Valley is France's second largest wine region, and the source of many excellent value-priced wines.  This page explains what you need to know about the wines of the Rhone Valley.
Burgundy:  Bourgogne,  as it is known to the French, is the home of some of the world's most expensive and complex wines.  Yet, there are fine value-priced wines to be had if you know where to look! This page provides a primer on the somewhat complex classification system, and covers some of the key appellations.   If you want to really understand Bourgogne wines, you'll want to take the Wine Concepts course Burgundy Deep Dive.
Bordeaux.  Many people think of Bordeaux as the home of expensive wines that are suitable for collectors.  While that is true, Bordeaux also produces virtually every style of wine, and there are good values to be found if you know where to look.  Check out the Wine Concepts Bordeaux primer.
The Loire.  The Loire Valley is France's third largest wine region.  Because it extends along the length of France's largest river, it has a wide range of soils and climate.  Thus, while the various Loire appellations vary in terms of grapes, wine styles and the like, they have one common trait - the wines are fresh, never overbearing and generally very good quality at excellent prices.
Champagne. The yardstick for the world's sparkling wines.
Alsace.   Alsatian wines are hidden gems - great wines are very reasonable prices.  These wines are very distinctive, but often get a bad rap when they're confused with wines from other regions (such as German Rieslings). The Wine Concepts Alsatian primer provides the information that you need to explore these wines.