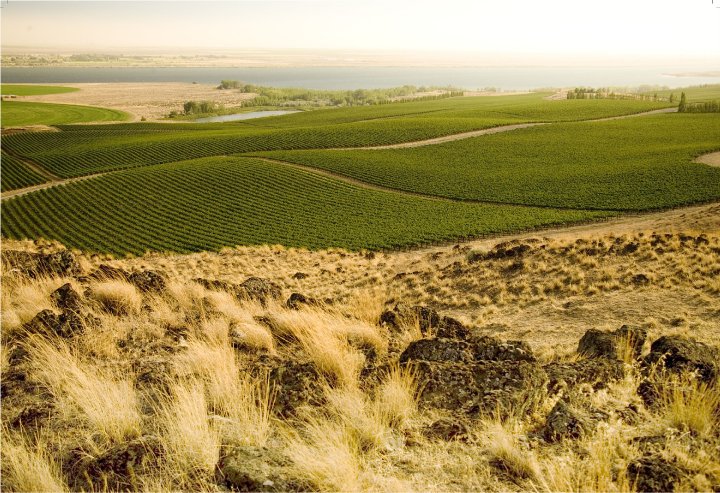 Apparently, what's good for horses is good for wine. Back in 1857, a cowboy observed that his herd of horses enjoyed the native grasses on a hillside along the Columbia River, just south of Yakima Valley (shown on the map below). Obviously of the cowboy-poet persuasion, he named the area "Horse Heaven Hills." Fast forward to 1972 and the first grape vines were planted in Horse Heaven Hills; by the 1990s, the area's grape production exploded.
If there's not a Country & Western song titled Horse Heaven Hills, there should be. Sounds like a job for Willie Nelson (who wrote, My Heroes Have Always Been Cowboys).
Today, the Horse Heaven Hills AVA produces about 30 percent of the wine grapes grown in Washington state. Which is significant, since Washington is the country's number two wine producing state, behind California. (Even as number two, Washington still only makes five percent of the country's wine). Washington makes a lot of nice wines, but it often falls off the consumer radar screen. When you think of Washington wine, you don't think of anything in particular - like Napa is identified with Cab and Oregon with Pinot Noir.
Horse Heaven Hills is a large region, fifty miles wide by twenty miles deep, and although there are thirty-one vineyards, there are only five wineries. Still plenty of room for the horses.
It produces an eclectic variety of high-quality grapes, about three-quarters of which are red, and the best of which are Cabernet Sauvignon, Merlot, and Syrah. All told, it produces 38 different grape varieties - well worth exploring.
One reason for the quality of its grapes is that it's a very windy region, which is good for the grapes, if not overdone. The wind dries and concentrates the grapes, and also protects them from various pests and diseases.
While I'm always skeptical of numeric wine ratings, it is worth noting that Horse Heaven Hills has produced a number of highly rated wines, such as the Quilceda Creek Cabernet Sauvignon between 2002 to 2008, which were rated at 100 points by Robert Parker's Wine Advocate.
Our wine of the week is the 2015 Chateau Ste. Michelle Canoe Ridge Estate Merlot from Horse Heaven Hills ($22 retail).  I was looking for a straightforward, pleasant, inexpensive Merlot, and this filled the bill nicely. It's 91 percent Merlot and nine percent Cabernet Sauvignon, aged 16 months in French and American oak. This is a full-bodied wine that shows ripe red fruit on the nose.  On the palate, it has a soft texture, with notes of red and black fruits, cocoa, and fine tannins.  It has a satisfying, medium finish.
Overall, I liked the wine and thought it was a good value for an "everyday drinker."
The wine pairs well with beef, lamb and pasta.
Prefer a Cab? Try the Mercer Bros. Cabernet Sauvignon Horse Heaven Hills (about $20). Or, if you can find it and want to spend some serious money, try a Quilceda Creek Palengat.
Cheers!