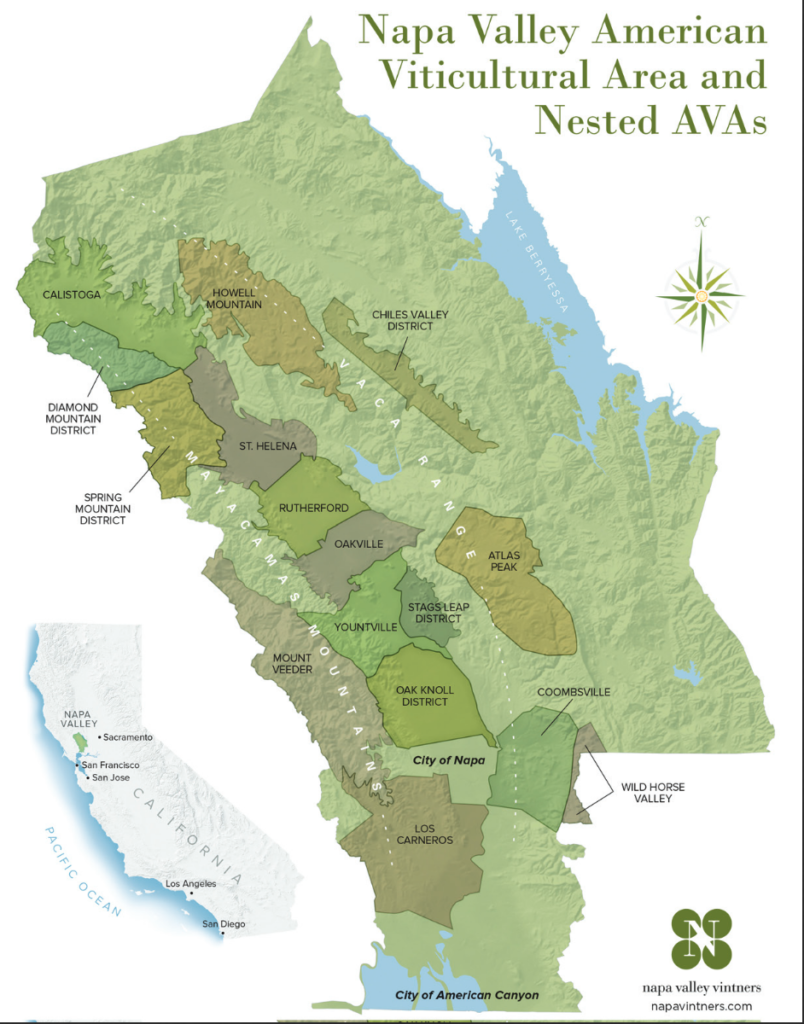 Napa Valley wines can be a bit complicated.   So, despite the fact that there are about 60 grape varieties grown there, let's focus on Cabernet Sauvignon and Cab dominant blends.  More specifically, we'll focus on distinctions between the higher elevation "mountain" wines and lower elevation "valley floor" wines.  The inspiration for this post was a recent Society of Wine Educators conference, where I had the opportunity to taste fifteen wines that illustrated typical Napa Cabernet characteristics.
Napa Valley consists of sixteen sub-regions (shown above) with diverse climates and soils.   While there are distinctions in wine styles among these sub-regions, the major distinction in Cabernet styles is between the higher elevation "mountain" appellations and the valley floor appellations.  Of course, the winemaker's practices can blur those differences.  For example, the winemaker may chose to emphasize oak, blend Cabernet with varieties such as Merlot, or emphasize the fruit.  If you want a deeper dive on Napa wines, a great resource is the Napa Valley Vintners website.
Napa Valley punches well above its weight class.  Its global reputation as the best American wine region began with the 1976 "Judgment of Paris," where a panel of European judges scored Napa Cabernets and Chardonnays ahead of prestigious French wines, and continues to this day.  Yet, Napa contains only about one-sixth the vineyard acreage as Bordeaux, and accounts for only about four percent of California wine production by volume.  However, Napa accounts for twenty-five percent of California wine sales revenue.
Napa produces some of the most expensive wines in America.   Mid-level Cabernets typically cost from $70 - $150.   In part, that's attributable to the cost of making the wine.   For example, for an average wine, the "raw" cost of what's in the bottle (the wet stuff, not including the cost of the bottle, marketing, etc) is about $15, and the cost rises quickly for higher quality wines.  Then, there's the scarcity factor - top quality wines are produced in limited qualities, and people with a lot more money than you and I are willing to pay through the nose to get it.
Napa is also an attractive area that draws four million visitors a year.  And, where's there's good wine, there's usually good restaurants -- Napa has the most Michelin-starred restaurants of any American wine region.
Napa Valley is bordered on the west by the Mayacamas Mountains and on the east by the Vaca Range.

"Mountain" Appellations.  We're not talking Mount McKinley here - the "mountain" vineyards are typically found at 600 - 2,600 foot elevations.

The five mountain appellations are (a) on the west (Mayacamas) side, Diamond Mountain, Spring Mountain and Mount Veeder, and (b) on the east (Vacas) side, Howell Mountain and Atlas Peak.  These appellations typically produce smaller grapes with deeper color and stronger tannins.  If you prefer bolder wines with firmer tannins, nice acidity, black fruits, spice, coffee and earthiness, look to the mountain appellations.   Wine from the mountain appellations typically should be held for several years before consumption, and can age for longer periods.  A classic example is the 2014 Mayacmas Vineyards from Mt. Veeder which will set you back about $130.

Valley Floor Appellations. These appellations tend to produce lusher and more refined wines.  If you prefer wines with milder tannins, plum, mocha notes and more dominant fruit, you may prefer these wines.  Because of the gentler tannins, wines from the valley appellations can be consumed earlier, and peak around 15 years.
Our wine of the week is the 2015 Clos Du Val Napa Estate Cabernet Sauvignon (about $45 - 50 retail).  This valley wine, made from estate vineyards in the Stag's Leap District and Yountville, is a blend of 80 percent Cabernet, 12 percent Merlot, and 8 percent Cabernet Franc.  It's aged in 60 percent new oak.  Typical of valley wines, it's full-bodied, and has velvety tannins and lush fruit.  The Clos Du Val clocks in at about 14.7 percent alcohol.
The bottom line: it's a matter of taste.  Try the two styles of wine and then let us know what your favorite Napa Valley wine is!
Cheers!