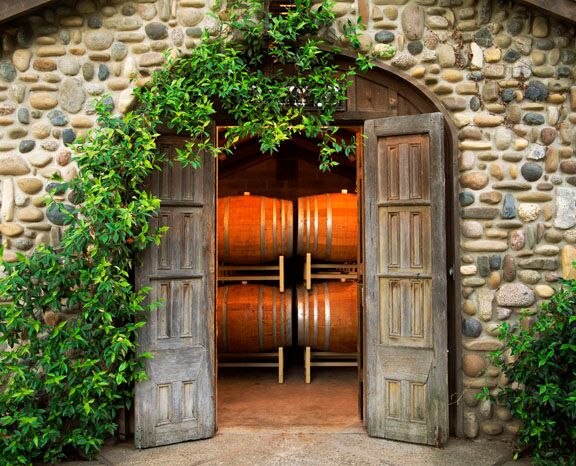 The 2004 movie Sideways was set in Santa Barbara, California.  It may be the only movie to torpedo a specific type of wine - sales of Merlot fell dramatically in its aftermath.   But, it also boosted the sales of Pinot Noir generally and highlighted the Santa Barbara appellation.   A funny thing about that movie - I hadn't seen it before a business dinner at which I suggested a nice bottle of Merlot to a client.  The look of horror on my face when she said, "I don't want no f***ing Merlot" -- Sideway's most memorable line --  caused a bit of an awkward moment.   But, I digress.
The Santa Barbara appellation is located north of Los Angeles, and produces primarily Chardonnay (36%) and Pinot Noir (26%).     Although it's often overlooked, it has more than 100 wineries and produces some excellent wines.   Santa Barbara is also a popular destination for wine tourism.  A great place to get more detailed information is the Santa Barbara Vintners website.
Santa Barbara is unique because, unlike the rest of California, its "transverse"  valleys run from west to east and channel cool ocean breezes and fog into the area.   This phenomenon has been described as being like an air conditioner turned on at night and off mid-morning.  The western parts of Santa Barbara, closest to the ocean, are quite cool and provide a perfect climate for Pinot Noir and Chardonnay.   The eastern portions, further inland and as much as  20 - 30 degrees warmer, focus on warmer climate grapes such as Cabernet Sauvignon and Merlot.
There are six sub-appellations, but we'll focus on two:

Santa Maria Valley is a relatively cool area close to the ocean.  It produces great Pinot Noir and Chardonnay, and some Syrah as well.  Here you'll find one of California's top vineyards, Bien Nacido (Spanish for "well born").

If the U.S. had a "grand cru" classification,  Bien Nacido undoubtedly would qualify.   The vineyard encompasses 800 acres, although only 300 are under vine, and its prestigious name appears on the label of forty wineries that use its grapes.
The top Santa Maria wineries are Au Bon Climate and Qupé.  Other good producers include Byron, Cambria, and Foxen.

Sta. Rita Hills is located about ten miles from the Pacific, and its very cool climate is ideal for Pinot Noir and Chardonnay.  Why the strange name?   Chilean winery Viña Santa Rita objected to the original name "Santa Rita Hills," and the compromise was that the California region would be called "Sta. Rita Hills." (It's still pronounced as if it were "Santa").  This is what passes for high controversy n the world of wine.

The top wineries here are Sanford Winery and Sea Smoke Cellars.  Other good producers include: Evening Land Vineyards, Babcock Winery, Brewer-Clifton, Foley Estates, Lafond Winery and Melville Vineyards.

The four other Santa Barbara sub-appellations are: Santa Ynez Valley, Happy Canyon (a warm area in the eastern part of Santa Ynez known for  Cabernet Sauvignon and Sauvignon Blanc), Ballard Canyon and Los Olivos District.

What's so happy about Happy Canyon?  During Prohibition, a potent "elixir" was produced here, and folks would make a trip to "happy canyon" to buy it.
Our wine of the week is a 2016 Cambria Estate Julia's Vineyard Pinot Noir (about $17 retail).  This is a well-made, reasonably-priced, cool climate Pinot Noir suitable for casual occasions.   It's a very pleasant, nicely balanced wine that you could enjoy as an aperitif or with a meal.  It has a deep ruby color, and aromas of strawberry and cherry with earthy notes.  On the palate, it has gentle tannins, red fruits, a subtle spiciness and earthiness, and a hint of mushrooms.  The label claims an alcohol level of 13.8 percent, but we sensed significantly higher alcohol.
Cambria Estate is located in Santa Maria Valley, and the vineyard is named after one of the owner's daughters.
This wine will pair well with some of the usual Pinot suspects:  grilled salmon, tuna, roasted turkey and pork.  For cheeses, try gouda, camembert and manchego.  Or just pop the cork, pour it and enjoy.
Cheers!