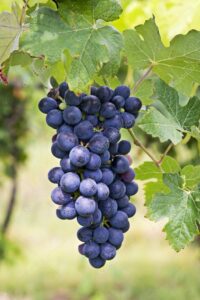 Some wines take a while to come into their own. For example, Barbera, Piedmont's most widely planted red grape, has long been overshadowed by the local Nebbiolo-based Barolo and Barbaresco wines. Which is good for consumers, because in a world of increasingly expensive Old World reds, there are many quality Barberas to be had in the $20 – $30 range. High-end Barberas are more costly but still relative bargains.
For much of its history, Barbera was known as the "people's wine" of Piedmont – although that wasn't necessarily a compliment. It was an inexpensive, mediocre wine that was seldom found outside of the region.
Today, Piedmont produces quality Barbera in a range of styles, from inexpensive and easy drinking to some of Italy's best reds. These are dark colored wines, with high acidity and relatively low tannins and alcohol. Barbera is what the locals drink while waiting for the Barolo to mature, and it has a worldwide following.
In the 1980s, Piedmont winemakers began to focus on producing high-quality Barbera and discovered that it could make a really good wine. In part this was due to the adoption of modern wine making techniques. But it turned out that the key to really good Barbera was using grapes from prime vineyards and aging the wine in small French oak barrels. The man who figured this out was Giocomo Bologna, and his innovative wine – Bricco dell'Uccellone – sparked a wave of experimentation by other winemakers and world-wide recognition for Barbera.
The wine was named after a woman who lived on a hill ("Bricco") near the vineyards. Her nose resembled a bird's beak and she always wore black, hence her nickname "l'Uccellone" – the local word for crow. That's one way to become famous.
Barbera comes in two broad styles:
The Traditional style is fermented in steel and unoaked. These wines are mostly intended for early drinking, and typically have cherry, dark fruit, and spice notes.
The Modern style is aged in small French oak barrels. These typically are big, bold, age-worthy wines, with a deep purple color and noticeable tannins and spice.
When you're looking for a Barbera, there are two key Piedmont zones to know:
Barbera D'Asti. Barbera is planted on the best vineyard sites, and many believe that the best Barbera wines are produced here, particularly in Nizza – formerly a subzone but now an independent appellation.
Barbera D'Alba. The best vineyard sites are reserved for Nebbiolo, and Barbera gets the lesser sites. These wines tend to be more complex and powerful than those from Asti, and have greater aging potential.
Our wine of the week is a 2018 Vietti Barbera D'Alba DOCG Tre Vigne ($19 retail).  This is a dry, medium-bodied wine with refreshing acidity and velvety tannins. On the nose and the palate it has notes of red fruit and spice. It's a straightforward wine with a moderate finish. Overall, we really liked this wine, and thought it well worth the money.  This is a great entry point for trying out Barbera.
The Tre Vigne pairs well with antipasti, pork, pasta and chicken.
If you're looking for a Barbera for a special occasion, try the Braida Bricco dell'Uccellone Barbera D'Asti ($70 retail). It's a rich, well-structured wine that integrates bright red fruit notes with smoky, creamy notes from its oak aging. Better yet, compare the Tre Vigne and the Bricco and you'll come away with a good understanding of what Barbera is all about.
Finally, Jim was profiled in a recent Wine Scholar Guild post - if you're curious, click here.
Cheers!