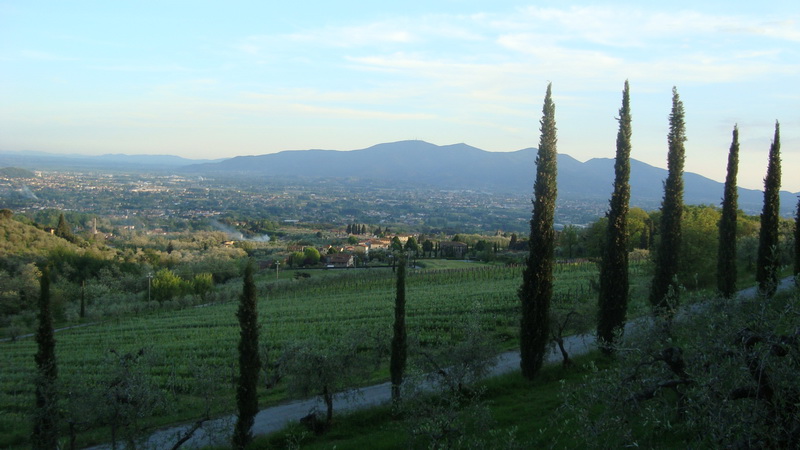 At first, I thought the label had a typo. A Bulgarian Pinot Noir? Nah, it must be a Burgundy. But it really was from Bulgaria, one of the last unexplored regions of the wine world. Since I knew very little about Bulgarian wines, this was an opportunity to expand my horizons. Or turn me into a scotch drinker.
Bulgaria has a developing but dynamic wine industry. The country has a long history of winemaking, dating back about 3,000 years. That's not surprising, since the Bulgarian wine regions are located at about the same latitude as Rioja and Tuscany and have good terroir and plenty of sunshine.
That wine history hasn't been an unbridled success. In the 1980s, Bulgaria was the world's second largest wine producing country, but its state-run monopoly produced cheap, low-quality wine for a rather undiscerning Russian market – sort of the Yugo of the wine world. With the collapse of communism in eastern Europe, the vineyards were privatized and the wine industry was thrown into turmoil.
Over the last twenty years, however, Bulgaria's wine industry has attracted foreign investment and expertise, allowing it to modernize. As a result, Bulgarian wines generally are good quality and good bargains. In fact, the best Bulgarian wines are worth seeking out.
Bulgarian wines are primarily red and made from a variety of international and local grapes. Bulgaria's modern wine reputation was built on Cabernet Sauvignon, and almost a third of its production is Cabernet and Merlot. So you can pretty much guess that I'm going to slip a Bulgarian Cabernet into a tasting of California cabs to see what sort of reaction I get - stay tuned. Bulgaria produces other popular international varieties, including Pinot Noir and Chardonnay, and has some unique local grapes:
Mavrud makes a powerful, deeply colored red wine that is high tannin and takes well to oak.
Melnik is capable of producing very high-quality wines, with assertive tannins and a rich warmth when oaked.
There are two main Bulgarian wine regions, shown on the map below. In the north, bordering on Romania, is the Danube Plains. In the south, bordering Greece and home of three-quarters of the country's vineyard area, is the Thracian Valley.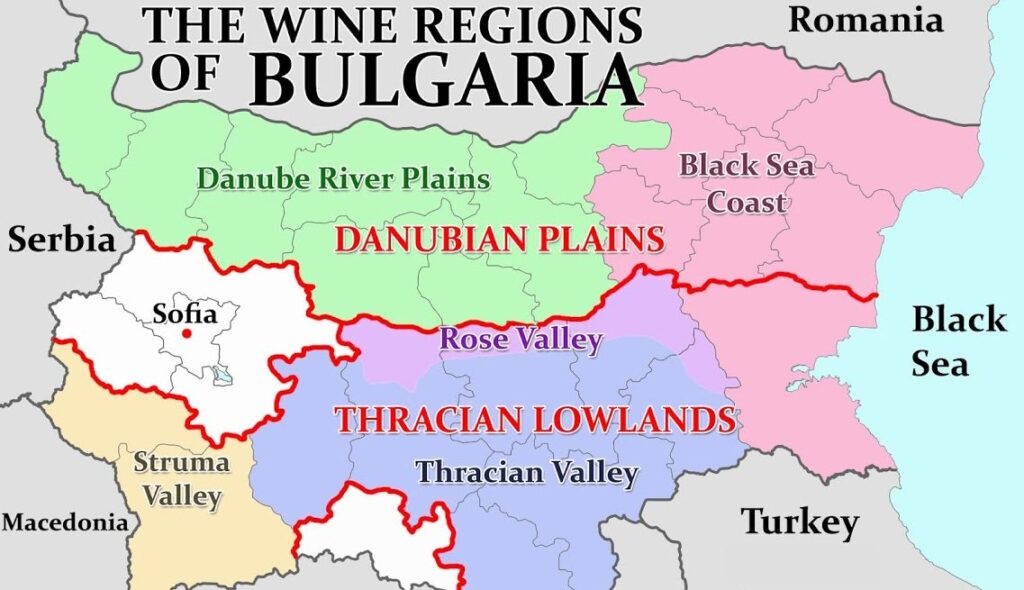 Our wine of the week is a 2018 Bulgariana Pinot Noir Danube Plains ($15 retail). While Bulgarian wines can be a little hard to find, we found several at Total Wine.  First, let's cut to the chase: this was a good quality wine and a good value. That said, it's not your typical Pinot Noir, and you may or may not care for this style.
This Pinot is unusually dark (medium purple), dry, and medium-bodied. It's aged in new French oak, and has earthy and spicy aromas, with muted black fruit. On the palate, it has smooth tannins, a pleasant acidity and notes of cocoa, vanilla, deep red fruits, and a slight (but not unpleasant) bitter kick at the end of its medium finish. The oak dominates this wine and, depending on your preferences, that may be a good or bad thing.
The bottom line on Bulgarian wines: they can be hard to find, but are worth investigating.  The wine quality is good, and some wines are worth seeking out. As with most lesser known regions -- and it's hard to image a lesser known region than Bulgaria -- there are bargains to be had. So, if you come across a bottle, why not give it a try?
Cheers!