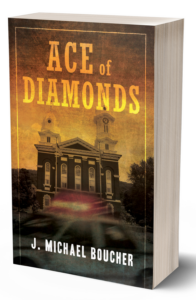 Today we'll explore the intersection of two of my passions: wine and writing. The wine part should be obvious.  As for writing, I've just published my first novel under the pen name of J. Michael Boucher.  It's called "Ace of Diamonds," and you can read about it, and find a link to purchase it, on www.JMichaelBoucher.com.  It's a fast-paced thriller set in a small town in western Pennsylvania that is beset by a failing rust-belt economy and an opioid crisis.
One of the book's characters - Gus Amoroso - is a restaurateur and wine connoisseur, and throughout the novel he enjoys various wines - often while plotting someone's demise. Gus, it turns out, has both refined and brutal sides.  I'll leave you guessing as to whether I was sampling the wines as I wrote the various scenes. But I will say that a nice glass of wine does facilitate the creative process.
And now, the wines of Ace.
Vin Santo is a signature wine of Tuscany, ideal for sipping slowly by itself or as a dessert wine paired with Tuscan desserts. The origins of Vin Santo ("Holy Wine") date to the Middle Ages, and there are several theories about how it got its name.  The most likely explanation is that historically Vin Santo was pressed and fermented during Holy Week. Traditionally, Vin Santo is served with hard almond biscuits called cantucci, and yes, it's OK to dip the biscuits in the wine. When we first meet Gus in the novel he's sipping Vin Santo while contemplating the death of an underling who disappointed him.  Gus never settles for anything but the best, and the Avignonesi Vin Santo that he favors will set you back about $150. You can, however, get a very nice Vin Santo for far less - we covered that in Something From the Attic.

Pictured below is a typical Tuscan scene near the old walled city of Colle di Val d'Elsa.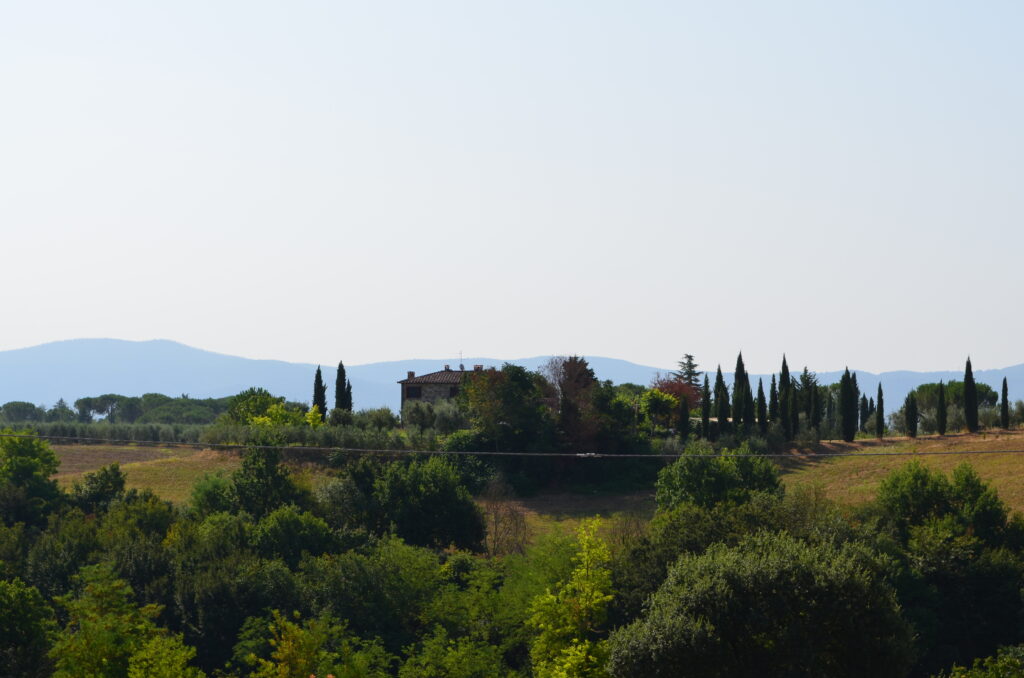 Vernaccia di San Gimignano is a dry white wine made from the local Vernaccia grape in San Gimagnano (pictured below). The town is famous for its medieval stone towers, built by wealthy families that were trying to improve their social status by having the tallest home.  Some things never change. The wine is crisply acidic, with a slightly bitter finish, herb and lemon notes, and pairs well with seafood.  Gus enjoys it along with a cacciucco alla Livornese, a thick and somewhat spicy fish soup. . . after plotting the murder of a local cop (Matt) who is trying to interrupt the drug trade that Gus controls.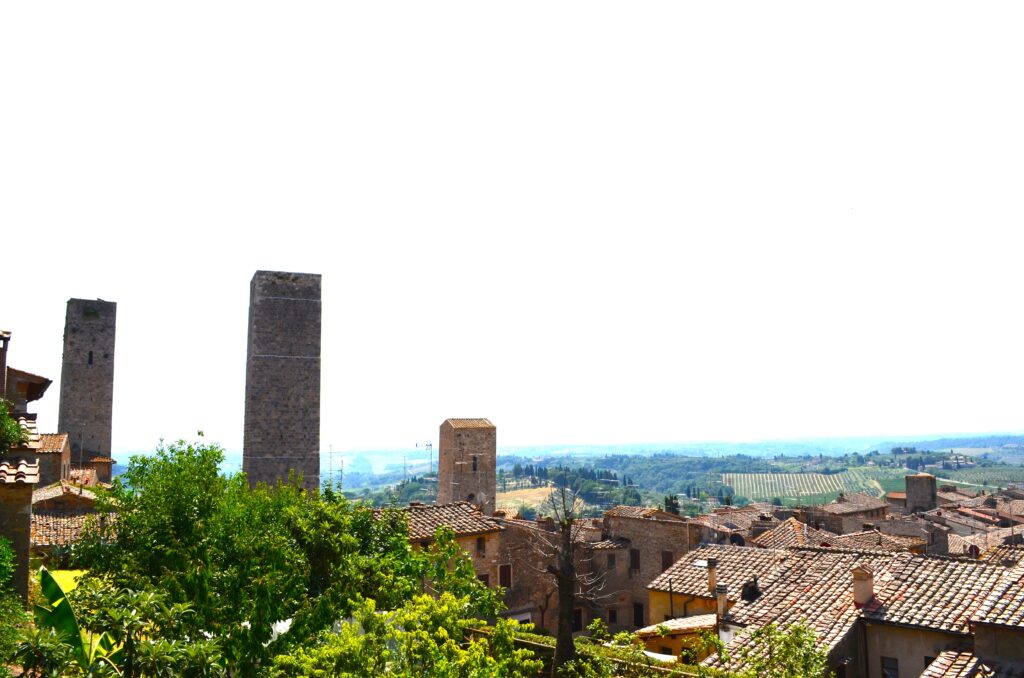 Dom Perignon is the "prestige" Champagne of Moët & Chandon - what else would you expect Gus to drink? He graciously presents a bottle on the house to Matt and his fiancé, who are celebrating New Year's Eve at his restaurant. They're blissfully unaware that Gus has ordered Matt's murder. Well, they say that Champagne goes with anything. Veteran's Day and Champagne explores Champagne and makes some more modestly priced recommendations for those of us who don't have a crime boss' budget. The picture below is a wine cellar in Champagne.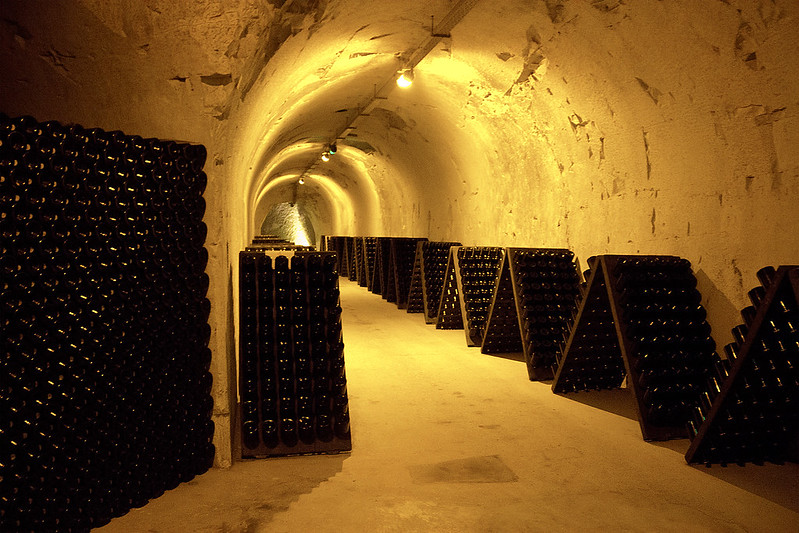 Côte Rôtie is one of the most prestigious appellations in France's Rhône Valley. This wonderful Syrah-dominant wine can be a bit of an acquired taste, however, and when Matt's fiancé buys a bottle for a special occasion, he pretends to enjoy it while surreptitiously pouring it on the ground. Matt is really a beer and scotch guy, and his palate hasn't developed sufficiently to appreciate this fine wine.  Perhaps he'll come around in a sequel.  I took the picture below in January, while the Côte Rotie vines were resting in anticipation of another vintage.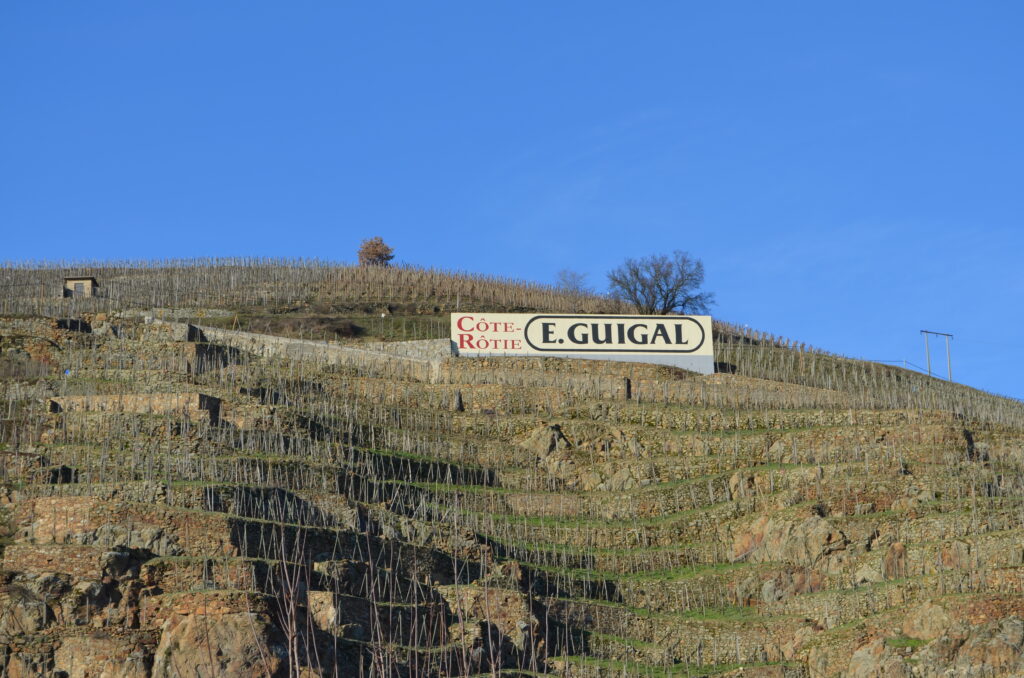 Grappa originated as a poor, working man's drink, but starting in the 1960s this traditional drink "gentrified" and premium brands became widely available. It's made by distilling pomace - the skins, pulp, and stems that are left over from the wine making process.  Grappa is only made in Italy, following stringent guidelines. This is a very potent spirit, ranging from 35 to 60 percent alcohol, and it's typically served in small glasses with one or two ounce pours.  One of Gus' minions, Pete, spends the evening downing Nonina grappa with friends at a blue-collar Italian bar before driving home.  No need to worry about a DWI, as Gus' enforcer ensures that Pete's time behind the wheel is brief.
I hope you have a chance to enjoy some of the wines above as you read your next book.
Finally, a reminder that our blog will switch to bi-weekly for the summer months.
Cheers!