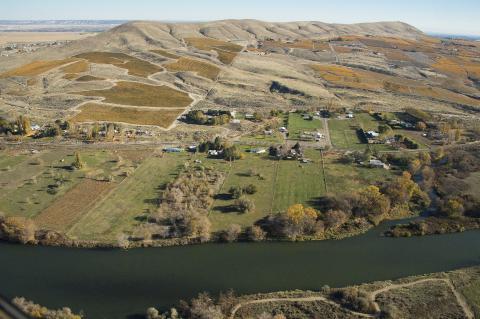 What happens when Washington's largest winemaker partners with a historic Italian wine making family?  You get a really nice Cabernet Sauvignon called Col Solare ("Shining Hill" in Italian), made in Washington's Red Mountain appellation.  More on that, as well as a basic Washington Cab, below.
The thing is, people often don't know what to make of Washington wines.  Washington is the country's number two wine producing state, behind California, with more than 700 wineries.  That's pretty impressive since the state's premium wine industry began only in the late 1960s.   The problem is that Washington doesn't really have a "brand" -- unlike California, which brings to mind Napa Cabernet, or Oregon, where people think Pinot Noir.
Washington grows a wide variety of grapes, but Cabernet Sauvignon, Merlot, Syrah and Riesling are the stars.  Although the second largest producer, it only makes five percent of the country's wine (California produces 90 percent).
The state has twelve appellations ("AVAs"), with names like Yakima Valley, Walla Walla Valley, Columbia Valley and Red Mountain.  That doesn't help ease the confusion.  There's a map of the AVAs below.
Most of the state's vineyards are located east of Cascades, which act as a rain shadow so that the area receives very little rain. In fact, much of the eastern part of the state is a desert that, absent irrigation, wouldn't grow much besides sagebrush.
The Washington wine industry is dominated by Chateau Ste. Michelle.   It began as "American Wine Growers" in 1962.  Today, its associated brands include Domain Ste. Michelle, Columbia Crest, North Star, Col Solare and Eroica (a partnership with Germany's Dr. Loosen that produces a nice Riesling).
Col Solare. In 1992, Chateau Ste. Michelle partnered with Tuscany's Marchesi Antinori, which has made mostly Sangiovese-based wine for 26 generations (that's starting in the year 1385 in case you were wondering).  Col Solare produced its first vintage in 1995 from Columbia Valley grapes and planted its own vineyard in 2007.  Today, Col Solare is made with Red Mountain grapes, including those from its own vineyard.
Our wine of the week is the 2015 Col Solare ($70 retail).  It's 100 percent Cabernet Sauvignon from the Red Mountain AVA (which, oddly, is neither red nor an actual mountain - as shown in the photo above).  It's aged 21 months in new French Oak.  This is a deep purple, full-bodied wine that shows raspberry, spice and chocolate on the nose.  On the palate, it has notes of spice, cedar, black fruits and cocoa, with firm but pleasant tannins.  The wine is well-balanced, and has a nice, mildly complex finish.
We liked this wine a lot. It's a great example of what Washington State can do with a Cabernet.
There are also some good value wines to be found in Washington. We've enjoyed the Chateau Ste. Michelle Cabernet Sauvignon ($10) and their Indian Wells Cabernet ($12).  They're widely available, and can be a good option when you're traveling and looking in a small shop for something dependable.
Cheers!