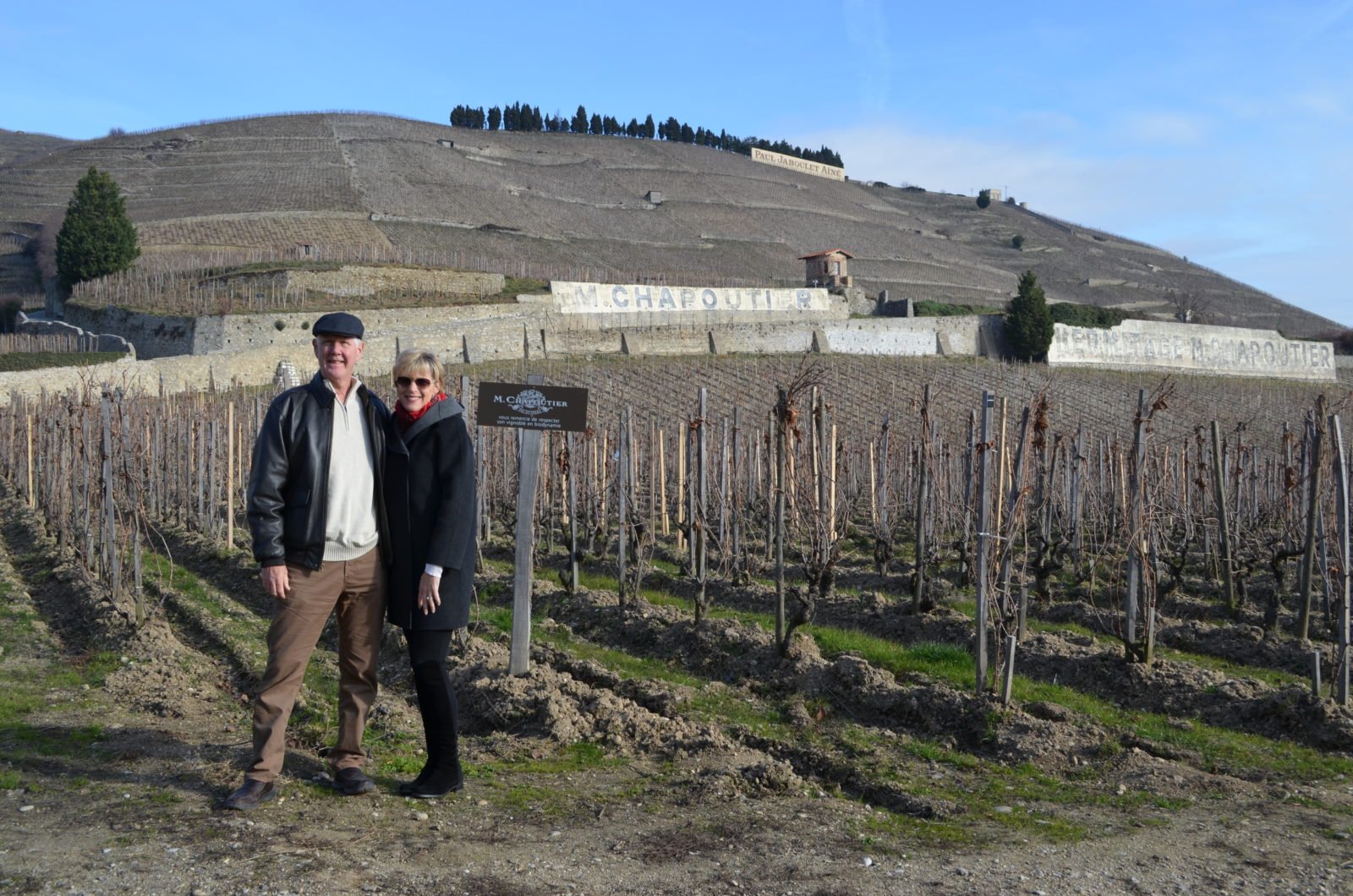 After touring the entire Rhône valley wine region (140 miles from north to south); visiting multiple appellations, vineyards and winemakers; and sampling local cuisines from simple bouchons to 2-star gastronomique restaurants, some parting thoughts:
The people of the Rhône Valley are passionate about their wines. Everyone that we met, from taxi drivers to wine professionals, happily shared their knowledge and opinions on wine. For example, after a casual mention that we were studying the local wines, the restaurant manager at l'Auberge de Tavel provided a fascinating and detailed narrative on Tavel wines throughout our meal. Of course, passion means that things must be done correctly, including proper decanting and service temperature – one highly regarded Châteauneuf-du-Pape producer has been known to refuse to sell to restaurant customers that don't properly decant his wines before serving.
If you're not familiar with Rhône Valley wines, give them a try. The region – France's second largest behind Bordeaux – produces a wide variety of wine styles and generally provides good value. Most of the wines are red (81%), or rosé (13%).

• There are some great values in entry level wines – look for Côtes du Rhône and Côtes du Rhône Villages, and be sure to select a good producer (such as Jaboulet, Chapoutier, E. Guigal and Famille Perrin) to assure good quality.
• A step in quality (and price) is found in the 17 crus scattered through the region. Those are described here.
• There are also some spectacular – and expensive – high end wines, particularly in Côte-Rôtie, Hermitage and Châteauneuf-du-Pape.
– In Hermitage, look for Jaboulet's "La Chappelle" (around $300), and any of the Hermitage wines produced by Chapoutier and Jean-Louis Chave ( $400+). Plan ahead, though, because these wines can be difficult to find, need 5 – 10 years bottle age and should be decanted for several hours before drinking.
– In Châteauneuf du Pape, there are many great choices, but my favorites are Château de Beaucastel ($80 or so), Domaine Vieux Telegraphe and Château de la Gardine. But, don't overlook wines from nearby Gigondas.
• Although harder to find, Rhône whites can be stunning. Look for the viognier-based wines of Condrieu and the white blends of Châteauneuf du Pape.
• Finally, two excellent dessert wines are produced in the Rhône: Muscat Beaume de Venise and the Rasteau Vin Doux Natural. Both are "fortified" wines with high residual sugar levels and a 15+ % alcohol level.
• An insider tip: the wines made by "Caves de Tain" are excellent quality and value. This is a cooperative in Tain Hermitage known for state of the art equipment and procedures – not always the case with French wine cooperatives.
The Rhône Valley is a spectacular place to visit. The vineyards of the Rhône Valley are some of the world's oldest, dating back more than 2,000 years, and there are spectacular Roman ruins throughout the region.

• The Pyramid in Vienne, a 60 foot high monument that marks where Roman chariot races once were held, is located about 30 yards from the fabulous 2-star La Pyramide restaurant.
• In nearby Orange, a Roman theater dating from the first century is the largest surviving theater outside of Rome, and hosts summer music festivals.
The locals say that April is the best time to visit the region, when the temperatures have risen, the vines are awakening but the area is less busy than during the summer period. That said, prowling in the vineyards at this time of year, while the vines are being pruned and the trimmings burned, was a fun experience.
Until our next trip (Piedmont and Tuscany in July), we'll be posting once a week on "wines of the week" suggestions and other interesting wine topics.